The Best Einkorn Flour Recipes for Every Season
Whatever season of the year, there's always an einkorn recipe to fit. From einkorn sourdough bread to cookies, to quick bread to corndogs; there are so many great options. The following is a compilation of the best einkorn flour recipes to fit any season. Many are on this website but a few are simply recipes I love from elsewhere. Some use all purpose einkorn flour and others use whole grain einkorn flour. Look to the bottom for a special holiday section as well!
Note: This post may contain affiliate links. This means if you click on a link and follow through to make a purchase, I receive a small commission and thank you for that. This is not meant to be medical advise. Please consult a doctor before starting a new diet or trying einkorn if you have health issues that may cause sensitivities.
Einkorn Flour Vs. Modern Wheat
Why use einkorn flour? Modern flour has been hybridized to grow well in different conditions. It has a much larger head of wheat berries. Sounds great right? Well, modern wheat also has 42 chromosomes where the oldest grain, einkorn, only contains 14. This makes it easy to digest for many with gut issues including gluten intolerance (It's not good for celiac disease). It also packs a huge amount of nutrition not found in modern wheat and a high protein content. Einkorn has 50% less phytic acid than modern wheat. Phytic acid inhibits the absorption of nutrients. Yes, you may not actually be getting all the nutrients you think bread depending on the type of bread. Learn more about this ancient wheat HERE.
After struggling with blood sugar issues, gut issues and more I began baking with this ancient wheat. I'd been off grains for several years. I could eat bread again! At first, I just used the all purpose flour. The taste was light with a slight sweet nutty flavor. Our family soon switched over completely to using this flour. We soon invested in a Mockmill to grind the wheat berries at home. Since then, I've enjoyed making whole grain einkorn flour recipes and sourdough starter recipes.
A Word On Sourdough Starter
Before you jump in you may want to consider having sourdough starter on hand. Many einkorn flour recipes include using a starter. You may be used to using "active dry yeast." Just as einkorn is the oldest form of wheat, sourdough is the oldest form of yeast.
I've found this form of yeast to be better on my digestive system and it's easy to get started. I recommend whole grain einkorn flour for this and you can find the simple step by step instruction to make it HERE.
Where to Get Einkorn Flour
It isn't common to see einkorn flour on your supermarket shelf (at least not at mine). I've found several places to purchase einkorn online and I'll share my favorites.
Azure Standard. I love getting things from azure standard so when I found they had einkorn I was thrilled. Azure is a once per month grocery drop. After ordering online, a truck meets members at the "drop spot" for your area on a designated day. They currently offer whole grain einkorn flour.
Einkorn.com is a company that produces einkorn from (local to me) Idaho! I'm an affiliate for these guys and have been so impressed by the einkorn grain I use for milling. In my opinion, this is the place to purchase bulk.
JovialFoods.com is a favorite among einkorn flour bakers. Jovial has been the biggest company to sell einkorn flour and has done so with great quality.
As always, do internet searches. I've been able to find some coupon codes to snag flour at better prices.
The eBook of Winter Recipes for Einkorn Flour
If you're looking for more, be sure to check out my Einkorn for a Cozy Winter eBook. This digital eBook includes recipes such as Sourdough Cinnamon Rolls, Sausage Potato Leek Soup, Chicken Pot Pie, Whole Grain Boule and more. Learn more HERE. The newest version will be available in early October 2022!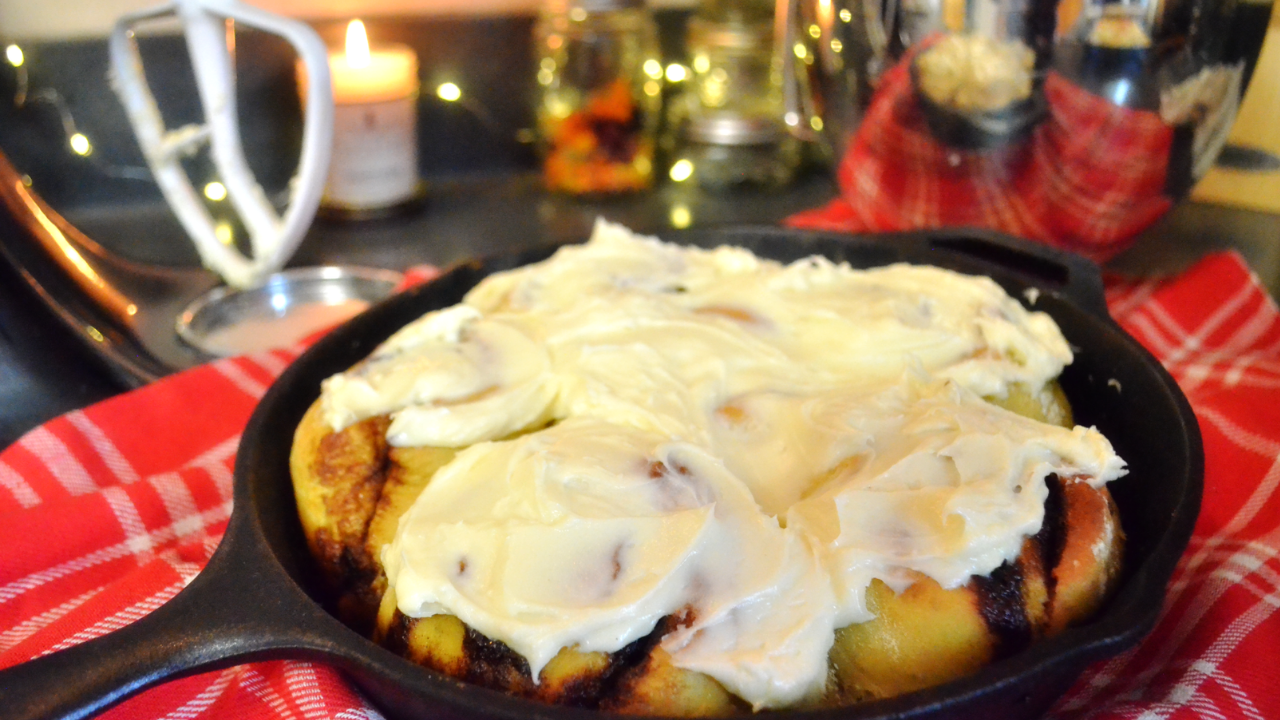 About These Einkorn Flour Recipes
The following recipes are a treasury of my favorites. Many I've created here on Hilltop in the Valley . Others have been made by fellow talented einkorn lovers and bloggers. I don't have pictures for the recipes I don't own, but I encourage you to check them out. These einkorn recipes are organized by season. This doesn't mean you can't make bread in summer since I've put it in the winter category. I just happened to divide them according to what felt natural. Make them whenever you want!
Below the description I've included a difficulty level so you can have an idea of how long or how many steps are in a recipe. Beginner recipes tend to be quite simple while intermediate includes an extra step or two. This doesn't mean intermediate level recipes cannot be done if this is your first time baking with einkorn flour. They can be simple as well, but may just take a few more steps.
Einkorn Recipes for Autumn
These moist pumpkin scones are baked in a cast iron pan. Is the best part the gooey streusel center, the moist pumpkin scone or the cream cheese frosting? You decide.
Difficulty Level: Intermediate
This recipe has been the favorite of readers hands down. Who doesn't love a chocolate chip cookie with slightly crispy edges and a soft center?
Difficulty Level: Beginner
When School days kick in, I love having some of these bagels made for munching. The dough is made made overnight with whole wheat einkorn flour. The next morning, bagels are shaped and boiled in water before baked to their toasty perfection.
Difficulty Level: Intermediate
This recipe was created when I found a massive number of inexpensive hotdogs made with the best quality meat possible! Cool these on a wire rack for a few minutes before eating as the oil stays hot! We love deep fried foods when using the best quality from nature.
Difficulty Level: Intermediate
Fluffy White Sandwich Bread
Victoria at A Modern Homestead shares her secret to making a fluffy white sandwich bread by making a sort of roux with the four, than allowing it to sit for a couple hours.
Difficulty: Intermediate
Winter Einkorn Recipes
This recipe uses a dutch oven to maintain the right environment for a crusty bread. I can't get past the scent of garlic and herbs baking in bread on a cold winter's day.
Difficulty Level: Beginner
If I were to choose the einkorn recipe we make most often for dinner this would be it. Everyone loves these flaky buttery biscuits and I love having leftovers for breakfast sandwiches too! Often I'll double this recipe and freeze half of the dough for a later dinner.
Difficulty Level: Beginner
In college I was introduced to the "Pazookie" cookie at BJ's restaurant; a skillet cookie served with a topping of vanilla ice cream. This recipe uses my Chewy Chocolate Chip Cookie Recipe to make a skillet cookie no one could refuse. The edges are slightly crispy from the iron pan while the rest is moist, chewy and full of chocolate. Don't forget the vanilla ice cream!
Difficulty Level: Beginner
Cinnamon Breadsticks
Jill from the Carefree Kitchen shares this beautiful twisted breadsticks recipe. There is plenty of icing on top.
Difficulty: Intermediate
Spring Einkorn Recipes
A reader favorite, this scone is a classic. Perfectly sweet and tart with a delicate lemon glaze makes it's great for inviting the sunshine in. I love making this recipe with fresh blueberries but feel free to use frozen as well.
Difficulty Level: Beginner
Lemon and poppy seed muffins are such a perfect spring and summer treat. We enjoy these muffins as they are but feel free to add a glaze, such as that from the blueberry lemon scones recipe.
Difficulty Level: Beginner
I use all purpose flour for these pancakes because the buttery flavor is SO delicious! I've tried using whole wheat flour and it's fine, but the all purpose flour just adds a buttery sweetness that makes them addictive. Seriously! I eat so many when I make these!
Difficulty Level: Beginner
Summer Einkorn Recipes
Introducing the Pizzelle maker. This cookie press goes back before the waffle iron. It's beginnings mark the history of Europe's first cookies. I picked one up at Goodwill and after trying my hand at making cookies and cannoli, we made waffles! It's hard to go back to packaged cones after trying a fresh made waffle cone.
Difficulty Level: Beginner
After creating the Lemon Blueberry Sourdough Scones, I wanted more. Last summer I decided to give strawberries a try in scones and wasn't disappointed.
Difficulty Level: Beginner
Chocolate Zucchini Muffins are a great summer time treat but even more tasty is the Salted Chocolate Zucchini Muffin. I'm not sure what it is about salted chocolate. It makes everything more delectable!
Difficulty Level: Beginner
I've enjoyed these hamburger buns with several of our dinners. The recipe comes from Lisa at Farmhouse on Boone. They are wonderful toasted.
Difficulty Level: Beginner
Holiday Einkorn Flour Recipes
This einkorn flour pie crust is made with butter and made to be flaky. Flaky pies and pastries are my favorite.
Difficulty Level: Beginner
Based on the Chewy Chocolate Chip Cookie Recipe, these Christmas cookies have an added splash of Christmas Cheer!
Difficulty Level: Beginner
These shortbread style cookies are buttery with an added sweetness from jam. Great for events and cookie exchanges.
Difficulty Level: Beginner
I love this recipe from Jovial Foods for Holiday gatherings.
Difficulty Level: Intermediate
Follow for more Einkorn Flour recipes
I hope this has inspired you! If you're wanting more, grab my free recipe cards for einkorn baking HERE.
Thanks for stopping by.
From the Hilltop,
Krista