Simple Fluffy Einkorn Buttermilk Pancakes
These are some good pancakes! I tried one during my photo shoot yesterday and the melting butter inside the einkorn buttermilk pancake was so delicious it turned into "trying" four. Yep, these simple fluffy Einkorn Buttermilk Pancakes are good. I should've started sooner.
This post contains affiliate links. Should you click on a link and follow through to make any purchase, I receive a small commission. Know that I only post affiliate links to items I truly believe in.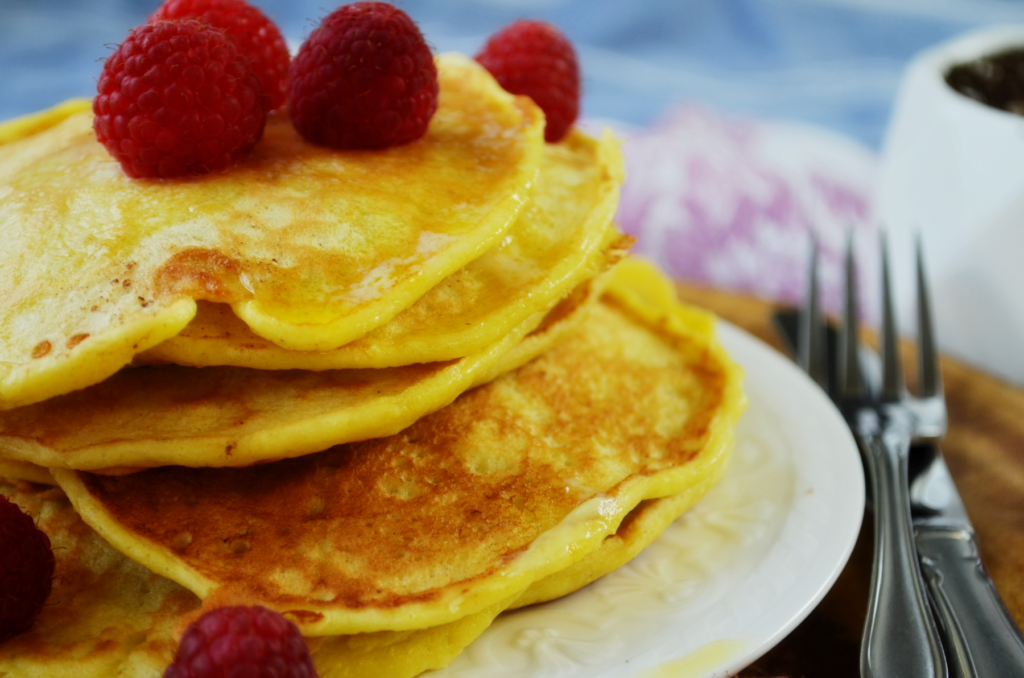 Buttermilk pancakes are the classic breakfast. We've honestly had waffles so long that my kids were sick of them. They began begging me for pancakes. I declined so many times because of worry that it'd take longer. I could make 4 waffles at a time but how many pancakes could I make at a time? I've got four impatient children ready to eat! Turns out it was a mind block because (Tada!) I actually have a griddle built into our stove. Yes, I've begun the pancake journey and the kids are happy.
The Ancient Grain of Einkorn Buttermilk Pancakes
I'm a huge fam of the ancient grain of einkorn, mainly because of my own health issues. I've struggled with blood sugar issues, yeast sensitivities and gluten intolerance. I'm not even sure I'd say it was just gluten. Grains tend to make me feel off. For most of my adult life I've stuck to a diet similar to Paleo or grain free. When I found out that Einkorn existed, it confirmed my suspicions that grains were not the culprit but the changes that have been made to grains. In fact, studies are now being done to see if celiac patients could use einkorn (triticum monococcum). I'm fascinated to see what future research develops with this ancient grain!
Einkorn is the original wheat. It's the oldest form of wheat known to man. As part of a wheat variety known as farro, Einkorn is basically the mother of all wheat varieties we have today. Over time, hybridization happens. Just like in a backyard garden, when two of the same species are grown near each other, they will pollinate around each other. For example, if you have a purple green bean and a long green bean in the garden, the seeds you save for the long green beans may actually produce beans with both purple AND long characteristics. Our wheat has changed over time as the grains produced have different characteristics. Learn more about the history and Characteristics of Einkorn in my Post All About Einkorn.
The Difference of Einkorn Wheat
The original wheat of Einkorn has only two chromosomes, unlike many of the forms of wheat today that have four (emmer) and six (modern wheat). It's the simplest form of wheat and also has very low gluten. While it's a nutrition powerhouse, it can require some adaptation to familiar recipes.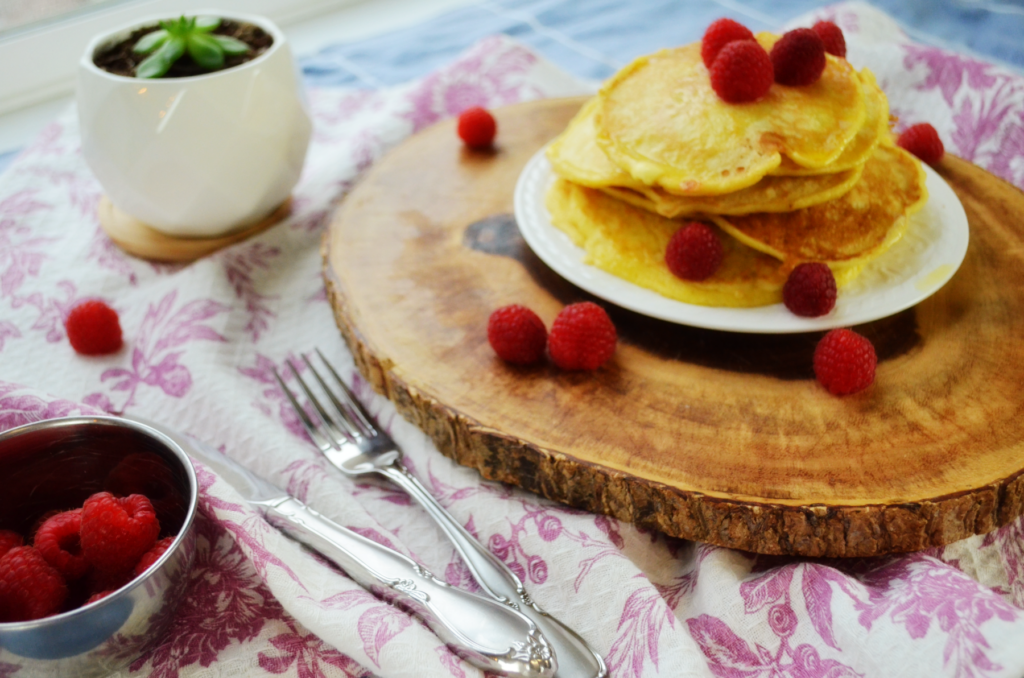 Because of it's weak gluten content, einkorn doesn't rise as well as modern wheat. Thankfully, this doesn't impact pancakes! In addition, the sweet nutty flavor gives these fluffy pancakes a taste like no other.
Buttermilk or Sourdough in Pancakes
Someday I'll share a sourdough pancake recipe. Today we're using making Einkorn Buttermilk Pancakes!
I once read that yogurt plus egg in a cake creates a beautifully soft and fluffy texture. I'll also say the combination of the buttermilk and eggs helps to give the same fluffiness. Because buttermilk is an active living food, it helps give some extra rise to the batter.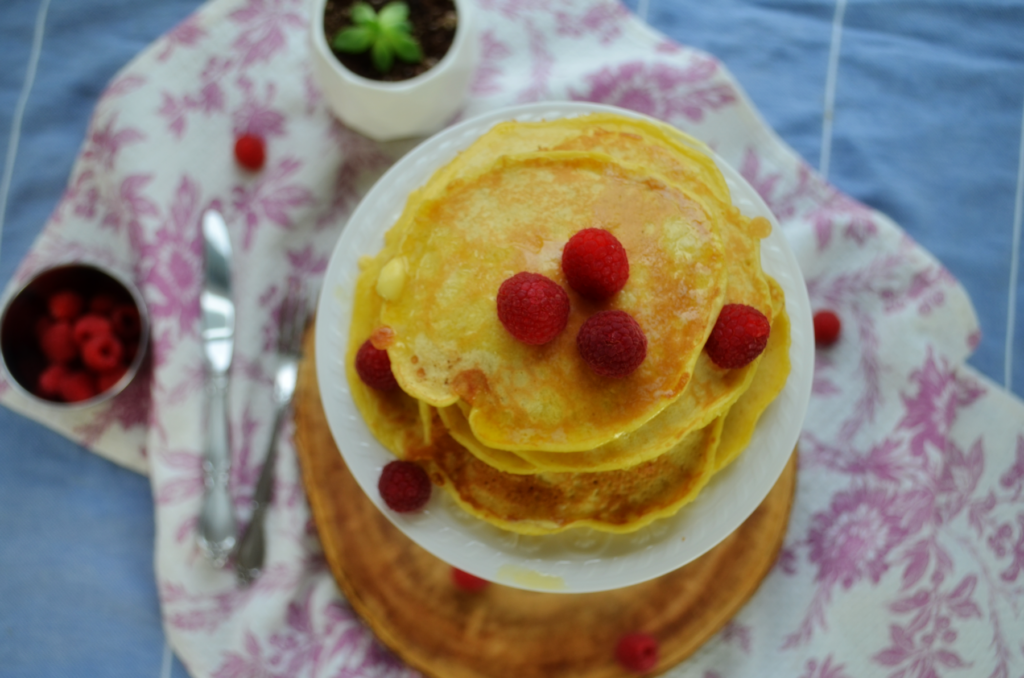 Using both baking soda and baking powder is important! According to Chemistry in the Kitchen, baking powder's reaction produces air pockets (yay!). In order to prevent the pancakes from being spongy, you'll also need baking soda. The baking soda reacts with your buttermilk to bring out the fluffiness desired!
Whole Grain Einkorn or All Purpose Einkorn Flour
The big question for every einkorn recipe is "do I use whole grain wheat or all-purpose flour?" Because I love the nutrition density of einkorn and it's much less intense in flavor than modern wheat, I often use whole grain einkorn flour. I like to reserve all purpose einkorn flour for recipes with citrus, such as my Lemon Blueberry Sourdough Scones or those which I want extra light flavored. Christmas cookies are great with all purpose einkorn.
Thankfully whole grain einkorn does not have the rich bitter flavor that modern wheat carries. It's naturally much lighter and sweeter! This means whole wheat einkorn can be used in nearly any recipe without problem if you're looking for added nutrition. It's your choice. Feel free to use either whole grain einkorn or all purpose einkorn flour for this recipe. It all depends on how light you want it to taste.
Note: I personally used the all-purpose for visual purposes when shooting the photograph's for these einkorn buttermilk pancakes and I liked it better. If using all purpose flour add 1/4 cup extra water or milk.
The Einkorn Pancake Recipe
Heat your griddle or skillet to medium heat. Mix your wet ingredients first: eggs, buttermilk, milk butter, vanilla, and maple syrup.
Add in your dry ingredients on top: Einkorn flour, salt, baking powder and baking soda.
Mix the wet and dry together. Add oil or butter to your griddle or skillet. If the oil sizzles and immediately melts, your pan is hot and ready. Pour your batter onto the griddle to make 4-5 inch pancakes.
Cook pancakes for 3-5 minutes on each side until fulling cooked to your liking. Serve with butter and your favorite toppings. Enjoy!
Ways to Make it More Simple
You can make the batter the night before and leave it in the refrigerator for morning Einkorn Pancakes. Just be sure not to leave it more than 24 hours. It will start to turn color (learned that from personal experience).
Yield: 16 pancakes
Fluffy Einkorn Buttermilk Pancakes
Fluffy Einkorn Buttermilk Pancakes are soft and tasty for a Saturday morning breakfast -or any time!
Ingredients
1 Cup Buttermilk
2 Eggs at room temperature
1 teaspoon Vanilla
4 oz. Melted Grass Fed Butter
1 Tablespoon Maple Syrup
1 Cup Milk
1/4 extra Water or Milk ONLY if using all purpose einkorn flour
1 3/4 cup freshly ground Einkorn Flour (if using all purpose einkorn flour, add extra liquid as mentioned above)
1/2 teaspoon Sea Salt
1/2 Baking Powder
1/2 teaspoon Baking Soda
Instructions
Heat a skillet or griddle over medium heat. Mix together the buttermilk, eggs, melted butter, milk, maple syrup and vanilla in a large mixing bowl. If using all purpose flour add in extra liquid.
Add in the Einkorn flour, baking powder, baking soda and sea salt.
Mix together until thoroughly combined. Pour batter onto griddle or skillet making pancakes about 4-5 inches in diameter.
Cook the pancakes for 3-5 minutes on each side until cooked through to your liking.
Serve with butter and your favorite pancake toppings. Enjoy!
Notes
Batter consistency should be thinner than muffin batter. It should be pourable but thicker than buttermilk itself.
Freeze your Buttermilk Pancakes for Later
This is a great recipe to freeze for later use. Simply freeze pancakes that have completely cooled using parchment paper in between the pancake layers. Make a single layer of pancakes, add the parchment on top, then add another layer. If you don't add the parchment, these stick together and wind up in a big frozen mound. Yep, I've learned the hard way that the moisture in these pancakes causes a lot of sticking!
Best Places to Buy Einkorn
My two go-to places are these:
I like using Azure for their All-Purpose einkorn. I feel like they do a great job and their Jovial brand einkorn is often on Sale. Another bonus is the fact that I don't have to pay shipping. I just plan on the monthly delivery. You can see a delivery pick up we did HERE.
I love to use Einkorn.com for great prices on large quantity einkorn berry purchases. Don't get me wrong. They have einkorn flour too! I just tend to go for a lot of einkorn berries to mill at home and I love that these guys are local to the Northwest (yay!). I can get free shipping for orders over 50 pounds and the quality has been great.
Other Posts You May Like
Perfect Einkorn Sourdough Buttermilk Waffles
Simple Einkorn Lemon Blueberry Sourdough Scones
Chewy Einkorn Chocolate Chip Cookies
Thanks so much for stopping by!
From the Hilltop,
Krista
Psalm 121:1-2