Sweet Pumpkin Sourdough Einkorn Flour Dinner Rolls Recipe
As the holidays approach, so do thoughts about food. What are you making for Thanksgiving? What are you bringing to that Christmas party? I love to share einkorn flour recipes at the holidays that I know will turn out good. I've done quite a few that didn't too! This recipe for dinner rolls is made with sourdough and so simple! My kids love them and I'm happy they aren't just munching on high sugar Hawaiian rolls. They seem to think they are! I hope you have the same experience: a dinner roll that is enticing and and extremely nutritious. This Einkorn Flour Dinner Rolls Recipe is sure to be a hit at your table.
Why Use Einkorn Flour
OK. Let's look a a few reasons why einkorn flour is at the top of my list for baking. It's not just the fact that it has a sweet flavor and helps balance blood sugar. It's not the high protein and golden color. There's so much more.
This Ancient Grain is the Original Wheat
As the oldest form of wheat never been hybridized, there is a lot to learn. Einkorn is considered the Mother to many other forms of wheat such as spelt, and eventually, the modern variety grown today. Our modern wheat was hybridized to make it easy to grow with large crop yields. It has done just that but the structure of the grain has been changed so much that several other consequences have resulted. You can find out more on the history and nutrition of einkorn HERE.
Nutrition
Not only does einkorn have a sweet nutty flavor, but it's packed with tremendous amounts of nutrition. High amounts of beta carotene and lutein as well as high protein levels are just the beginning. Vitamin B6, Magnesium, Zinc, Phosphorus and more also come in higher concentrations. "But it's hard to take all those nutrients in because the phytic acid blocks it!" you say. Well einkorn also happens to contain half the amount of phytic acid as modern wheat making it much easier to absorb the many nutrients. See the article Does Einkorn Cause Inflammation for more nutritional information.
Easily Digestible
Einkorn wheat also contains a different gluten structure than modern wheat making it the ideal grain for those with gluten sensitivities. Einkorn contains only 14 chromosomes compared with the 42 that modern wheat carries. Combine this with the ability to absorb the nutrients more efficiently and you have a much more easily digestible grain!
How Should a Dinner Roll Taste
I have fond memories of Thanksgiving gatherings with fluffy sweet rolls. Dinner rolls are known for their moist fluffy centers and sweet bread flavor. They aren't heavy as a biscuit would be. These rolls won't be as light as those made with modern wheat due to the gluten structure and high protein content but they will have a moist full center. The Pumpkin adds moisture and helps bind the dough together while it rises in the oven. The key to getting this bread risen high is the rising time. Make sure your sourdough is active and give it plenty of time to rise. Overnight rising is best.
The Ingredients
Here are a few of the most important ingredients in your einkorn sourdough dinner rolls.
Sourdough
Start with an active sourdough starter. This means your starter should be nice and bubbly. You'll want to have fed it 4-8 hours before making the dough and ideally, within a day before that. Being consistent in it's feedings, leading up to baking helps the starter activate. Learn more about using your starter and making your own simple einkorn sourdough starter HERE.
Pumpkin Puree
Not only does pumpkin give recipes a sweet flavor, but it also adds to the texture by binding things together. It is often even used as a substitute for eggs and oil due to this quality. It may sound festive to add pumpkin to your rolls but remember it's also encouraging a moist center in your rolls. It's got multiple purposes!
The Recipe for Sweet Pumpkin Sourdough Einkorn Flour Dinner Rolls
1 Cup Active Sourdough Starter
1 Egg
1/3 Cup Sucanat or Pure Cane Sugar
1 Tablespoon Apple Cider Vinegar
1 1/2 teaspoons Sea Salt
1 Cup Pumpkin Puree
4 Cups All-Purpose Einkron Flour
Mix all ingredients together and cove with a damp tea towel or plastic wrap. Let rise 8 hours or preferably overnight.
On a slightly floured surface gently, fold dough a couple times before rolling into 2.5 inch balls. This should make about 12 rolls. Place the balls into a greased or parchment lined casserole dish. I use a 3 quart pan which is about 9 x 13 inches. Cover once again and rise for 90 minutes.
After 60 minutes, preheat your oven to 425 degrees Fahrenheit. When rising time has finished, bake uncovered for 15-18 minutes or until cooked through and starting to brown on edges. Let sit five minutes before removing from pan.
Yield: 12 Rolls
Sweet Pumpkin Einkorn Sourdough Dinner Rolls
Sweet Dinner rolls made with pumpkin, einkorn flour and risen with sourdough starter.
Total Time
9 hours
33 minutes
Ingredients
1 Cup Sourdough Starter
1 Large Egg
1/3 Cup Sucanat Sugar or pure Cane Sugar
1 Tablespoon Apple Cider Vinegar
1 1/2 teaspoons Sea Salt
1 Cup Pumpkin Puree
4 Cups All Purpose Einkorn Flour
Instructions
Mix all ingredients together and combine until a ball of dough forms.
Cover with a damp cloth or plastic wrap and let rise 8 hours or overnight in the bowl. It's best to place in a warm spot (70-75 degrees Fahrenheit) such as in front of a wood stove or near heaters.
On a lightly floured surface, roll into approximately twelve 2.5 inch rolls. Place in a greased or parchment lined casserole dish and cover with a towel or plastic wrap. Let rise for 90 minutes.
After 60 minutes of rising, preheat the oven to 425 degrees Fahrenheit.
When oven is heated and rising time finished, bake uncovered for 15-18 minutes. Let cool 5 minutes before removing from dish. Enjoy!
Notes
Butternut squash puree can be substituted for the pumpkin puree.
How to Store Sweet Pumpkin Sourdough Dinner Rolls
The most important thing when storing these dinner rolls is to keep them out of the air. You can use a zip lock bag ( I like the freezer bags) or an airtight container. Store for up to three days on the counter or a week in the freezer for best results. Be sure to let rolls completely thaw before placing into an oven or toaster to reheat. SO if you're using for an event, take them out the night before!
How to Reheat your Einkorn Flour Dinner Rolls
To reheat sweet pumpkin sourdough dinner rolls, you can use an oven, skillet or toaster.
Preheat an oven to 325 degrees Fahrenheit. Place room temperature rolls onto a baking sheet and place in the oven for 7-10 minutes.
To toast on a skillet, slice the rolls in half, melt one tablespoon of butter on skillet and heat skillet to medium low. Place the rolls face down on skillet to cook for about 3-5 minutes depending on your preference.
You can also cut a room temperature roll in half and toast it in the toaster. Yup. I know. would've never thought of that one right? This is my favorite way to enjoy them with my breakfast.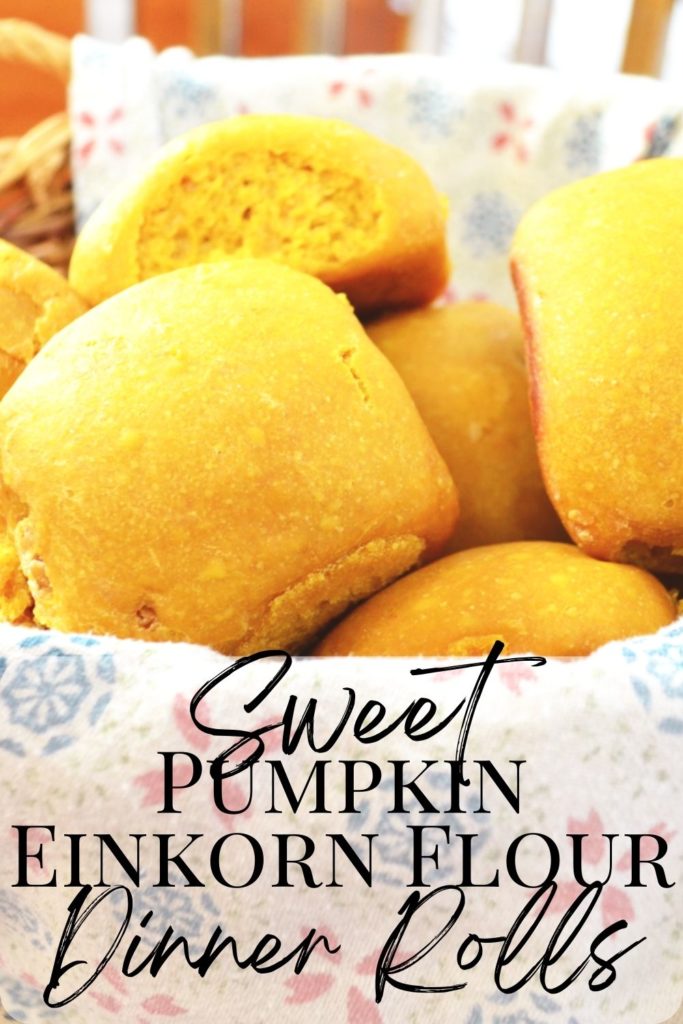 More Einkorn Flour Recipes
If you like cozy recipes made from pure heirloom einkorn flour, check out the EINKORN FOR A COZY WINTER EBOOK, on sale until November 28th! Click HERE for more info and peek inside.
Also check out these wonderful recipes:
How to Make Christmas Chocolate Chip Cookies with Einkorn
Overnight Sourdough Bagels with Einkorn
The Best Einkorn Flour Recipes for Every Season
How to Make Einkorn Sourdough Garlic Herb Bread
Thanks for stopping by the hilltop,
Krista