Best Recipe for Chewy Einkorn Chocolate Chip Cookies
This post contains affiliate links. When you click on a link listed and make a purchase I receive commission at no extra cost to you.
These are my favorite einkorn chocolate chip cookies! I know everyone loves a good chocolate chip cookie but there's a reason for that. These ones are rounded and crackled along the outside while maintaining that gooey center. They've become my favorite for their soft chewy texture and caramel like taste. Glorious! You can't ask for a better snack.
Or desert. Or meal.
Ok. While it's true I might have used these for a breakfast once or twice, they really are meant to be a decadent gem.
The power of Einkorn in Einkorn Chocolate Chip Cookies
If you haven't heard me rave about einkorn flour on social media yet, here I go again.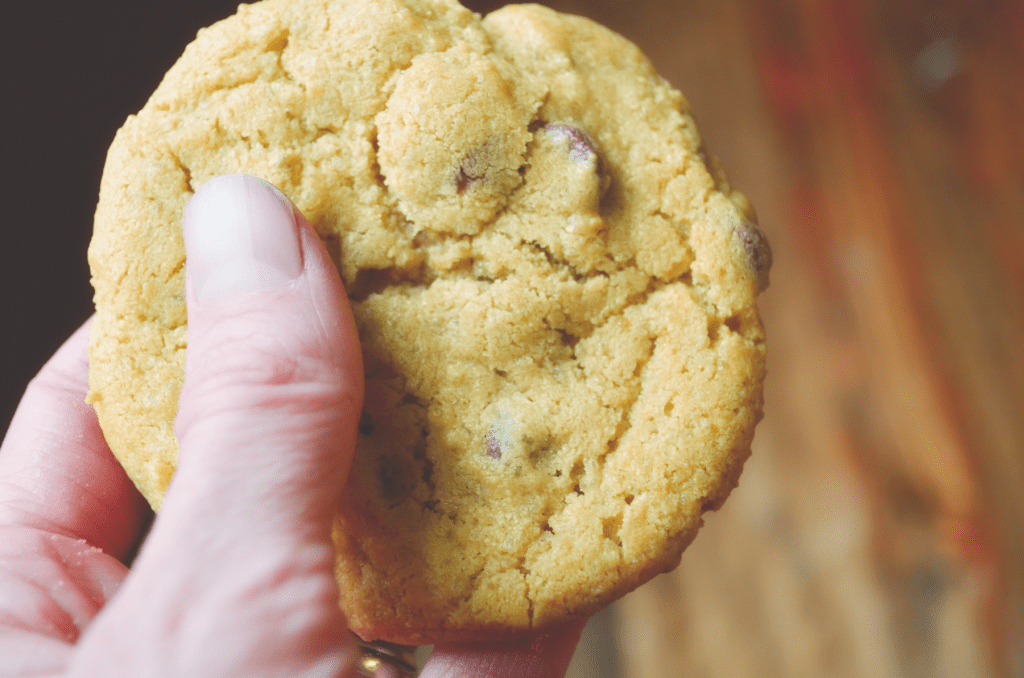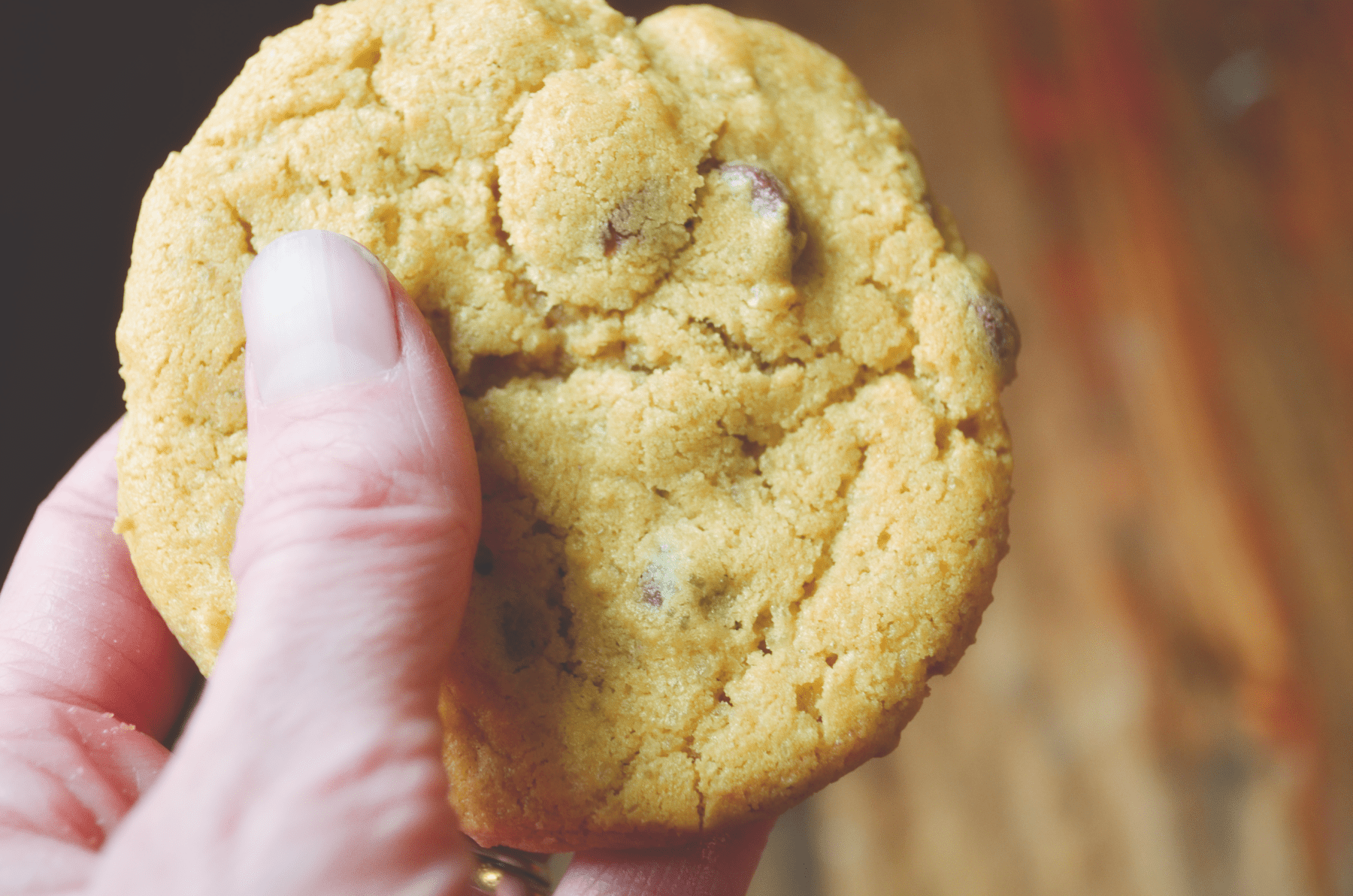 Einkorn is packed with protein as well as huge amounts of lutein, B12 and magnenese compared to all other wheat flours! I could go on and on about all the nutrients.
You might have heard that einkorn is safe for most people with gluten intolerance to have and that's true! Because the gluten is much weaker than modern wheat, it's much more easily digestible. Note that it still contains gluten, so those with Celiac disease should definitely avoid it. Check out https://www.einkorn.com/einkorn-nutritional-facts/ for more information on the nutritional density.
Even if you don't have known issues with gluten, you'll benefit from how it is more easily digestible than modern wheat. All around it's an amazing ancient grain!
How to Make the Einkorn Chocolate Chip Cookies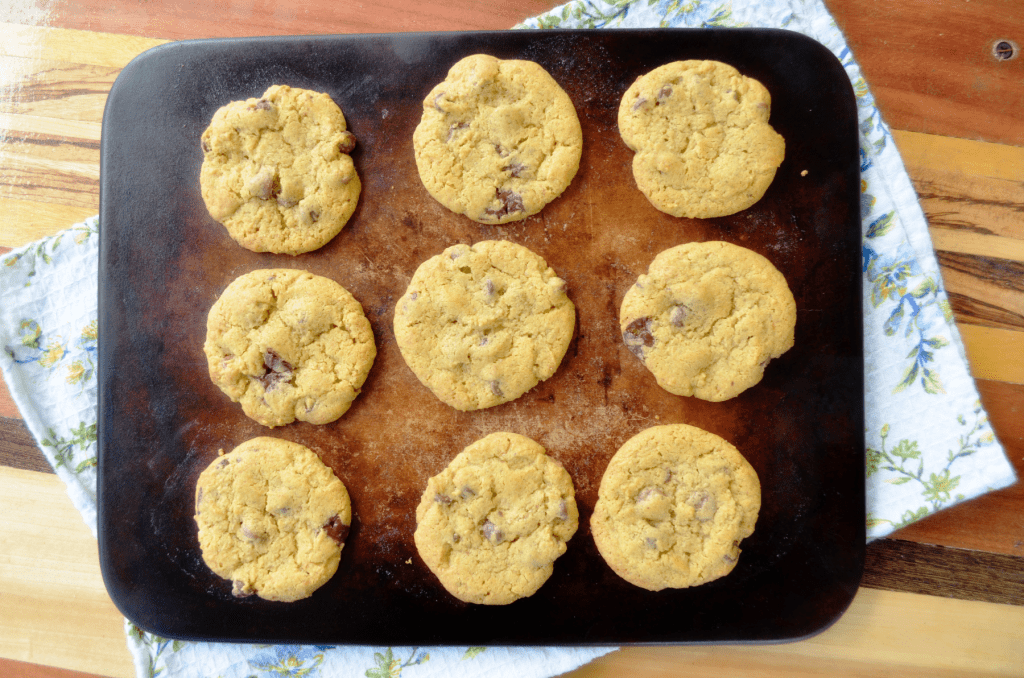 In a Large bowl Mix together Butters.
I like to start these with softened butter AND softened refined coconut oil. I've found this is key to making the soft chewy texture with crispy edges. It also produces a buttery AND creamy flavor. I've tried using all butter and my husband felt like it was a bit too rich. I never thought I'd hear that from him with the amount he throws on his bread! He's a butter lover so when he thought the butter was too much I listened. Feel free to try with all butter if you don't have coconut oil.
Add in Sugars.
I also use two sugars and they are both darker sugars that add a bit of caramel or molasses flavor. Because I've had issues with hypoglycemia among other things, I began to use coconut sugar for baking. It is low glycemic. I love the soft caramel flavor it produces that can be used instead of brown sugar. Remember, if you choose to substitute brown sugar it will not be one for one. Check out the printable recipe below for how to do this.
I've been pairing this sugar with turbinado sugar in my cookies because, well, because it makes a great flavor. And…I happened upon a good deal at the store so I stocked up.
It isn't as refined as cane sugar, but it does come from sugar cane. Feel free to use another sugar in place of this such as cane sugar if you wish.
Add egg at room temperature and vanilla, then beat together well.
The egg should be at room temperature and, believe me, it does matter. There is something about trying to to add a cold egg to a mixture when it's supposed to NOT be cold. It just won't be the same.
This mixture is meant to more than combine: it's meant to blend. If using an electric mixer use the whisk attachment and blend for several minutes. If you are doing this by hand you'll want to whisk for several minutes, putting muscle into it. You want to get as much air blended in as possible. A little trick I learned from Euna Mae's.
In a separate bowl add flour, salt, baking powder, baking soda and cinnamon.
The difference between mixing in einkorn flour and modern wheat is in the amount used. You generally can't use einkorn and modern wheat 1:1.
I've also noticed that using whole einkorn is a bit different than using all purpose einkorn.
I've done this recipe with all purpose and whole wheat. Both taste delicious but use quite different amounts of flour. Check out the recipe at the bottom of this page for specific amounts.
Gently mix dry ingredients into the wet and add the chocolate chips.
Lets talk about chocolate for one second. I've heard over and over how the best cookies use two or three types of chocolate and frankly, I have to agree. When I say types, I mean varying content of cocoa.
Perhaps you use a semi sweet chocolate chip (very traditional) and then you add some broken up chucks from an extra dark chocolate bar or use some bittersweet chips. The variation in the chocolate really adds an extra boost to the cookie flavor. You do want these to be the best einkorn chocolate chip cookies possible right? YES!
Bake at 375 degrees Fahrenheit for 10-12 minutes.
I like to use HEAPING tablespoons when I bake these but I know some people like dainty little cookies as well. You can do it either way but cooking times will very so check them to make sure they don't over cook.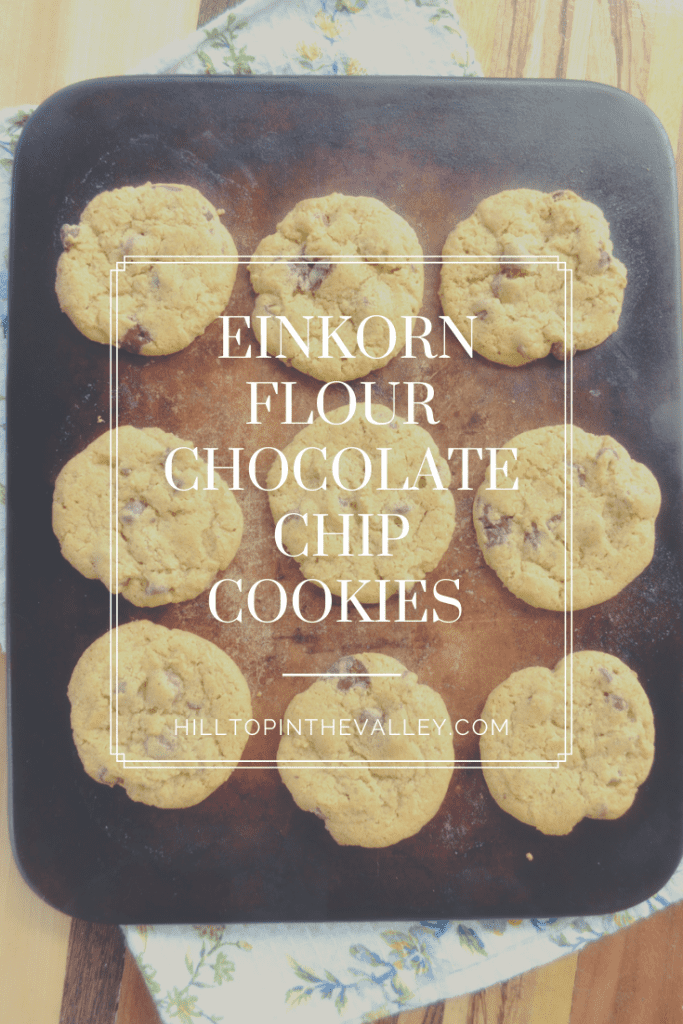 You'll want these to be just cooked in the center but don't go past that. If you cook them too long you'll lose that softness that makes them so wonderful.
Cool for 10 minutes and Enjoy!
Where I Get My Einkorn and More
Einkorn Berries for Home Milling
Einkorn.com is an Idaho based company that grows their Einkorn HERE in the U.S.A. I love getting my bulk einkorn berries from them because of the price, quality and the free shipping on orders over 48 lbs.
I like to get Jovial Foods All-Purpose Einkorn flour from Azure Standard when I need the light flavored Einkorn Flour. I love that they often run sales and Azure Standard has been a wonderful Company for our family.
I love the glass jars this oil comes in. I'm already planning to use the jar for my sourdough starter once the oil is used! Azure Standard has been a wonderful company to work with. Each month, should you make an order, a refrigerated truck meets you and other customers at a pick up point to unload the products. It's always a fun day in our house.
I struggle to actually let these cool before digging in. Either way, I know you'll enjoy them. Einkorn has a naturally sweet flavor to it and works wonderfully in these einkorn chocolate chip cookies. I know you will love them as much as I do!
Yield: 3-4 dozen
Einkorn Chocolate Chip Cookies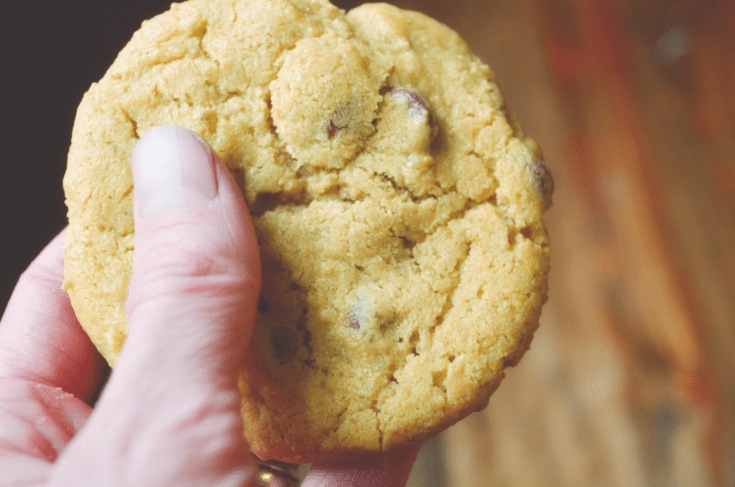 Soft and Chewy Chocolate Chip Cookies made with Einkorn Flour
Ingredients
3/4 cup coconut sugar
3/4 cup turbinado or cane sugar
1/2 cup grass fed butter, softened
1/2 cup refined coconut oil, softened
2 teaspoons vanilla
1 large egg at room temperature
2 1/4 cups of all purpose einkorn Flour
1 teaspoon baking soda
1/2 teaspoon baking powder
1 teaspoon cinnamon
1/2 teaspoon salt
1 cup chocolate chips (2-3 types in best)
Instructions
Heat oven to 375 degrees fahrenheit
beat together butter, coconut oil and sugars. add in vanilla and egg and beat for a few minutes until fluffy. The more the better!
In separate bowl, stir together flour, baking soda, baking powder, salt and cinnamon.
Add dry ingredients to wet ingredients and gently fold in chocolate chips until just combined.
Drop heaping tablespoon size balls of dough onto greased or parchment lined baking sheet. Slightly flatten each ball. Bake for 10-12 minutes.
Cool for 10 minutes before enjoying!
Notes
Coconut sugar may be replaced by 1 cup of brown sugar.
Whole grain Einkorn flour may be used in place of all purpose einkorn in the amount of 2 1/2-2 3/4 cups. Less will make them thinner.
Best wishes for your Snack time from the Farmhouse,
–Krista
Check out some other Hilttop Recipes:
My Favorite Farmhouse Buttermilk Biscuits
Simple Einkorn Lemon Blueberry Sourdough Scones
Soothing Chicken Soup for Comfort Food Cravings
Sourdough Einkorn Lemon Poppy Seed Muffin Recipe
Other Posts from the Hilltop:
Designing Our Homeschool for a Sensory Seeking Child
Welcome Home Anastasia: Our Adoption is Complete
Three Characteristics that Make Your House a Home