Einkorn Waffle Cone Recipe with a Pizzelle Maker
A couple years ago I found a pizzelle maker at Goodwill for only a few bucks. I'd been on the lookout for well over a year and was eager to try my hand at these classic cookies. Fast forward a couple years and I'm using this cookie press to make my own waffle cones! I admit, we've only used it a handful of times, but it's been worth it. The waffle cones are mouthwateringly tasty. To make them, I simply use this einkorn waffle cone recipe from the pizzelle party we had earlier. Simply following the pizzelle recipe and shape them into fabulous cones.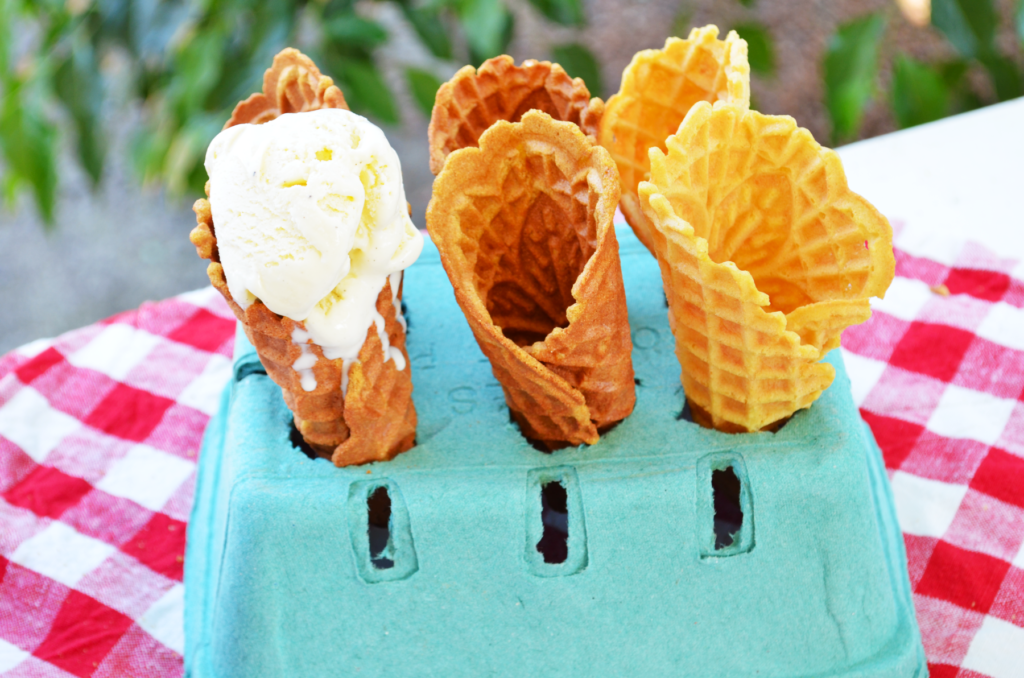 The Amazing Pizelle Cookie History
Pizzelle has a history starting thousands of years ago. They were one of the first cookies. Cookie stamps were first used in Italy while other countries stamped cookies such as the Krumkakes were in Norway. Soon a press was also used. The term Pizzelle comes from the Italian, meaning "round and flat" just as these cookies appear. Listen to this fun fact. Pizzelle are part of something called the Festival of Snakes. This is one of Italy's most ancient festivals commemorating when snakes took over farmed fields of village dwellers centuries ago. A Benedictine Monk cleared the fields and the village celebrated the victory with pizzelles. The festival is still commemorated with pizzelles and snake lovers who bring their own snakes. What a celebration.
Pizzelle Make an Einkorn Waffle Cone Recipe for Ice Cream
A couple winters back I shared about our Pizzelle Party on a cold day. You can check out that post HERE. The kids loved it, I loved it and it brought some excitement into our home. There is something magical about making these cookies. They are just so beautiful!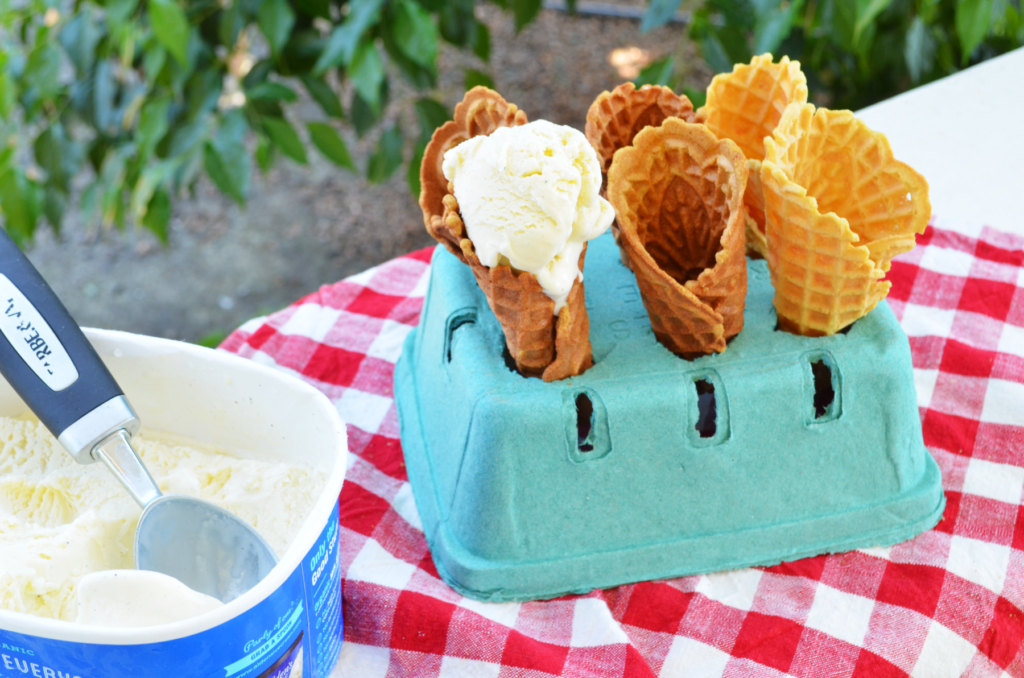 Something even more beautiful happens when this recipe is made into an ice cream cone. Waffles are great. Ice cream is great. A hot day outside? A picnic? An outdoor party? Waffle cones for ice cream are the ideal celebratory treat. The kids love them as much as the adults!
Waffle Cones VS. Sugar Cones
Waffle cones have a distinctive flavor because of the warm dark sweet flavor as in that of a waffle. Perhaps it has a bit of brown sugar or cinnamon. Either way it isn't as light, thin and crispy as the sugar cone. The sugar cone has a much lighter flavor. Because of the flavor of the waffle cone using whole einkorn works perfectly. You get the added protein and nutrition and the flavor works perfectly! There tends to be certain foods that work well with the whole grain einkorn flour and this is one. If you're curious about making more whole grain einkorn recipes but aren't sure what recipes will work best, check out my freebie chart HERE. The Whole Grain Einkorn VS. All Purpose Einkorn Flour Chart gives a simplified look at what flavors will work best with either type of einkorn.
History of the Waffle Cone
Waffle cones date back to 1904 when Abe Doumar had an epiphany. Though a street vendor ran out of paper cups for ice cream, there stood next to him a waffle stand. Abe grabbed a waffle and rolled it up into a cone cup for the ice cream.
In the days following, Abe created his own business after building a four-iron waffle machine. There's a reason waffle cones tend to cost more than sugar cones. They are thicker, have more flavor and when made from scratch, nothing could compare. Try this waffle cone recipe to bring some excitement to your next outdoor event or simply to celebrate the season with your family.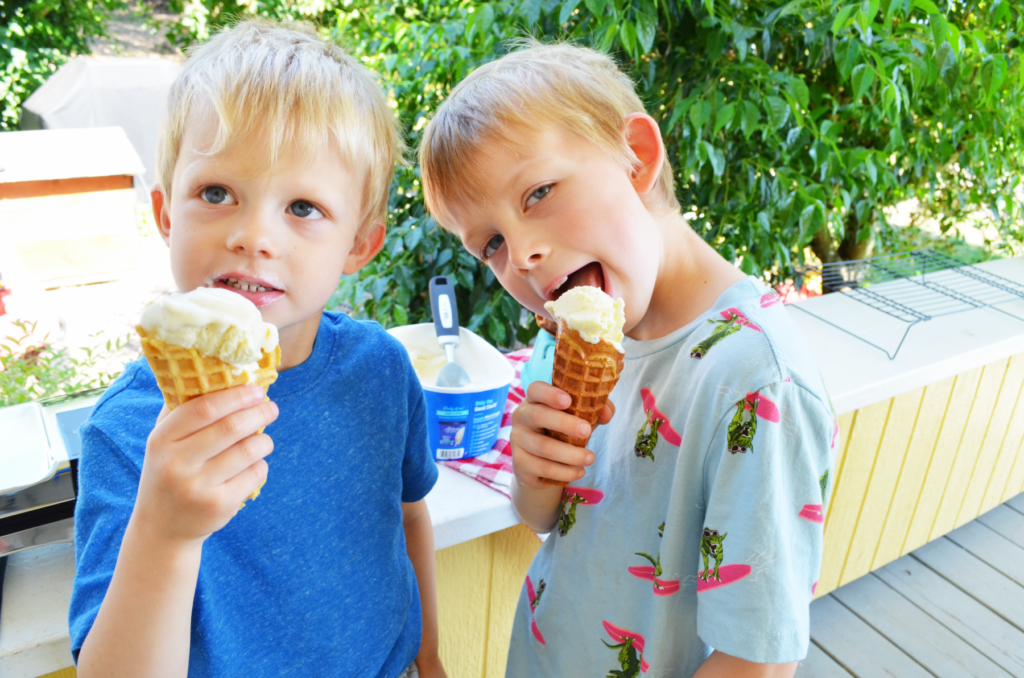 The Einkorn Waffle Cone Recipe
Ingredients in Waffle Cones
~3 eggs
~3/4 Cups Sucanat or Brown Sugar (or 1 Cup Coconut sugar)
~1 teaspoon Vanilla
~1 1/2 Cups Whole Einkorn Flour
~ 2 teaspoons Baking Powder
~1/4 teaspoon Salt
~1/2 teaspoon Cinnamon
Yield: 1 dozen cones
Einkorn Waffle Cone Recipe
Home made crunchy waffle cones made with a Pizzelle Press
Ingredients
3 Large eggs
3/4 Cups Brown or Sucanat Sugar (or 1 Cup Coconut Sugar)
1 teaspoon Vanilla
1 1/2 Cups Whole Einkorn Flour
2 teaspoon Baking Powder
1/4 teaspoon Salt
1/2 teaspoon Cinnamon
Instructions
Turn on the Pizzelle Maker to preheat.
Beat eggs, sugar and vanilla until the sugar has mostly dissolved, about 2-3 minutes. Add dry ingredients and mix together.
Add 1 Tablespoon of batter to each cookie press on the pizzelle press. It will be thick and sticky. Close press and cook for 1-2 minutes. Don't let them overcook!
Take off the press one at a time. Quickly roll into a cone shape. and hold the shape by placing the bottom of the cone in between the steel on a cooling rack. I've also used a pair of small tongs to prevent burns and hold them in place. Cones will hold their own shape after about 30 seconds to a minute. They cool fast. Then you can move them to a cone holder.
Notes
To make a cone holder, cut 1.5 inch circle holes in the top of a box ( I used a bin from berry picking).
How to shape the Waffle Cone
You'll want to shape the pizzelle into a cone shape immediately after taking it off the press. These cool fast and as soon as they cool off they become brittle and break easily. This means you have to shape them while they're still hot. How do I do this? Carefully. Use little touches to curve the edges of the circle over themselves so the top end is wide open while the bottom comes to a point. It takes a little practice but is actually pretty easy.
How to Make a Waffle Cone Holder
When making this einkorn waffle cone recipe, you'll need something to hold your finished cones! To make a waffle cone holder, simply grab a box that stands at least 3 inches upward. I used a bin from picking strawberries and turned it upside down. Cut 1.5 inch holes with at least 1.5 inches in between each hole. That's it!
Tips for the Best Waffle Cone
Because these are thick and hard to shape quickly, you'll notice the ends often have a small hole ice cream drips through. This can be frustrating for slow lickers as the ice cream melts through the bottom. Here's some tricks for this einkorn waffle cone recipe.
To avoid dripping open bottoms, try adding a few chocolate chips or other candy to the bottom of the cone before using. You can also get creative and pour some melted chocolate in the bottom. Then let the cone chill and the chocolate set in the freezer for a half hour before filling with ice cream.
Are Waffle Cones Gluten Free in this Recipe
Though einkorn flour isn't gluten free, it's easy on the tummy for those who are gluten intolerant. You can see more on the gluten in einkorn in this POST. Know that gluten in einkorn flour is completely different than the chemistry of modern wheat flour. Are einkorn waffle cones gluten free in this recipe? No, but the nutrition and digestibility could be quite helpful for your health needs if you are simple intolerant of gluten.
You'll notice that two of the waffle cones in this post look lighter than the others. These are the gluten free cones I made using a pancake mix from "Simple Mills." If you do this I'd add a little extra sugar and lessen the amount of liquid by about 25 percent. Waffle cones need a thick batter.
Storing Your Waffle Cones
Because the best part of having these waffle cones is their crunchy body, it's best to eat them immediately. Over time they will soften. The best timeframe to have them eaten is within 24 hours when left out and seven days if kept in the freezer.
Need to freeze them for a future event? You can freeze them in an airtight container or freezer zip lock bag for up to seven days. Even so, try to eat them the day of! They're best right off the press.
From the hilltop,
Krista