Simple Einkorn Sourdough Bread Recipe for the Beginner
You may have hear of ancient grain einkorn being healthier than modern wheat. You see pictures of artisan style einkorn sourdough bread online. Then you think, "I'd like to make some bread." But wait, you're not confident with this "einkorn" grain and the thought of making BREAD with einkorn flour is overwhelming. I'm here for you. It can be intimidating! Let's walk through this simple einkorn sourdough bread recipe and grow your confidence. Yes, einkorn flour is different than modern wheat but you can learn how to use it.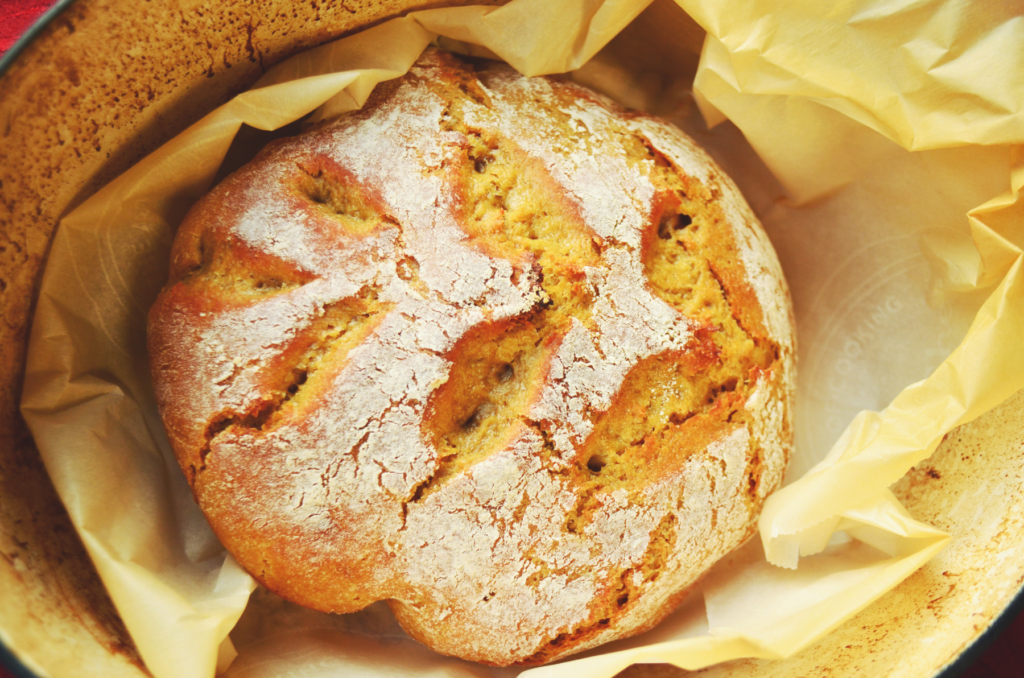 Disclosure: This post contains affiliate links. Should you click on an affiliate link and follow through to make a purchase, I receive a small commission at no extra cost to you. I only share products I believe in.
Ancient Grain Einkorn vs. Modern Wheat
First, lets talk einkorn. I can talk all day on this subject but I won't keep you that long. Einkorn is the oldest form of unhybridized wheat known to man. It has a much weaker gluten content due to the difference in chromosomes. Einkorn wheat has only 14, compared to modern wheat which has 42. This makes it much easier to digest; especially good news for those with gluten intolerance.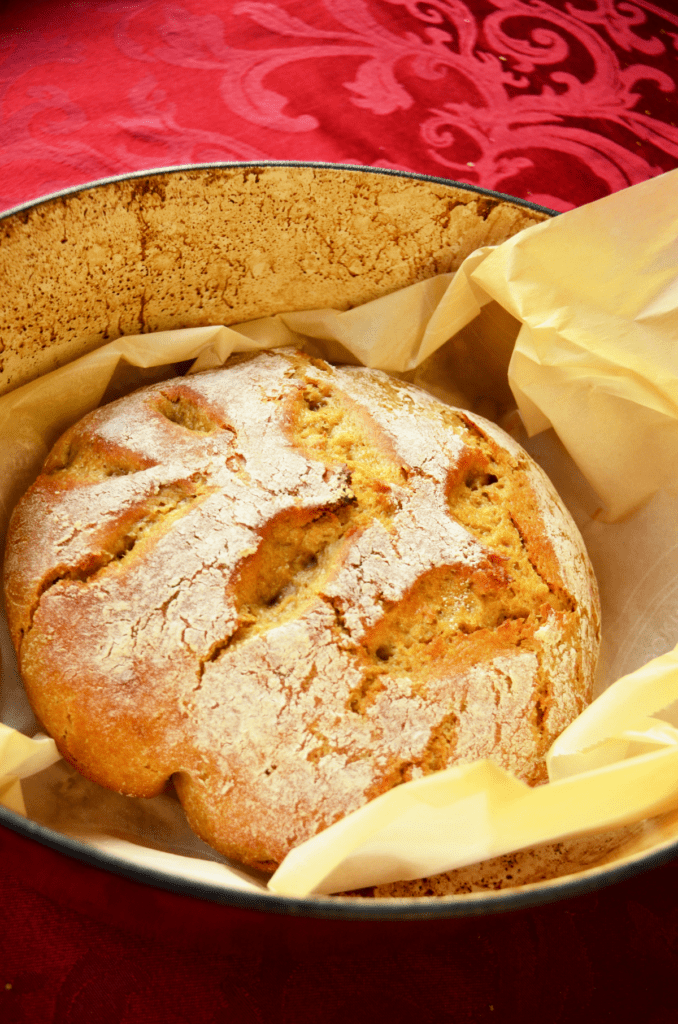 Einkorn also has a high protein content and much more nutrition. It's a powerhouse of riboflavin, beta carotene, Vitamin A, Lutein and more. What about phytic acid? Phytic acid is a common concern for those deciding whether or not to eat grains. Phytic acid binds up nutrients in the body, preventing the nutrients from being used. Good news, einkorn has 50 % less phytic acid than modern wheat. Learn more about einkorn's health benefits and who can or can't eat it in THIS post. You can also find more on einkorn's history in the blog post, All About Einkorn.
Sourdough Starter Tips
A sourdough recipe begins with an active starter. No commercial yeast here! This is nature's yeast. Having a mature and active sourdough starter is important when making any type of sourdough bread. If you have a sourdough starter that isn't made with einkorn, no fear! That will work too. The two most important parts of a working sourdough starter is maturity and that it's active.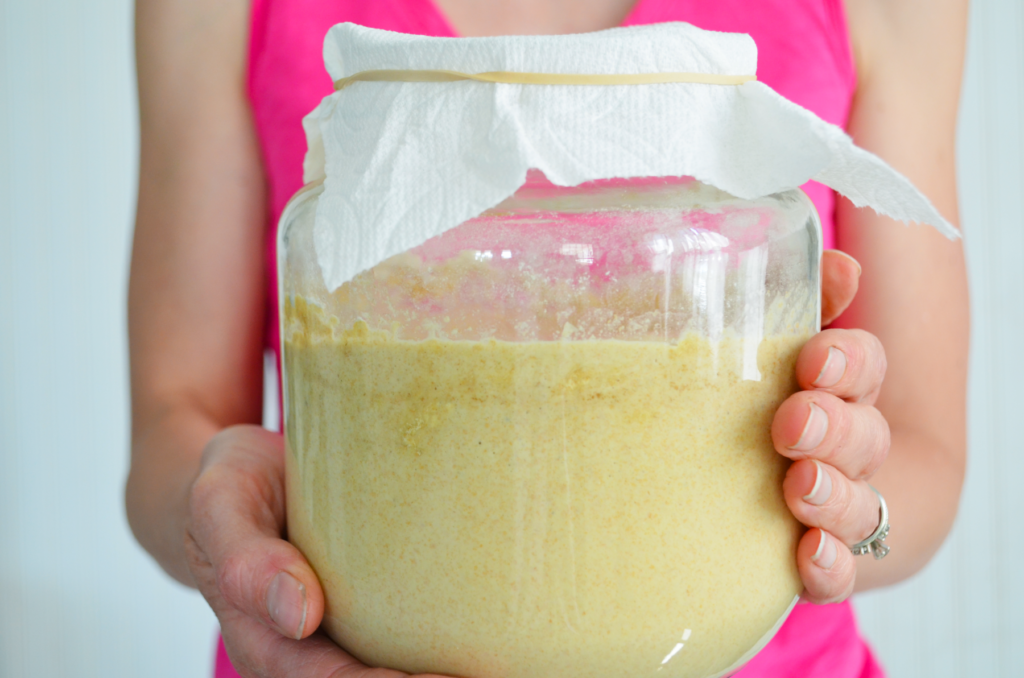 Mature Sourdough Starter. A mature starter will have enough organisms in it to quickly grow in volume and bubbles after a few hours. This happens from consistent feedings over time. If you have a starter that is years old (like mine), it is mature. It's stood the test of time. If it's been created recently and is not einkorn, check out these tips from Cook's Illustrated to test if it's "mature."
Recently fed to activate. You'll want to feed your starter 4-8 hours before mixing the bread dough together. This will insure a lively yeast for your bread. Perhaps you'll feed it flour and water right before bed to prepare to make dough first thing in the morning, or feed it while making dinner to have it bubbly right before bedtime.
How to Make Einkorn Sourdough Starter
Like I mentioned, you don't have to use an "einkorn" starter for your bread. If however you're ready to jump right in to einkorn baking, I recommend making one. You can find the simple directions for making your own sourdough starter with einkorn or transitioning a previous starter to einkorn HERE.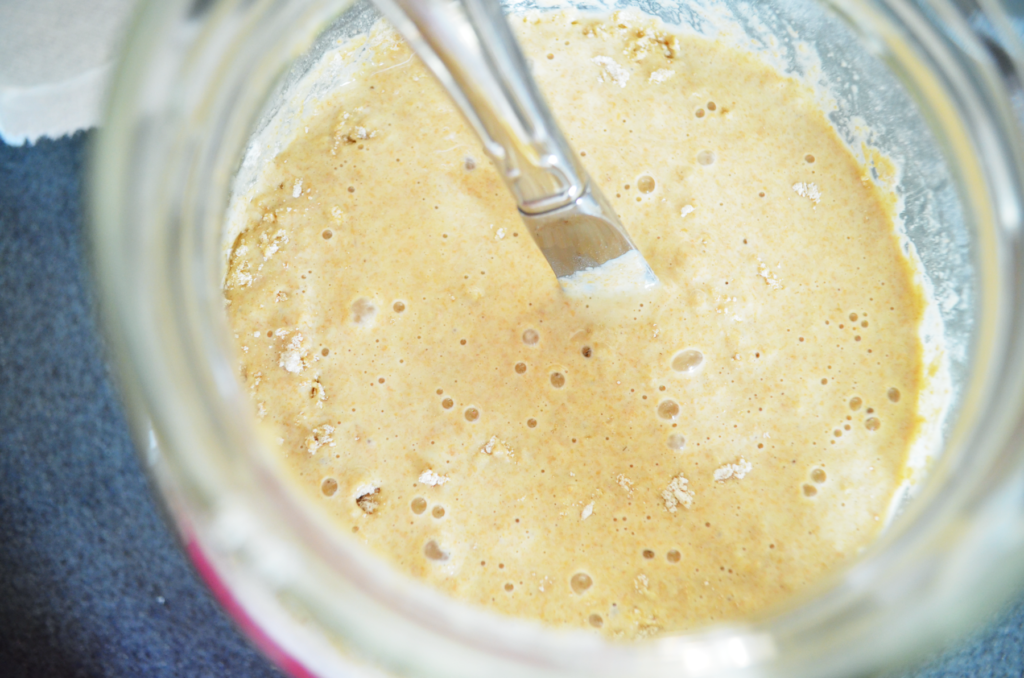 I do use whole grain einkorn flour to feed my starter. This is because whole grain einkorn contains the wheat germ. Wheat germ contains the highest quantity of organisms used to feed your sourdough starter. This means more food for the starter and better strength. Yes, all purpose einkorn flour will also work. I've used all purpose einkorn many times too. I just come back to the whole grain because of it's strength and quick revival of the starter.
Equipment Needed for This Einkorn Sourdough Bread Recipe
Don't worry, you don't need anything too fancy to make sourdough einkorn bread. I don't even use most of the fancy tools! You may have all these in your kitchen already though. While there is professional bread making equipment, there are also some easy substitutions. I happen to like the basics and substitute.
Kitchen Tools for Making Bread
Dutch Oven. This is the main item you can't do without. A dutch oven helps keep in the moisture in and create the crispy crust.
Banneton. Ban-a what? A banneton is simply a bowl in which dough rests and rises. Banneton baskets are made from woven wood and help to prevent the dough from spreading as they rise. We want them to rise UP, not out. They also draw moisture from the dough surface, preventing sticking. I don't have a banneton. Yup. It's true! I use either a towel lined colander, or just a large bowl. I've been happy either way.
Dough Scraper or "Bench Scraper." This is another item I don't have, so no sweat, you'll survive without it. I'm holding out for my husband to make me one in his workshop. Dough scrapers are flat pieces of metal, wood or plastic that fit in the hand to scrape dough from a bowl or counter. This prevents the sticking that often ensues when working with dough. I've been able to adequately scrape the dough out with a large metal spoon and my heavy duty spatula.
Sharp Blade or "Bread Lame." This is for cutting into the dough just before baking and gives the dough a direction to grow. Your bread will split whether you cut into it or not. It looks much prettier if you cut a design to have it split into. Bread lames are specially made blades for cutting into the dough, but I don't use these either. A Sharp knife will do just fine and has for me!
The Einkorn Sourdough Bread Recipe
Ok! All your equipment is gathered (which might just be a large bowl, spoon and sharp knife with the dutch oven) so you're ready to begin. Feed your sourdough starter 4-8 hours before mixing the dough to be sure the sourdough starter is active.
Ingredients
1 Cup Sourdough Starter (Thickness of heavy pancake batter)
1 Cup Warm filtered Water ( about 100 degrees Fahrenheit)
1 1/2 teaspoons Sea salt
1 Tablespoon Honey
4-4 1/2 Cups All Purpose Einkorn Flour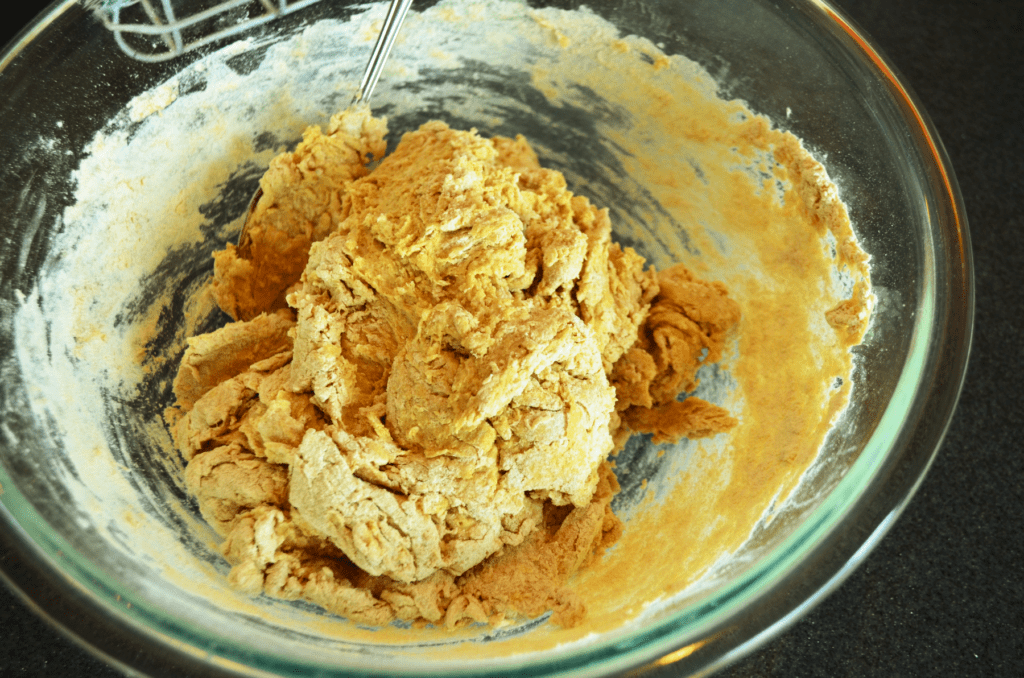 Directions and Tips to Build Confidence
In a large mixing bowl, mix together all the ingredients. I usually start with the sourdough starter and go to the water, but order doesn't matter here. Nice right? Start with 4 cups of all-purpose einkorn flour and see how well the dough comes together. Mix until the dough combines into a lump, then STOP. Don't overwork the dough. You want it to be thick enough to come into one large ball, but still have some stickiness. Pull together into one lump, cover with plastic wrap or a towel and let it sit for 15 minutes. If more flour is needed, we'll add that in while we fold the dough.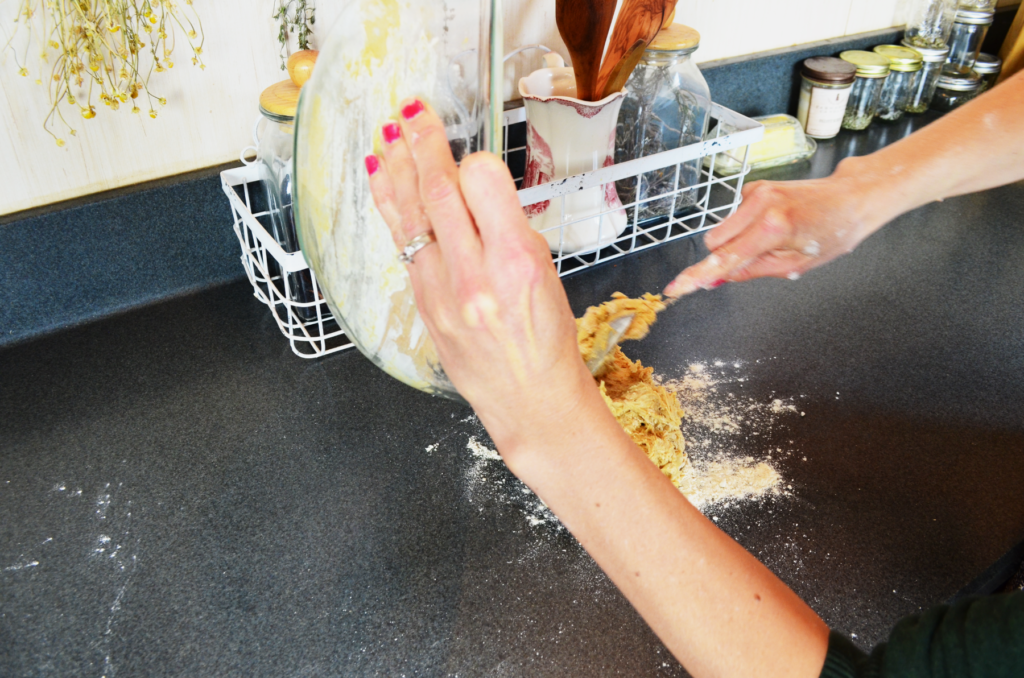 After 15 minutes is up, scrape the dough out onto a lightly floured surface. When I say lightly, I mean it. Don't get flour happy! Unless of course, your dough is gooey. Then add more flour a little at a time. Stretch and fold the dough 8-10 times. This is similar to kneading. When you fold the dough, it traps air inside and helps your loaf rise. Folding is as easy as it sounds. You can fold it in half as in the first fold of a paper airplane or into thirds. Either way works. Learn more about folding the dough HERE.
Once you're done folding the dough, turn it into a ball shape and place it in the large bowl or a banneton basket to rise. Cover with a damp towel or plastic wrap. I prefer the damp towel as it keeps moisture in the dough. Place it in a warm spot ( like room temperature warm; not sauna warm) for 6-8 hours or overnight.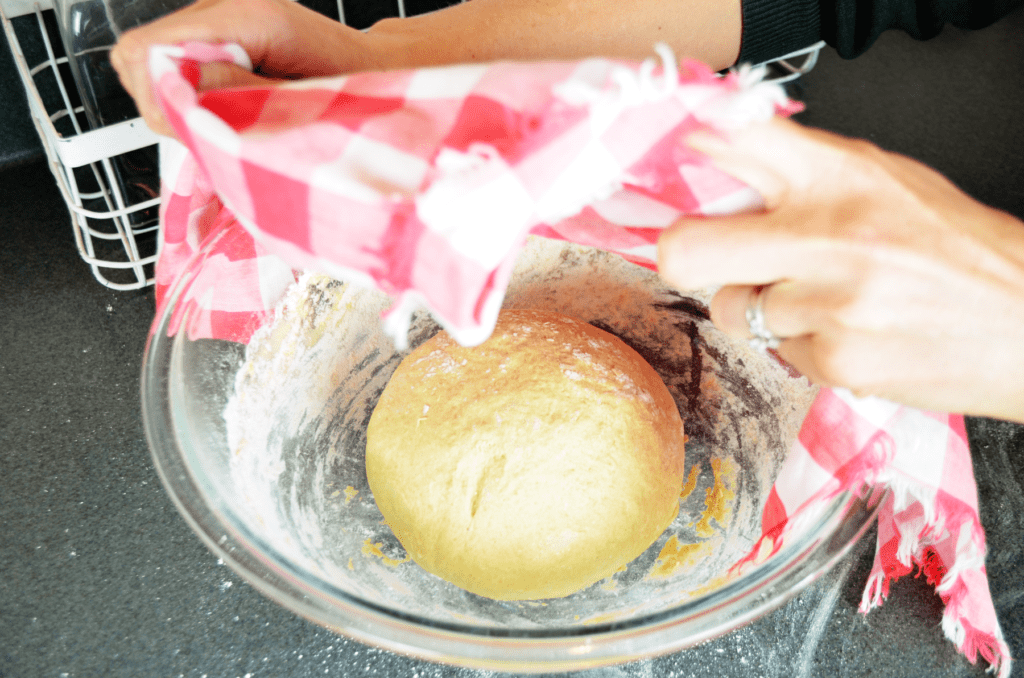 Bake the Bread
After 6-8 hours, move the middle rack in the oven down, and preheat the dutch oven at 475 degrees Fahrenheit for 30-45 minutes. Using oven mitts, take the hot dutch oven out of the oven and open the lid. Carefully place a piece of parchment paper inside. Now place dough into the parchment lined dutch oven. Remember the dutch oven is hot! Very gently rub the top of your ball of dough with some flour. Using a sharp knife or bread lame, cut slits into the dough, giving it room and guidance to grow in the oven. Learn more on scoring bread HERE. An easy favorite is the seven slit leaf as shown at the top of this page. With your oven mitts on, put the lid back on the dutch oven and return it to the oven. Bake for 20 minutes.
After 20 minutes, remove the dutch oven lid and continue baking 10-15 more minutes. Remove from the oven and place the bread onto a cooling rack. Let it cool for 30-60 minutes. This is important! If you cut in too soon, the inside will not set well. I've done this before. The bread is still good, but will hold it's shape much better if given time to cool. Enjoy with butter!
Print the Einkorn Sourdough Bread Recipe
Yield: One Loaf
Einkorn Sourdough Bread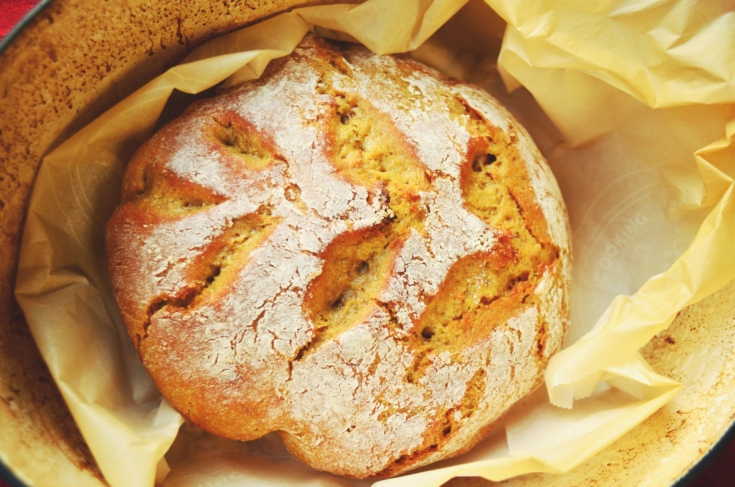 This artisan style einkorn sourdough bread is soft on the inside with a thick crispy crust outside. Made with soft and slightly nutty all-purpose einkorn flour.
Ingredients
1 Cup Sourdough Starter (like thick pancake batter)
1 Cup Warm Water (about 100 degrees Fahrenheit)
1 1/2 t Sea Salt
1 T Honey
4-4 1/2 Cups All Purpose Einkorn Flour
Instructions
1. Feed the sourdough starter 4-8 hours before making this bread.
2. Combine all ingredients in a large bowl until it begins to form a ball. The dough should be barely sticky and one large mound able to hold it's shape.
3. Cover the bowl and let sit 15 minutes so the grain absorbs all the moisture in the dough.
4. Scrape out the dough onto a lightly floured surface and fold the dough 8-10 times. Pull dough back into a ball and place into a banneton or the bowl. Cover with a damp cloth or plastic wrap. Let it rise for 6-8 hours.
5. After 6-8 hours preheat the dutch oven to 475 Degrees Fahrenheit. Lower the middle oven rack if needed to fit the dutch oven into the oven. After 30 minutes remove the dutch oven and line with parchment paper.
6. Drop the risen bread dough into the parchment lined dutch oven and rub lightly on top with more flour. Score the dough. Cover with the dutch oven lid and bake for 20 minutes. Remove lid and bake 15 more minutes.
7. Let the bread cool on a cooling rack for 30-60 minutes before cutting. Enjoy!
Where to Find Einkorn Flour
My current favorite place to purchase all purpose einkorn flour and whole wheat einkorn berries is Einkorn.com. These guys are northwest grown, packaged and shipped in the USA. I love supporting small businesses and Ancient grains (run by einkorn.com) have great quality, and pricing. I recently ordered a 20 pound bag of all-purpose einkorn flour and it came within the week. There was a message on top saying they packed me four of their five pound bags instead of the 20 pound bag to get my order out faster. I'm so happy and impressed by their service!
Other Einkorn Flour Recipes
Overnight Sourdough Bagels with Einkorn
The Best Einkorn Flour Recipes for Every Season
Best Recipe for Chewy Einkorn Chocolate Chip Cookies
Simple Einkorn Lemon Blueberry Sourdough Scones
Thanks for stopping by! I'd love to hear how your baking goes and hope you have success! Enjoy every crumb.
From the Hilltop,
Krista