Recipe for How to Make the Perfect Flaky Einkorn Pie Crust
Is there really a "pie season?" I don't think so. Winter, Spring, Summer, Fall…We eat pie in one and all! Let's face it. The biggest turn off to making a pie is the crust. Unless of course, you get a frozen store bought crust, rolling out your own can be daunting. Even so, nothing can beat a flaky, buttery soft pie crust. It makes the pie. A crust can also unmake the pie, which is why I set out to find the perfect flaky einkorn pie crust. Here it is folks.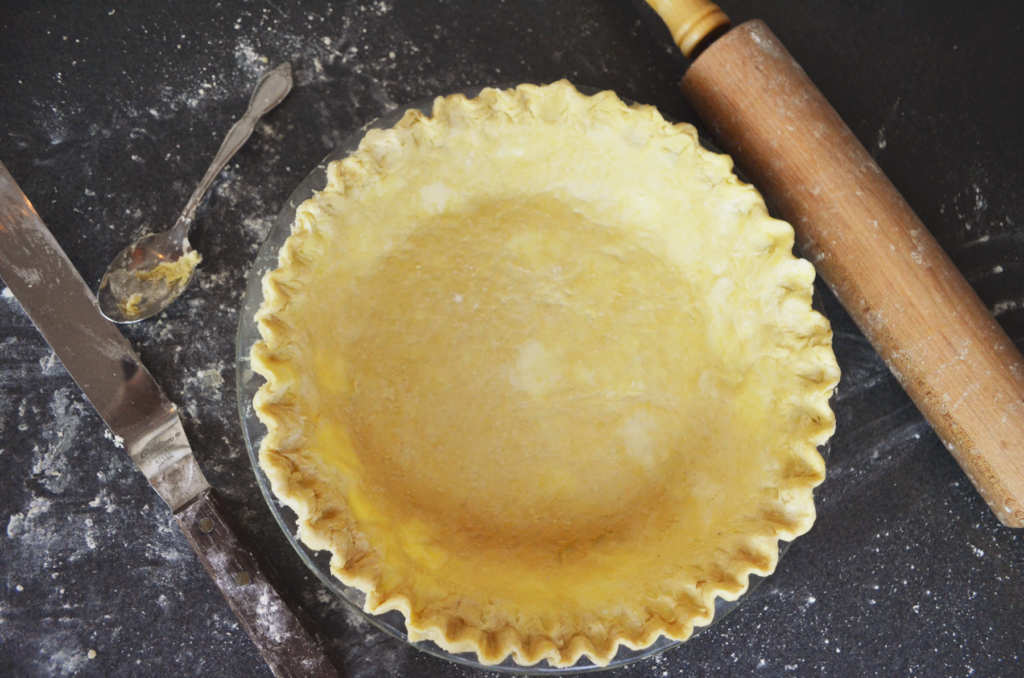 Note: This post contains affiliate links. This means if you click on an affiliate link and follow through to make a purchase, I will receive a small commission at no extra cost to you. Thanks for supporting small businesses!
We moved into our farmhouse and I had a goal. In my mind a gal couldn't live in such a charming old farmhouse and NOT know how to make a pie. So I would learn. I've made a lot of mistakes while learning. Soft gooey crust pies, pudding in the middle pies, burned crusts, sour pie: you name it. I feel for the people who've had to eat my "learning" mistakes. I still make mistakes, but I'm also becoming more confident in what I've learned.
There are two pieces to a good pie no matter whether it's a fruit pie, a meat pie or a pot pie. You have the filling and the crust. Today we'll focus on the crust because everyone wants a perfect flaky crust. I want a perfect flaky einkorn pie crust and that's just what I've got to share with you!
Recipe for the Perfect Flaky Einkorn Pie Crust
Before you begin
Get out your supplies:
Rolling pin
parchment paper
bowl
cup measures
spoon measures
Refrigerate the butter so its very cold
Ingredients for the Perfect Flaky Einkorn Pie Crust
2 1/2 Cups All-Purpose Einkorn Flour
1 Teaspoon Sea Salt
1/2 Cup Chilled Butter (grass fed is best!)
1 Tablespoon Apple Cider Vinegar
Approximately 3/4 cups very cold water
How to Make Your Einkorn Pie Crust
In a large cup, drop a few ice cubes, then pour 3/4 cup of water into the cup. Let the cup sit while you prepare the rest of the crust.
In a medium sized bowl add your flour and salt and mix together.
Cut in the butter. I like to do this by cutting the butter length wise three times, turning 45 degrees and cutting length wise two to three times again. Watch this biscuit video at 2:42 to see it in action. for a better view of this. Alternatively, you can grate very cold butter using a cheese grater. I've also known people who use a pastry cutter or just make the whole crust in a food processor. I prefer to cut in the butter myself but whatever floats your boat!
Add in vinegar and slowly add in your very cold water from the cup. Stop adding water when the crust begins to pull into a ball. You may not need the whole 3/4 cups so work the dough as you pour in the water little by little. When the dough is beginning to stick together, don't add any more water! Take the dough out and continue to knead on a lightly floured surface as it comes together.
Using a rolling pin, roll into a 12″ x 12″ circle or whatever shape needed for your specific project.
Bake according to your recipe.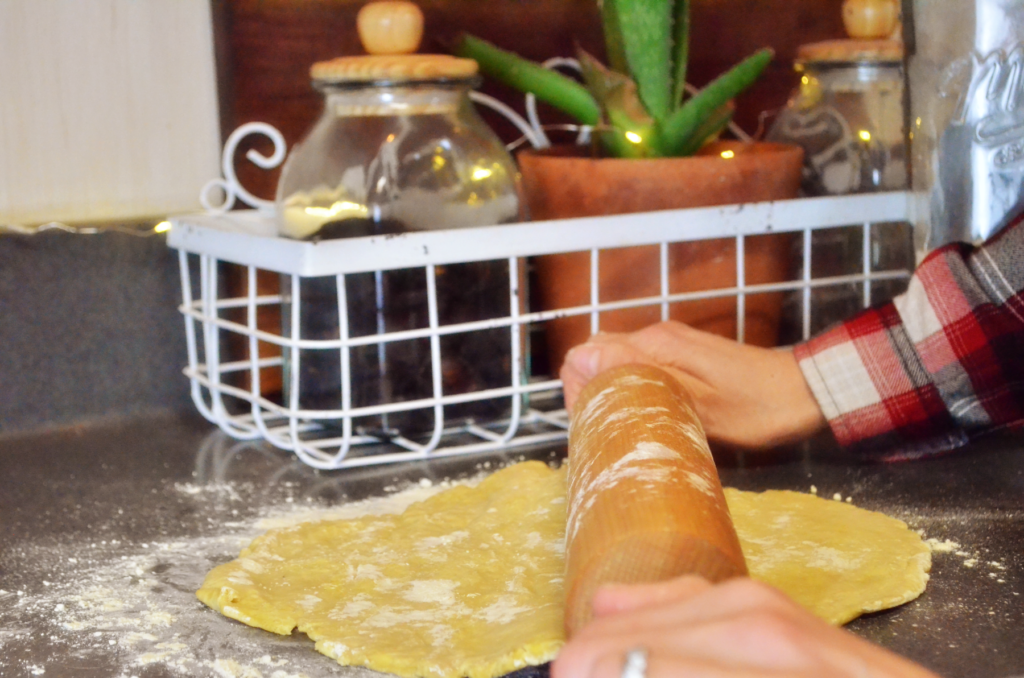 Tips for Making Your Pie Crust
Make sure you use enough dough around the edge of your pie crust. One of a baker's biggest worries is that the edges will burn in the oven. Flatten the crust edge down a little. Use a pie crust cover or make your own by cutting an "O" shape sized to the pie. This will protect the crust if after 10-15 minutes, the crust is browning quickly.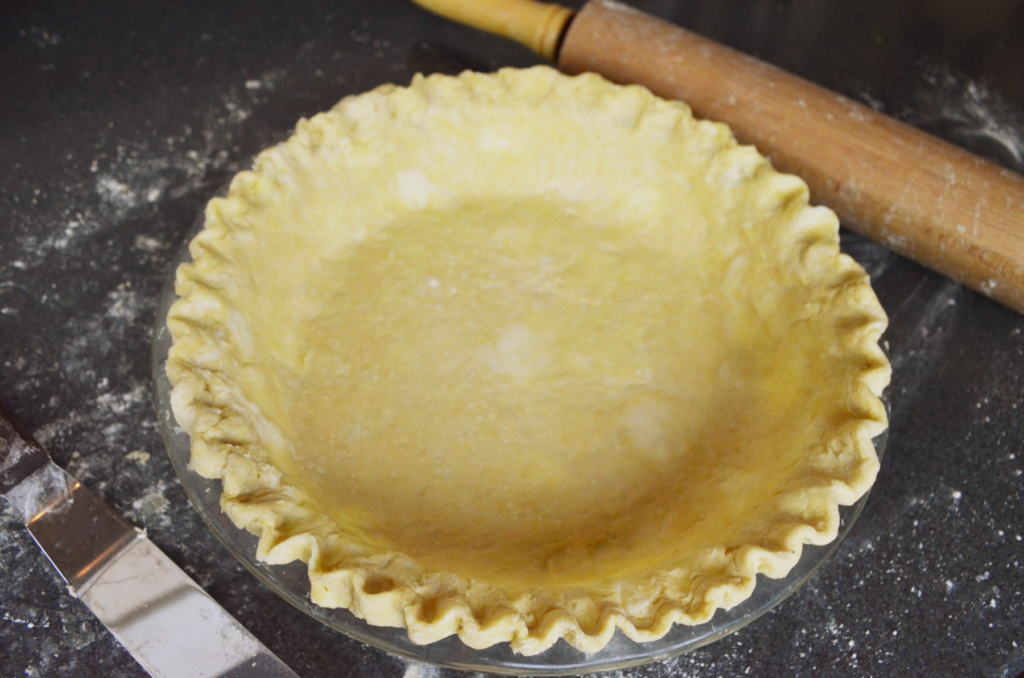 Freeze for 15 min before baking or refrigerate if it'll be more than 20 minutes until you bake it.
Flaky Einkorn Pie Crust Recipe
Ingredients
2 1/2 Cups All-Purpose Einkorn Flour
1 teaspoon Sea Salt
1/2 Cup Cold Grass Fed Butter
1 Tablespoon Apple Cider Vinegar
Approximately 3/4 Cup very cold water
Instructions
1. In medium bowl, mix together the flour and salt. Cut butter into small pea sized chunks and mix into dry ingredients.

2. Add in vinegar and slowly add in cold water, Only add water until the crust begins to pull into a ball. Continue to knead crust into a ball on a lightly floured surface.

3. Roll into a 12 by 12 inch circle or other shape if needed for specific baking project.

4. Bake according to your recipe.

Enjoy!
Notes
To Freeze:
Roll out into crust, then place on parchment paper. Place a second piece of parchment on top and roll roll into a cylinder shape. Cover with plastic wrap or place in a freezer bag. Store in freezer for up to a week. Take out 3-4 hours before baking and remove plastic wrap to thaw.
Common Questions
Can I substitute the Butter with Coconut Oil?
Unfortunately, this won't work because the fat's role in this recipe is for texture. Coconut oil will not create the same flaky crust due to it's melting point and the chemistry of the oil versus that of the butter.
Can I use whole grain einkorn as a substitute for all-purpose einkorn flour?
This recipe is made specifically for all-purpose einkorn flour. While whole grain flour could be used, the texture would be changed and the ingredients may need to be adjusted. The more I've used einkorn, the more I realize how different whole grain and all-purpose einkorn are in recipes. You can learn more in post about starting to bake with einkorn. I will keep you posted on a whole grain version of this crust.
Is there a trick to getting the crust into the pie dish without it falling apart?
Try this. Once you roll the crust out flat, lift the edge of the crust over the rolling pin and roll it up around the rolling pin. Use a knife or food scraper if the dough sticks to the counter. Unroll the crust into your pie plate.
Can I freeze this for later use?
Yes! To freeze, take out your parchment paper. Place a square of parchment over the rolled out crust. slowly roll the crust and parchment as one until it resembles a loose log shape. Cover this with plastic wrap or aluminum foil and freeze for up to a month.
On baking day, remove the outer wrapping and let the crust thaw for 2 hours before baking.
Can I start this the night before?
Absolutely! You can do this a couple different ways.
Combine the ingredients into a ball of dough, flatten into a disc, cover with plastic and refrigerate over night. The next day, take it our to thaw. Then roll the dough out and bake into a pie.
Finish mixing the ingredients into dough and roll out into crust. Place crust into a pie dish and cover with a towel or plastic wrap until you make the pie the next day.
Where Can I Buy Einkorn Flour and Wheat Berries?
I have two places I regularly purchase einkorn.
I get my all-purpose einkorn flour at Azure Standard. They carry both Jovial Foods brand and Their own Azure Einkorn Flour.
I purchase whole einkorn berries to mill at home through Einkorn.com. I've been very happy with their quality and pricing and love that they're local to the northwest. An einkorn grown in Idaho!
More Recipes with Einkorn Flour
Sourdough Einkorn Lemon Poppy Seed Muffin Recipe
How to Make Christmas Chocolate Chip Cookies with Einkorn
Overnight Sourdough Bagels with Einkorn
More Posts on Einkorn
In My Opinion: The Mockmill 100 Flour Mill
Does Einkorn Cause Inflammation? Gluten Free and Autoimmune Disorders
Best Tips for How to Bake with Einkorn Flour
Thanks for stopping! I'd love to hear about your pie making.
From the Hilltop,
Krista