Einkorn Flour Lemon Pound Cake Recipe
My birthday comes during the summer and I will often go back to eating strawberry shortcake. I've found, though, I would much rather have the whipped cream and berries with an actual cake rather than real shortcake. Don't get me wrong. Sometimes, that scone style bread is great underneath a plop of whipped cream. Most often, though, I want something a bit softer. This einkorn flour lemon pound cake has the perfect combination of butter and sweetness to enjoy alone or under summer berries.
This post contains some affiliate links. This means that when a link is clicked on and a purchase made, I receive a small commission at now additional cost to you. Thank you!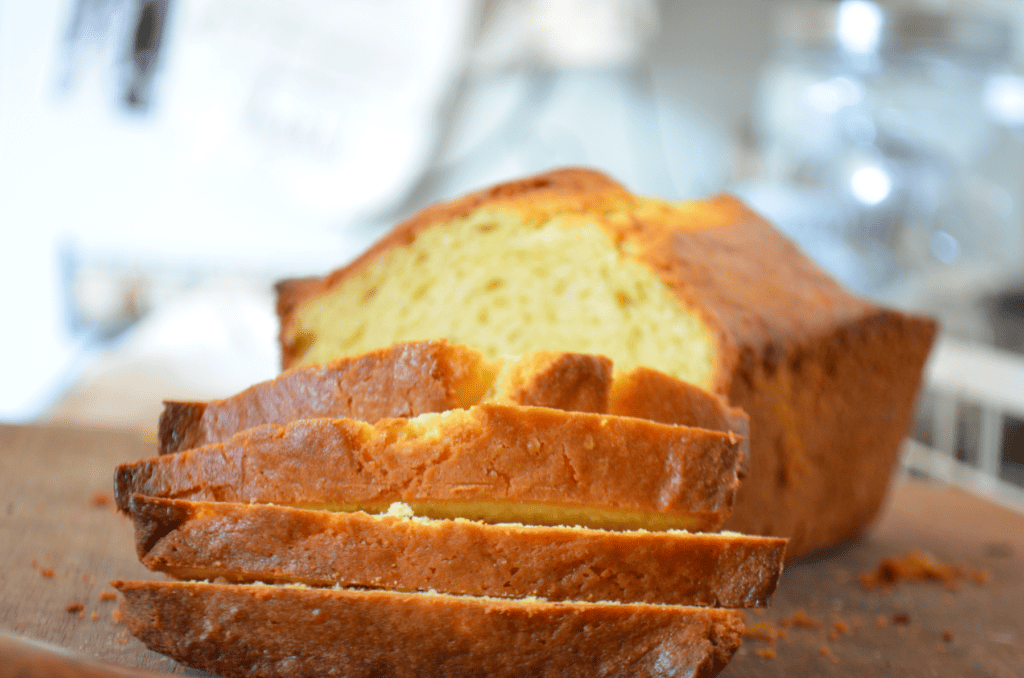 What is Pound Cake
Pound cake originated back in the 1700's and got it's name for the ingredient's actual weight. That's right: one pound of butter, one pound or sugar, one pound of flour and eggs! You could say this recipe is just a knock off or variation of the original pound cake. Perhaps we should call it a "half pound cake!"
Either way, pound cake is still known as a denser cake. It's a little weightier than your usual fluffy light white cake. If sponge cake were on one end of the spectrum, pound cake would be all the way on the other side for density. My favorite way to eat it is with berries and cream!
Why Use Einkorn Flour
I love using einkorn because of it's amazing qualities. As the original wheat (Yes! the first ever!) einkorn is an heirloom grain with a very simple digestible structure. It's high protein content and high nutritional value in addition to the nutrition being more readily available. Because it's much easier to digest, many who are sensitive to gluten find they can tolerate einkorn. You can learn more about this ancient grain HERE.
Where To Buy Einkorn Flour
The big question is where to buy einkorn flour! This isn't a flour you'll find down the isle of your everyday grocery store. This is considered a specialty flour meaning you can spend a LOT of money to get a little bit. Jovial Foods was the first big company to introduce einkorn to the market and remains a popular place to purchase it. I like that I can purchase it in my monthly Azure Standard order and do this but it's also great to find a consistent seller. In the past few years, other U.S. grown einkorn farms have marketed their grain and flour.
I love using Einkorn.com because of the fact that it's grown locally here in the Northwest, their pricing isn't bad, especially for the large bags of grain I use to grind my own flour. Lastly, I've had WONDERFUL customer service from them. Once I tried to make a "cheap" purchase from a popular natural retailer and it was damaged in the mail twice. The second time they didn't even bother to tell me and I went on wondering for a month what happened to the order. I finally cancelled it and went back to Einkorn.com. Within a few days my package arrived with a hand written note saying they'd switched me from one 10 lb. bag to two 5 lb. bags so they could mail if faster. I was ecstatic.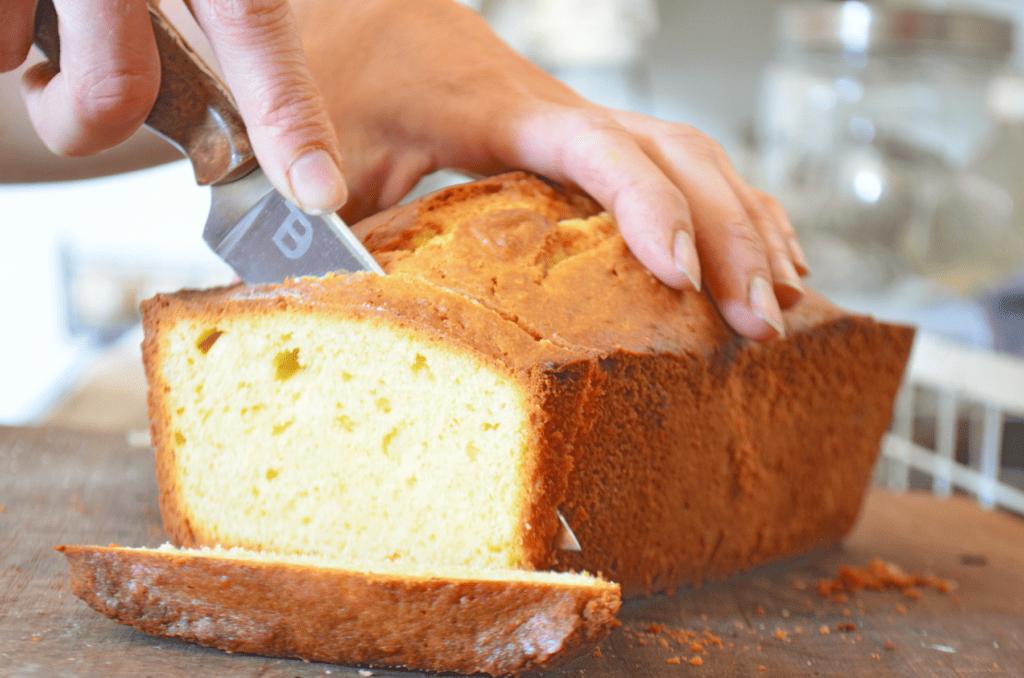 Equipment Needed for Making Pound Cake
Loaf pan (I use an 8.5 x 4.5 inch loaf pan)
Large Mixing Bowl
Medium size mixing bowl for wet ingredients
Wisk for Beating Wet Ingredients
Spatula
Cooling Rack
Oven Mitts
Ingredients for Einkorn Lemon Pound Cake
2 Cups All Purpose Einkorn Flour
1 Tablespoon Baking Powder
1/2 teaspoon Sea Salt
1/2 Cup Butter (softened)
1/2 Cup Plain Yogurt
3 Large Eggs
3/4 Cup Sugar
2 Tablespoons Lemon Juice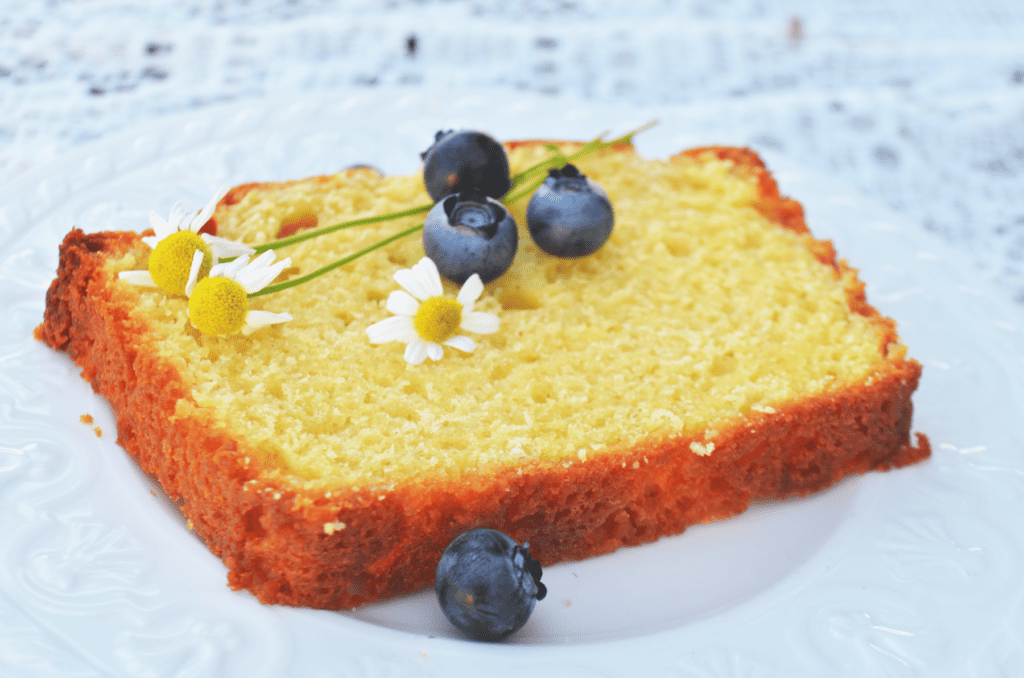 The Pound Cake Recipe
Let's get started on this simple recipe. It's so quick to make. The hardest part is it's long baking time. First of all, preheat your oven to 350 degrees Fahrenheit.
Mix the Dry Ingredients
In a large mixing bowl, mix together your All purpose einkorn flour, baking powder and salt.
Mix the Wet Ingredients
In another bowl, cream together your butter and sugar. Add in your egg, yogurt and lemon juice and beat well.
Combine the Dry and Wet Ingredients Together
Combine the wet ingredients with the dry until just combined. Cover the bowl and set aside for 10 minutes while you grease your loaf pan.
Grease Your Loaf Pan
I like to grease my loaf pan with coconut oil or butter but feel free to use what you have. Fingers do the job wonderfully so don't be afraid to get dirty. Just make sure to oil every part well. Finish by sprinkling a bit of the flour over your greased pan to help prevent sticking.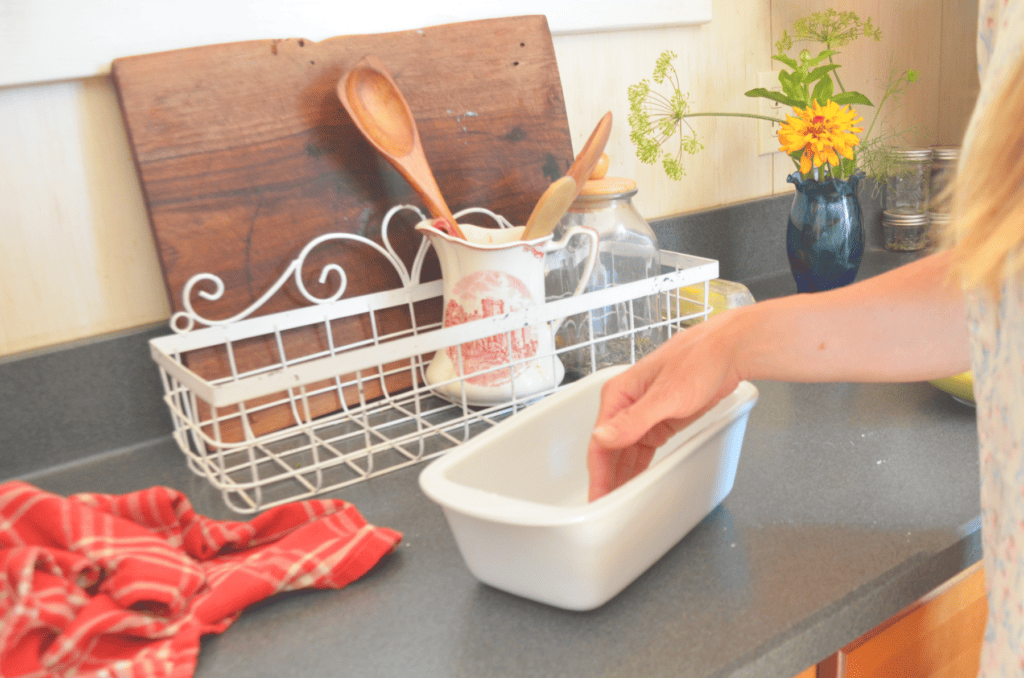 Bake It
Pour your batter into the loaf pan, using the spatula to scrape out your bowl. Get every last bit! Gently place the pan into the oven and bake for 50-55 minutes. To check if your cake is done, stick a butter knife vertically down into the center of the cake, then pull straight up. If it comes up clean or with a little of baked cake, it's done. If it still has batter on the knife, return the loaf to the oven for a few more minutes. A finished cake should be brown on the edges.
When you take the loaf out of the oven, allow it to sit for about 10 minutes before flipping upside down on a cooling rack. Waiting prevents it from falling apart!
Wait 30 minutes before cutting into your pound cake. Enjoy!
Yield: One Loaf
Einkorn Flour Lemon Pound Cake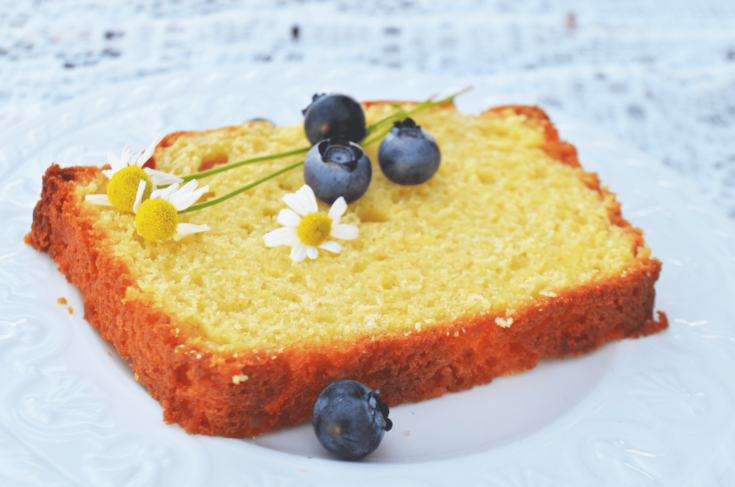 A rich sweet loaf with slight lemon flavor to slice and eat alone or with toppings.
Additional Time
30 minutes
Total Time
1 hour
30 minutes
Ingredients
2 Cups All Purpose Einkorn Flour
1 Tablespoon Baking Powder
1/2 teaspoon Sea Salt
1/2 Cup Butter (Softened)
1/2 Cup Plain Yogurt
3/4 Cup Sugar (light flavored is best)
3 large Eggs
2 Tablespoons Lemon Juice
Instructions
Preheat the oven to 350 degrees Fahrenheit. In a large mixing bowl, mix together your all purpose einkorn flour, baking powder and salt.
In another bowl beat together the butter, sugar, egg, yogurt and lemon juice.
Combine the wet ingredients with the dry ingredients until mixed together. Don't overmix. Cover and set aside for about 10 minutes.
Meanwhile grease a your loaf pan and then sprinkle a bit of flour over it to prevent sticking.
Pour in the batter and bake for 50-55 minutes until browned and a knife comes out clean from the middle of the loaf.
Wait 10 minutes before turning out the loaf onto a cooling rack and allow loaf to cool for at least 30 minutes before slicing. Enjoy!
Notes
If adding berries to this recipe, add them when pouring in the batter to the pan. Pour half the batter into the pan, sprinkle in the berries, then pour the rest of the batter over the top. Frozen berries may require a longer baking time.
Other Pound Cake Variations
If you want to get creative, this is a perfect cake on which to try out new variations. It being summer while I write this means my mind goes to the bounty of berries that could give pound cake even more pizazz. If you decide to use berries, wait to incorporate them until you begin to pour the batter into the pan. Pour half of the batter into your loaf pan. Then sprinkle about a half cup of berries into the batter before pouring the rest of the batter over the top. Feel free to add a few more berries onto the top.
Blueberry Pound Cake
You can keep the lemon flavor or leave it out. Either way, fresh blueberries are a winner in this recipe. This Lemon Blueberry Sourdough Scone Recipe has long been a favorite on the blog.
Blackberry Pound Cake
Like blueberries, blackberries taste wonderful in this cake recipe but be sure to follow the tip above and incorporate them while pouring the batter into the pan as opposed to stirring these fragile berries into the batter bowl.
Almond Orange Pound Cake
Instead of lemon flavor, take out a teaspoon of almond extract and orange extract for a new twist. Sprinkle some slivered almonds on top of the batter before baking.
Other Posts You May Like
Here's a few other recipes you might like.
Overnight Sourdough Bagels with Einkorn
My Favorite Farmhouse Buttermilk Biscuits with Einkorn
Best Recipe for Chewy Einkorn Chocolate Chip Cookies
From The Hilltop,
Krista