Overnight Sourdough Bagels with Einkorn
I've fallen in love with making bagels. It's one of those things I always thought was a complicated time waster. I was wrong. Does it take time? Yes. But most of that time is just waiting and doing other things while I wait. When I first learned how to make bagels, I'd get up, start the dough and they'd be done rising for lunch. That's great if you want to have bagels for lunch. I for one, don't want to get up at 5 AM to make bagels unless forced. I wanted an overnight sourdough bagel recipe with einkorn.
This post contains affiliate links which means I may make a small commission at no extra cost to you when links are clicked on and a purchase is made. I only recommend items I believe in for my own family. Thank you for any purchases made through my recommendations.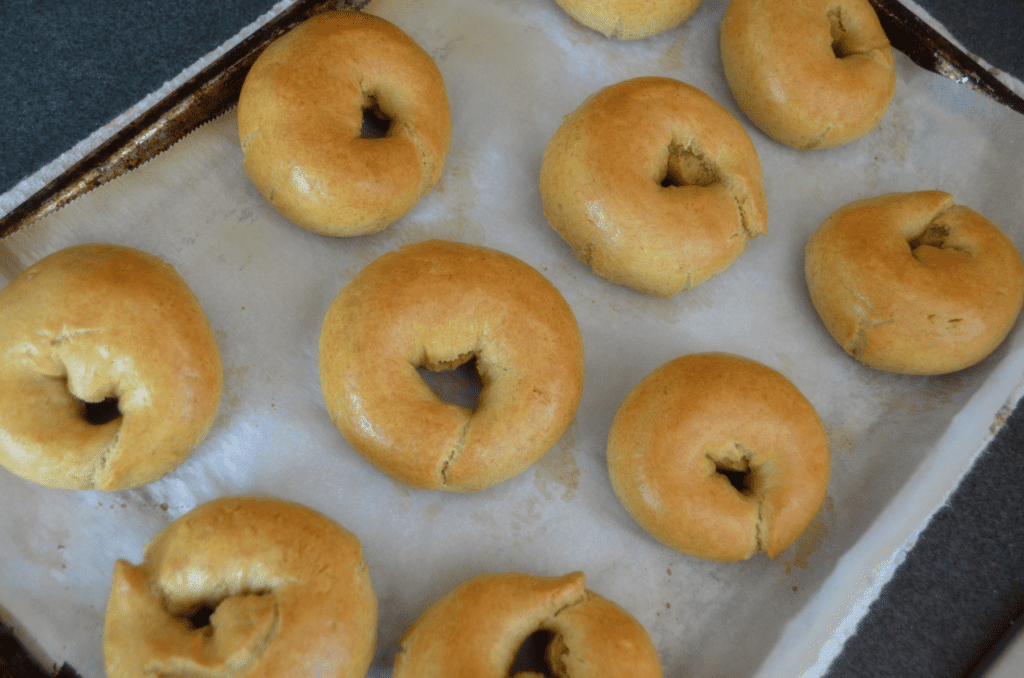 Einkorn can be a tricky grain to play with because of it's density (learn more about einkorn HERE). I was determined to find a way to cut the time. I've done it. Here's my recipe for overnight sourdough bagels with einkorn flour so you can cut the time too.
The Recipe
This Recipe was adapted from Carla's Bagel Recipe that you can find HERE.
The night before, mix your dry ingredients into the wet sourdough starter, warm water and maple syrup. Mix until it forms a ball and turn it out on the counter until just getting sticky. Cover and set aside for 2-3 hours.
For me it's about bedtime when I go back and divide the dough into 8-10 parts. I fold them, roll them into logs with the middle thickest and then overlap the ends to farm an "O" shape.
Let these sit for about 45 minutes. This is the time I get my pajamas on and brush my teeth. Before heading to bed, I lightly brush the bagels with olive oil, cover and pop the bagels into the fridge.
The next morning take the bagels out of the refrigerator as soon as possible so they have time to warm to room temperature. I like to come back after about an hour and turn the oven to 400 degrees Fahrenheit. Place a baking sheet into the oven to preheat.
Meanwhile, heat up water in a medium sauce pan until boiling. Add a teaspoon of baking soda. One at a time, cook a bagel to the boiling water (you can try 2-3 at a time if there is room). Let it cook on one side for 25-35 seconds, then turn it and do the same on the other side. Scoop out bagel with a slotted spoon and place on a cooling rack. Finish boiling each bagel.
Take preheated baking sheet out of oven, line with parchment and then place each boiled bagel on it. Bake for about 15 minutes or until puffed and a little golden. Wait about 15 minutes before serving. Enjoy!
Yield: 8-10 bagels
Overnight Sourdough Bagels with Einkorn
These overnight sourdough bagels are made with whole grain einkorn flour for a nutritious and delicious morning bread.
Total Time
3 hours
50 minutes
Ingredients
2 Cups Whole Grain Einkorn Flour
2 1/2 Cups Refined Einkorn Flour
2 teaspoons Salt
1 1/4 Cups Sourdough Starter
3/4 Cup Warm Water
1 Tablespoon Pure Maple Syrup (optional)
1 teaspoon Baking Soda (for the boiling water)
Extra Virgin Olive Oil for brushing
Instructions
(The Night Before) About 3 hours before bedtime, mix your ingredients. To do this, combine recently fed and mature sourdough starter with warm water and maple syrup (if using) in a large bowl.
Add flours and salt. Stir together, then pull into a ball. Begin to fold the dough on a lightly floured surface, just until it starts to become sticky.
Place back in bowl, cover with a tea towel or plastic wrap and set aside to rise for 2-3 hours.
After allowing dough to rise, divide into 8-10 pieces. Fold each section of dough a few times before rolling into a rope and connecting barely overlapped ends to create an "O" shape.
Place on parchment lined baking sheet and brush a little olive oil on each bagel to prevent drying overnight. Cover with plastic wrap and set aside for 30-45 minutes. Place in refrigerator overnight.
Take bagels out as soon as possible in the morning so they can come to room temperature. Let them sit for at least an hour to warm up a bit. Then warm 1-2 quarts of water to a boil on stove.
Turn oven on to 490 degrees Fahrenheit and place a baking sheet inside the oven to heat up. Add baking soda to boiling water on stove. With a slotted spoon, gently place one bagel at a time into water. Let this cook in water 25-35 seconds on each side.
Place bagels on drying rack until finished. Now take preheated baking sheet out of oven and line with parchment paper. Transfer bagels to prepared baking sheet and bake in oven for 15 minutes.
Let bagels cool for 15 minutes before eating. Enjoy!
Notes
Warm water should be about 100 degrees. Hot to touch but not hot enough to be uncomfortable.
To add toppings such as poppy seeds or herbs...
Pour toppings onto small plate. After cooking dough in boiling water, dip top of wet bagel in toppings before placing on baking sheet.
Tips for making Overnight Sourdough Bagels with Einkorn
Folding the dough can create bubbles in the dough. I don't mind a puffed deflated area atop my bagels, but if you don't like this just firmly press the dough so as to get all air out when rolling into "o" shapes.
Give them room to grow in the oven. Don't over crowd on the baking sheet.
Save in an airtight container or freezer bag on the counter for a couple days or up to two weeks in the freezer. If you choose to freeze them, give them time to thaw before eating.
Where I get my Einkorn
Einkorn Berries and large quantities (48 lbs or more) for at home milling : Einkorn.com
I use jovial brand through Azure (sometimes there are specials!) for all-purpose einkorn flour: Azure Standard
More Sourdough Recipes with Einkorn
Perfect Einkorn Sourdough Buttermilk Waffles
How to Make Christmas Chocolate Chip Cookies with Einkorn
My Favorite Farmhouse Buttermilk Biscuits
How to Make Einkorn Sourdough Garlic Herb Bread
Other Inspiration from the Hilltop
How to Make a Crate Inspired Planter Box
Welcome Home Anastasia: Our Adoption is Complete
Designing Our Homeschool for a Sensory Seeking Child
Simple Care and Keeping of a Wooden Cutting Board
Hope you enjoy!
From the Hilltop,
Krista