How to Make Einkorn Split Second Cookies
Please note this post contains affiliate links. Some of the links below are affiliate links which means should you happen to click on a link and make a purchase, I receive commission at no extra cost to you. You will only see links we use in our farmhouse or truly believe in.
When I was a kid we'd visit Knotts Berry Farm on vacation. Although we didn't have much money for souvenirs, we'd always get some of their shortbread style cookies with a little dab of jam in the middle. The only name I knew them by was "Knotts Cookies." Now, 20 years later I haven't had a "Knotts cookie" in forever, but I have made these shortbread style jam cookies quite a bit! Today I want to share how to make Einkorn Spit Second Cookies. These make a great afternoon treat, holiday dessert or tea cookie.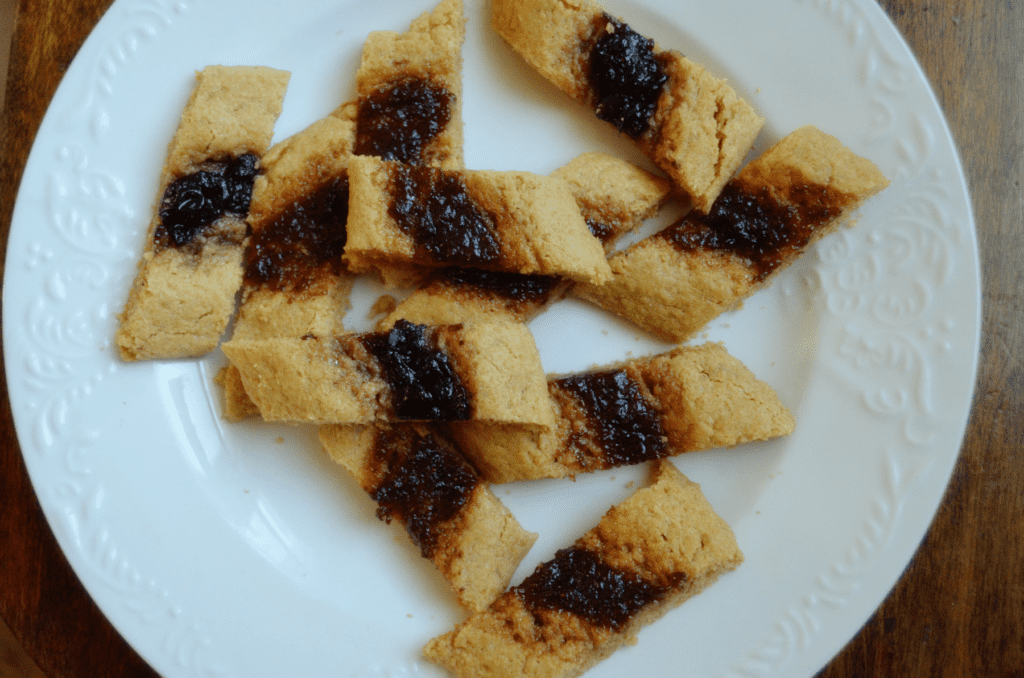 I first discovered these buttery cookies after having my first baby. I lived several hours from my family and a distant relative who lived in the same town wanted to bring some things to celebrate the baby's arrival. I'd never met this woman but invited her on over. She came with a couple gifts and these wonderful cookies. I suppose they left such an impression on me because I ate the whole plate in 24 hours. They were just so buttery and sweet. I'm sure my body craved as many calories as it could get at that point. A few weeks later when she invited me over, I arrived to more Split Second Cookies coming out of the oven. I was hooked.
The biggest difference in einkorn split second cookies is that einkorn doesn't sub 1:1 with modern all purpose flour. I've adapted the Taste of Home Cookbook recipe to work with the einkorn. You'll notice these have a rich brown crust because I used whole grain einkorn. Feel free to use all purpose for a lighter crust and texture!
How to Make Einkorn Split Second Cookies
In a large mixing bowl stir in your flour, salt, and baking soda.
Cream your softened butter with the sugar, then add vanilla and the egg.
Combine the dry and wet ingredients until a dough forms.
Divide this dough into four equal pieces. Now roll out each piece into a long rope and arrange two ropes approximately one inch around on a baking sheet. I chose to do all four ropes on one baking sheet. The shorter ropes resulted in wider cookies out of the oven. When cut up they, were longer. Don't worry about exact measurements. Just make sure they cook thoroughly.
Use your thumb to press an indent along the middle of each rope for your jam.
I happen to have a child who is very picky. I allowed him to help put on chocolate instead of jam.
Bake in a 350 degree Fahrenheit oven for 20-25 minutes. Longer thinner ropes will need less time. Wider, thicker ropes will use more time. You should notice the edges turning a little brown and the middle around the jam will be firm.
Let cool for 5 minutes before cutting diagonally. You can see the chocolate was a hit with the kids who are afraid of jam!
Enjoy!
Where to Find Einkorn
My favorite place to get the best price on einkorn berries and flour is Azure Standard. I've used several places and finally landed on them because they've consistently had lower prices.
I like getting their einkorn wheat berries and have also found great prices on Jovial Foods brand flour.
The best price I've found for large quantities of wheat berries (48 pounds and more) is through Einkorn.com. I've also been very impressed with their quality.
Yield: Approx. 32 cookies
How to Make Einkorn Split Second Cookies
These are a buttery shortbread style sliced cookie with sweet jam in the middle.
Ingredients
3/4 cup butter, softened
2/3 cup sugar
1 egg
1 teaspoon vanilla extract
3 cups einkorn flour
1/2 teaspoon baking powder
1/2 teaspoon salt
1/3 cup of your favorite jam
Instructions
Cream together butter and sugar
Add in egg and vanilla and beat well
In a separate bowl, stir together the flour, baking powder and salt
Combine the wet and dry ingredients together until a thick dough forms
Divide dough into four logs by rolling each into a 1 inch by 10 inch rope.
Place onto two parchment lined baking sheets with room in between. using your finger, make a 1/2 in indent down the middle of each log; fill with jam
Bake at 350 degrees Fahrenheit for 20-25 minutes or until edges turn a little brown and middle of dough bakes firm
Let cool for five minutes before cutting diagonally into one inch pieces
Pin Me
More Einkorn Recipes From the Hilltop
Chewy Einkorn Chocolate Chip Cookies
Simple Sourdough Einkorn Blueberry Lemon Scones
Hope you enjoy these cookies and have fun getting creative with different types of jam.
From the Hilltop,
Krista