A Winter Party with Homemade Einkorn Flour Pizzelle Recipe
Pizzelle have a history that's nearly been forgotten. I love history. I love old farmhouses and I love goodies that were eaten long ago. Beautiful goodies are even better. Pizzelle are just that: a charming crispy flat waffle style cookie. I also love parties. Especially the ones that don't take much thought or effort, but create wonderful memories. A Pizzelle Party is just the thing to warm up this chilly winter. Never made Pizelles before? You've been missing out! Come along and I'll share my pizelle recipe with you using the ancient grain einkorn flour!
What are Pizzelle?
Pizzelle may be the oldest cookies known. They comes from italian origin although other European countries used similar cookie stamps. Instead of a stamp, Pizzelle cookies are made with an iron.
The waffles we know today had their start with pizzelle. While waffles are fluffy and big, pizelle are small and thin. Still, they are much like a waffle. In fact, pizzelle are where waffle cones got their start!
Historically, families would've have their own pizzelle iron made with beautiful designs and, sometimes, the families crest. It became the Italian "Christmas cookie" and is now a European tradition.
I fell in love with this beautiful and delicate cookie. For nearly a year I watched for an iron. As you may know, I love second hand finds and at just $7, our pizzelle maker was a snatch. The cookies are easy to make and as you can see, they create the perfect party.
How we Held our Pizzelle Party
Pizzelle cookies seem like the perfect thing to brighten up the winter cold on a late January day. In addition, Valentines day is coming, so out came our pink and purple sprinkles.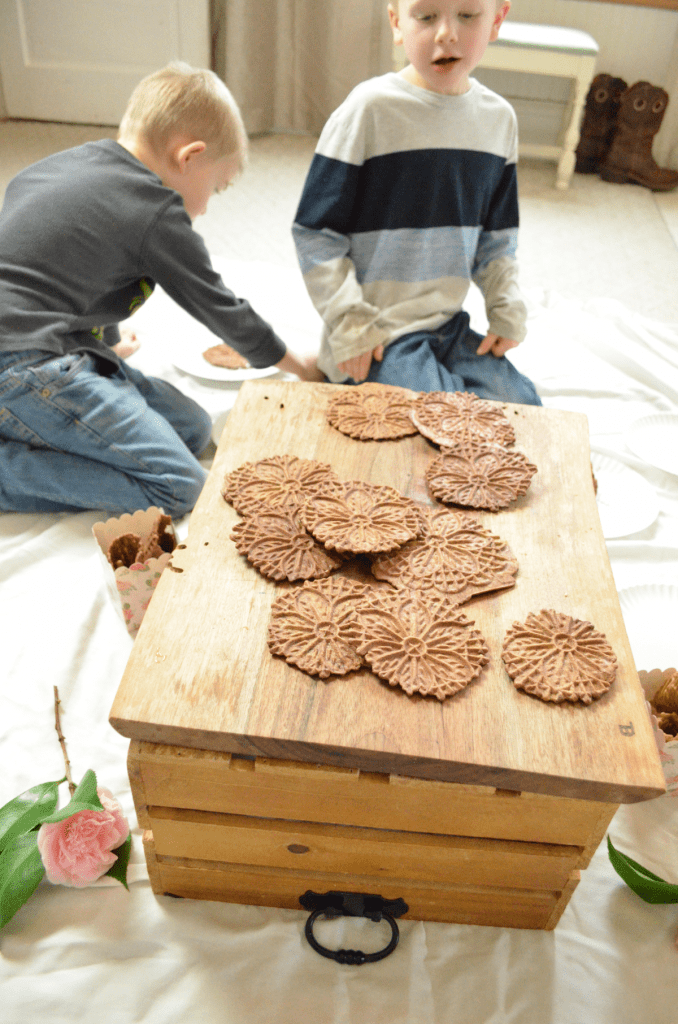 I heated up the iron and mixed up some batter!
What kid doesn't like to decorate a cookie? What kid doesn't like to eat a cookie? Mine do!
I spread a sheet out on the floor so little ones could be as messy as needed to fill and eat their creations. Next, I turned over a wooden crate, then topped it with the pizzelle cookies on my favorite cutting board. They loved having me fill their "cannoli" style cookies (rolled up pizzelle) before they added sprinkles. When the treats were finished, I folded up the sheet and shook it outside.
Sprinkles can be so messy and stressful so I was pleasantly surprised at how smooth clean up went. After a quick clean up the kids used the room to dance. Our party finished with a lot of jive to Frank Sinatra, whom the kids fondly referred to as "Santa."
It's easy to make a Pizzelle party or any cookie party for that matter. If you ever want to join our pizzelle cookie craze, make a party of it! here's the specifics.
The Pizzelle Maker
I have this brand.
…Or you could get a cool vintage press from Etsy!
Cookie and Table Decorations
Frosting or whipped filling (see recipe below)
Sprinkles
Flowers
Hearts-kids love to make these too!
Music
Turn up some classics to dance to while waiting for the cookies.
Here are a few fun albums to bring some sunshine to your Pizzelle Party:
Frank Sinatra, Nothing But the Best
The Pizzelle Recipe
Whether you make the simple pizzelle cookies, roll into cannoli or make into a waffle cone for ice cream, here's the pizzelle recipe you need to know:
Yield: Serves 6-8
Pizzelle Cookies
Cook Time
20 minutes
15 seconds
Total Time
31 minutes
15 seconds
Ingredients
3 Large Eggs
3/4 cups Sugar (or 1 cup Coconut Sugar)
1 teaspoon Vanilla
1 3/4 cups Einkorn flour or All Purpose Flour
2 teaspoons Baking Powder
1/4 teaspoon Salt
1 teaspoon Cinnamon
Whipped Cream Cheese Filling (for stuffing Cannoli)
Instructions
Turn on Pizzelle Maker
Beat eggs and sugar until sugar has mostly dissolved, about 2-3 minutes. Add dry ingredients and mix together.
Add 1 tablespoon of batter to each cookie press on the pizzelle iron. Close iron and cook for 30-50 seconds. These cook fast!
Lay flat to cool or curl around a butter knife to form cannoli.
Let cool before stuffing cannoli cookies with filling.
Yield: Filling for approx. 10-12 cookies
Whipped Cream Cheese Filling
Ingredients
4 oz. Cream Cheese, softened
1 cup Heavy Whipping Cream
1/3 cup Powdered Sugar
1/2 Teaspoon Vanilla
Instructions
1. Beat heavy whipping cream in standing mixer on medium high speed. While it's beating add vanilla and powdered sugar. Let it continue until firm peaks form to create whip cream.
2. Put whip cream aside and use standing mixer again with cream cheese. Beat cream cheese on medium high speed until cream cheese has become smooth and air has been worked in a bit.
3. Add whipped cream back to standing mixer with cream cheese and blend together on low-medium speed until completely combined.
4. Using a spatula, spoon filling into a pastry bag for fill cannoli. If you don't have a pastry bag, simply use a gallon zip lock bag and snip a 1/2 inch off one corner to release filling.
Hope you have as much fun as we did! It doesn't take much to brighten up a grey winter day.
From the Hilltop,
Krista
Check out other food favorites:
Chewy Einkorn Chocolate Chip Cookies
Soothing Chicken Soup for Comfort Food Cravings