How to Make Einkorn Sourdough Garlic Herb Bread
In my opinion, there's not much better than a fresh piece of bread from the oven, smothered in butter! Ah, the way it was meant to be made of course! How was it meant to be made? As close to nature as possible. Butter from cows that graze in a field. Sourdough, not too sour of course. This is earth's natural yeast. It helps brake down the grains and raise them into a beautiful loaf. Garlic and herbs that come straight from the garden! Einkorn? Well if you haven't heard of this wonder, let's start with it being natures original wheat. It is SO much easier for us to digest! Sweeter and more nutritious than other wheat types. Yes, this is the way I like my bread. Rich, soft and nutritious. This is it. This is how I make Einkorn Sourdough Garlic Herb Bread.
Please Note: This Post is in collaboration with several other wonderful blogger friends who've worked hard to bring Healthy Kitchen ideas to you this month. To see their amazing posts, go to the bottom of this page and enjoy!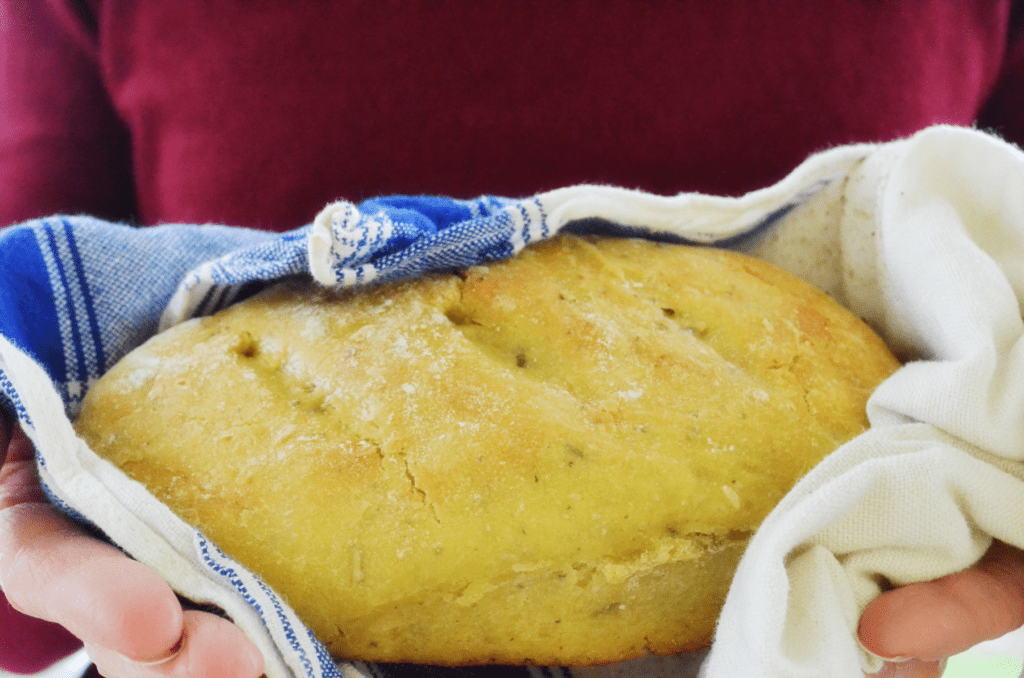 Why Sourdough Garlic Herb Bread with Einkorn?
Let's take a look at the benefits of this delicious bread. While I'm writing this post it's the dead of winter. It's cold, but not cold enough to prevent my rosemary from giving fresh herbs. Last summer I dried many of my herbs to see how much I could actually save for the year. It's fun to see my basil, thyme, sage, marjoram and lavender be used in the kitchen and know it's not just fresh: it's my own! I'd definitely recommend this to anyone who likes to enjoy herbs in the summer. Make it last! It's just a few minutes to put them in a dehydrator or hang them upside down and it will last for you all year. You'll smile come winter. Just a little of your effort can bring so much goodness, but this post is about bread so let's get back to that.
Why Einkorn?
I mentioned that einkorn is more nutritious than modern wheat counterparts. Winter is a time when I REALLY don't need to bring havoc on my body by eating grains that inflame my body, bloat my belly and result in a sugar crash. I tend to struggle more with my immune system and low vitamin D during this time. Anyone else relate? My body is in a much more vulnerable state. Personally, I try to use einkorn if I'm using grains because it's great no matter what; but especially in winter months!
Einkorn has so much more vitamin A, lutein, riboflavin and beta carotene compared to modern wheat. It also tends to be easier to digest because of the structure. In fact, many have admitted, they don't get bloated after enjoying bread made with einkorn as with other breads. While einkorn isn't recommended for those with celiac disease, researchers commented that it's common consumption may bring about less instances of Celiac disease in the future.
There is so much I can't go over so check out this post to learn more! It explains the history and nutrition of this amazing ancestral wheat in more ways than I can explain right now.
Why Sourdough?
Not only has sourdough been around tor thousands of years, it's been one of the great nutritional contributors. It has the ability to help control blood sugar (especially when made with einkorn). This is a huge finding for those with diabetes, hypoglycemia, adrenal fatigue and more. Sourdough also acts as a prebiotic, using good bacteria to break down the grains before we eat it. I don't know about you, but I have to be careful about my sugar and yeast consumption. They both have caused problems for me in the past. Now I'm now pretty sensitive to anything that just turns to sugar in the the body (starches, yeast, etc.). Sourdough has helped provide a way for me to still enjoy bread and for that I am thankful!
How to make sourdough starter
As much as I'd like to say I'm an expert on starting sourdough, I'll admit I took the easy way out. I was gifted the main sourdough I use. What a gift it was! This is actually my first recommendation: look for someone who has sourdough starter and see if they will share with you!
If you don't know anyone with sourdough starter, check out THIS post for a great tutorial on making your own. It will take some time. As in days. Good things take time and we forget that in our modern society.
If it still intimidates you to try to make your own, check out This site that has kits for purchase. I personally purchased their gluten free kit several months ago and it's still active and doing well even after I ignored it for awhile.
How to Make Sourdough Garlic Herb Bread With Einkorn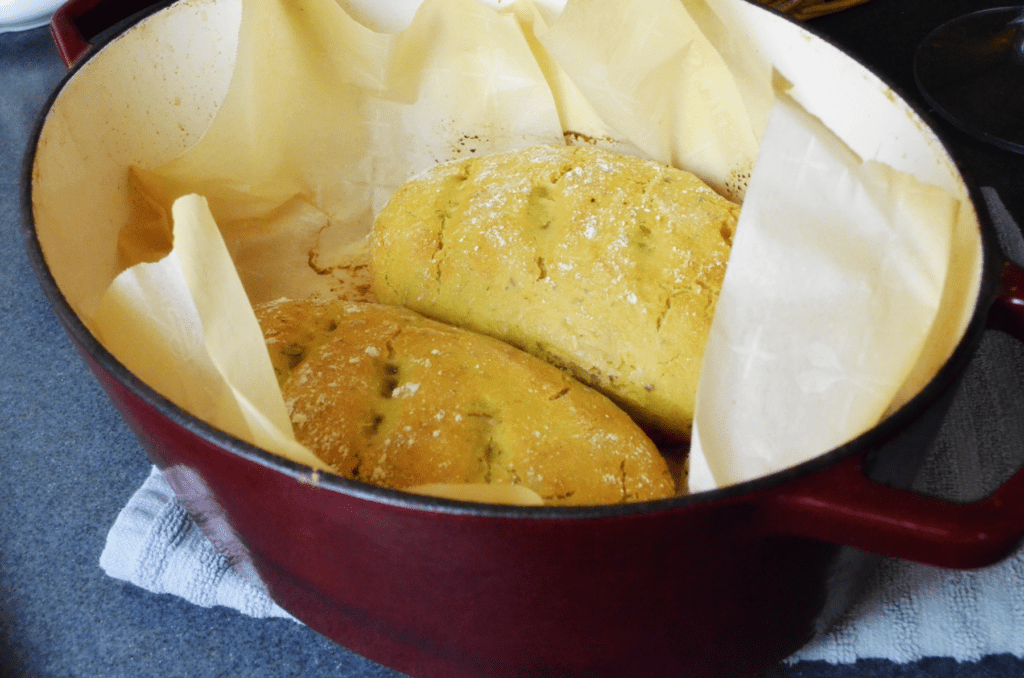 Here's what you've been waiting for: The recipe and tips for the perfect comfort bread.
Preparing the Dough
Feed your sourdough starter 3-6 hours before making your bread so that it's nice and bubbly.
To begin making the bread, mix your active sourdough starter with warm water. Pour the einkorn flour on top. Measure out your salt, garlic (if using) and herbs. Add these to the flour and combine until it becomes a sticky dough.
Cover and let sit for about 15 minutes. A damp tea towel is great for helping to keep the dough moist.
Take the dough out of the bowl. Kneed and fold on a floured surface for about 5 minutes. Roll back into a ball and place in bowl. Cover again.
After about 30 more minutes, repeat step 4.
Now place the covered dough in a warm spot and it let rise for 4-6 hours.
At the end of the rising period, divide dough into two balls. Kneed/fold on a floured surface one more time. Now roll the balls into oval shapes and place on a floured and parchment lined baking sheet. Score the dough. Cover once again and place in warm spot for about 60-90 minutes.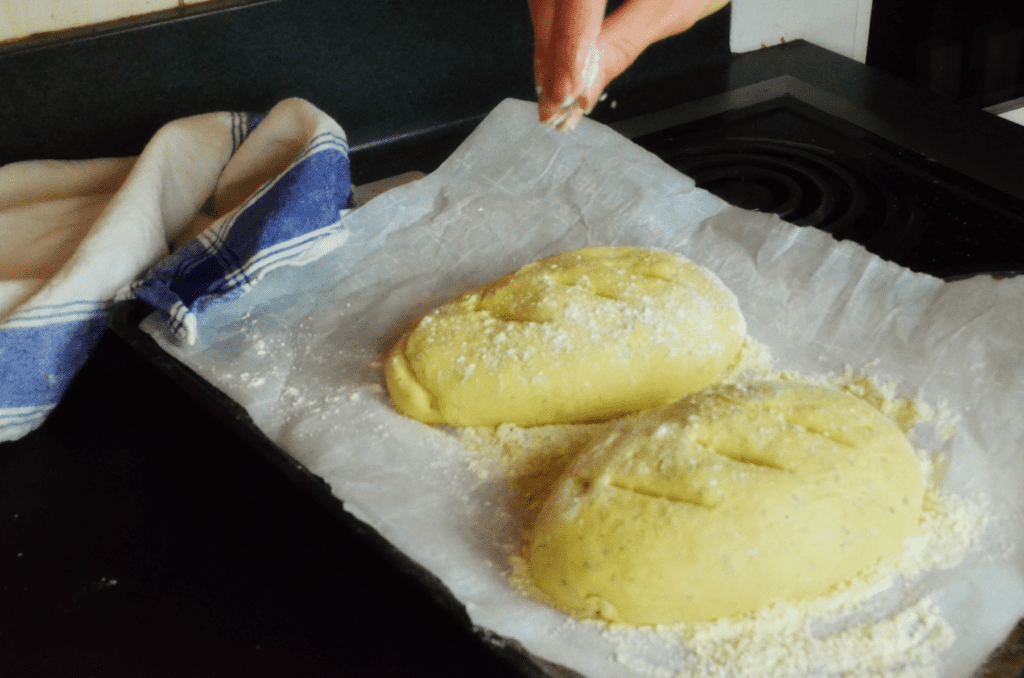 Baking Your Bread
30 minutes before uncovering your dough, heat the oven to 485 degrees Fahrenheit. Lower your baking rack in the oven and place your parchment lined dutch oven inside to preheat.
After heating for 20 minutes, place 1-2 Tablespoons of butter into the dutch oven to melt. Leave it in the oven until the 30 minutes is up. Now take the dutch oven out of your oven and carefully place the two loaves side by side inside it. Careful! It's hot.
Cover and return to oven to bake for 20 minutes. After this, remove the dutch oven lid and continue baking for 10-20 minutes more depending on how crunchy you want it ( I usually take mine out after 10-15 minutes). It's done! Wait for 20-30 minutes before cutting in. Enjoy your Sourdough Garlic Herb Bread!
Notes
Folding is important. Check out my bread video for more on folding. The basic action is to fold the dough over itself in order to pull air inside the ball of dough. Sourdough doesn't generally rise as high as store bought yeast. Einkorn definitely doesn't rise as high as modern wheat because of it's protein density and weak gluten content. You want air in the dough so this is an important practice to add some air to help the rise.
More sour or less sour sourdough is an option. Consistently feeding your sourdough day to day will create less sour flavor when making sourdough breads (like this amazing sourdough garlic herb bread.) If you want it more sour, feed your sourdough starter more sparingly and keep in the refrigerator until ready to use.
Want to make it and save it for a later date? Feel free to bake a couple minutes less and wrap in foil for up to three days. You can plop it back in an oven at 325 degrees Fahrenheit (straight on to the rack) and heat for 10 minutes to warm! I like to reheat mine even when I do cook them fully. Warm bread is the best!
This recipe uses all-purpose einkorn flour. While you can use whole grain, I haven't check to see if the bread works better with different measurements. If you try it with whole grain einkorn, I'd love to hear how it turns out.
Terms you need to know
Scoring: cutting into the dough to encourage where the inevitable cracks break through as the bread rises. As dough rises, it will crack and pull apart. Cutting into it allows the baker to choose (for the most part) where the cracking happens.
Folding: Just as it sounds. To fold means to spread the dough out and fold it over on itself. It encourages air to get into the dough and air helps it to rise. Yes to the air bubbles!
Yield: Two Small Oval Loaves
Sourdough Garlic Herb Bread with Einkorn
A rich, herb filled sourdough bread, using the nutrient rich einkorn flour.
Total Time
6 hours
30 minutes
Ingredients
1 Cup of Active Sourdough Starter
1 Cup of Warm Water
4 Cups of All Purpose Einkorn Flour
1 teaspoon Sea Salt
2 teaspoons Garlic Powder
1 Small Garlic Clove, Minced (Optional)
1/2 teaspoon Onion Powder
1/2 teaspoon Dried Rosemary
1/2 teaspoon Dried Thyme
1/2 teaspoon dried Sage
1 teaspoon Dried Basil
1/4 teaspoon Dried Lavender buds (Optional)
Instructions
1. Combine the active sourdough starter and warm water in a large bowl. Add in flour, salt and herbs. Mix together until starting to form into a ball. Cover and set aside for 15 minutes.
2. Take the dough out of the bowl and place on a floured surface. Kneed and fold the dough for 5 minutes. Roll back into a ball and return to bowl. Cover and place in a warm spot for 30 more minutes.
3. Take the dough out and once again kneed and fold it on a floured surface (as in step 2). Place back in bowl and cover. Set in a warm spot for about 4-6 hours.
4. Dough should rise about 20 percent but it won't look much bigger. Take it out one final time to kneed and fold for 5 more minutes. Divide dough in two and shape into ovals. Place on a floured parchment lined baking sheet. Score the dough by cutting a few slits into each loaf. Cover and let rise in a warm place for 60-90 minutes.
5. About 30 minutes before baking, turn oven on to 485 degrees Fahrenheit. Place a parchment lined dutch oven inside the oven to pre-heat. After about 20 minutes, place 1-2 Tablespoons butter inside the dutch oven to melt.
6. When the full 30 minutes have passed, take your dutch oven out of the oven. Open and carefully place unbaked loaves inside. They should sit side by side. Place lid back on dutch oven and return to the oven to bake for 20 minutes.
7. After 20 minutes, remove dutch oven lid and bake for 10-20 minutes more depending on how crunchy you want your bread. When done, immediately take the bread out of the dutch oven to cool. Let it cool for 20 minutes before slicing. Enjoy!
Where to buy Einkorn
I like to purchase my einkorn a couple different ways:
Bulk Einkorn Grain
I've recently had a hard time buying grain to mill myself so during the holidays, I purchased pre-ground flour.
I used all-purpose einkorn in this recipe.
All Purpose Flour
Check around for the best prices. I've also purchased it on Amazon.
More Healthy Kitchen Blog Posts
This post is in collaboration with several other friends who've worked to share Healthy kitchen ideas this month! Thank you to all the other bloggers who have made this Blog hop possible! Take a look around. Each of these ladies has worked hard to bring you some amazing ideas.
How to Cook Salmon in the Oven with Foil by Felicia of www.feliciagraves.com
Creating a Healthy Kitchen with Wendy of www.littlehousesimpleliving.com
Fresh Ground Flour with Barbara Sue of www.kowalskimountain.com
Swaps for a Healthy Non-Toxic Kitchen with Holly of www.oursimplegraces.com
More Einkorn Recipes
If you haven't yet, check out my New eBook "Einkorn Recipes for a Cozy Winter." This digital download features delicious recipes such as Chicken Pot Pie, Sourdough Cinnamon Rolls, Perfect Pie crusts, Potato Sausage Leek Soup and so much more!
Other Posts you may like
The Recipes:
Chewy Einkorn Chocolate Chip Cookies
Simple Einkorn Lemon Blueberry Sourdough Scones
How to Make a Wholegrain Rustic Boule with Einkorn
Pumpkin Streusel Scones with Einkorn Warm your Winter
The Hilltop Favorites:
In My Opinion: The Mockmill 100 Flour Mill
A Simple Way to Increase Einkorn's Nutrition
All About Einkorn Flour: What You Need to Know
How I change my Mindset on Hard Days
Thanks so much for stopping by.
From the Hilltop,
Krista