Einkorn Strawberry Scone Recipe in the Iron Pan
This Einkorn Strawberry Scone Recipe has been just the thing to bring in spring and summer. It's been Rainy here this year. Gardens have been started late. As I write this at the end of June I can feel my stomach tighten at the thought I still have beans to plant. Even when the weather doesn't cooperate, I must invite the season in and I do that very much through food. Our strawberries are here and they are the perfect addition to this from scratch cast iron skillet scone. This is an easy no fuss Strawberry Scone Recipe with Einkorn flour. It's perfect for your summer brunch or alongside an iced coffee (Note that it's even more enjoyable when eaten outside).
Why Einkorn in My Strawberry Scone Recipe
This is the question I will come back to over and over I'm sure. Einkorn is the original wheat and a COMPLETELY different makeup than our modern grains. Even the gluten free grains do not stand up to this one in my opinion (and I use a lot of gluten free grains!). To get all the info you want on einkorn flour visit my post "all about einkorn flour" or "Does Einkorn Cause Inflammation?"
Einkorn Flour is Easier to Digest
Modern wheat is made up of 42 chromosomes while the original wheat, einkorn, is only made of 14. Einkorn is lacking in a specific D chromosome that is known to cause the gluten intolerance in modern wheat.
You will also find there is half the phytic acid in einkorn. Phytic acid is what binds up the minerals, making us unable to actually absorb the good nutrients into our system. Thus, einkorn's nutrients (and there is a LOT!) are more easily absorbed into our bodies.
Whole Grain Einkorn is Light and Sweet
I've used whole grain einkorn in this recipe and the flavor does not lack. If you grew up on whole grains as I did, you may remember a bit of a bite to their strong flavor. Einkorn lacks the bitter flavor. Instead it's light and sweet. I've boasted often that my husband can't tell when I'm using whole grain einkorn or all purpose because it has such a light flavor!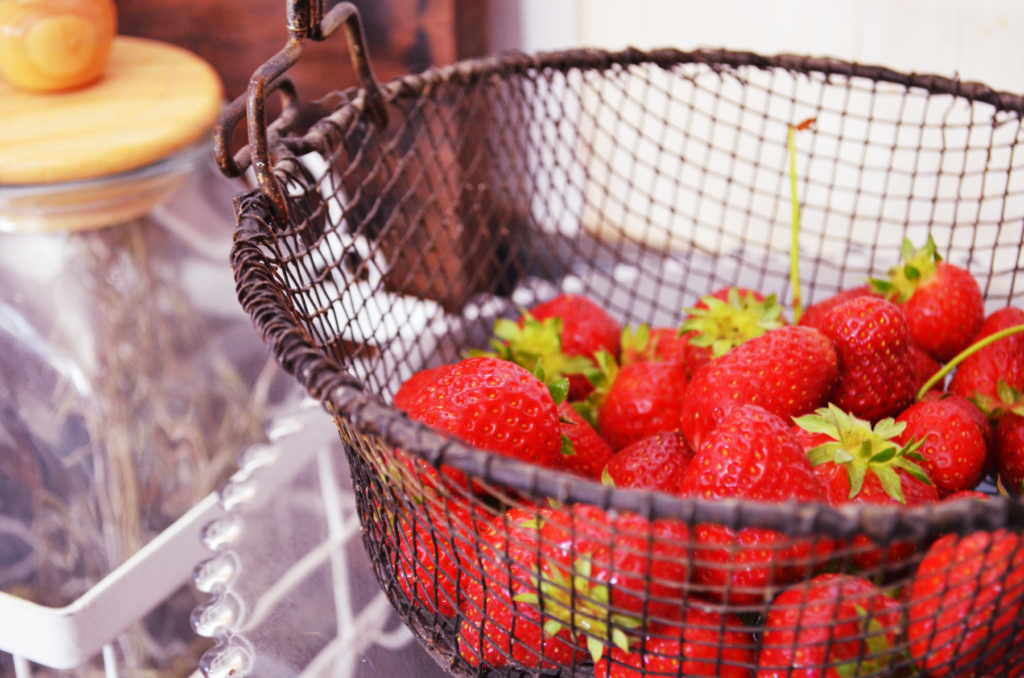 In all honesty, there is a difference for sure between the whole grain and all-purpose flour. Some things just tend to taste better than others with whole grain einkorn. If you haven't, grab my FREE chart "Whole grain vs. All Purpose Einkorn!" Keep it simple and know when you can easily incorporate whole grain einkorn.
If you've seen this chart, you'll notice I broke the rules!
I generally use berries to highlight the lighter flavor of all-purpose einkorn flour. In this recipe I've chosen whole grain einkorn. Use the chart as a guide and not strict law. If you would like to use all-purpose einkorn in this recipe try it! Know that I did create the recipe for whole grain so the texture may turn out a little different, but I bet it'd be just fine. If you do, let me know how it turns out!
Hint: Look at the bottom of this page for more of my posts about einkorn baking.
Where I Buy Einkorn Flour
The big question is where to buy einkorn flour! This isn't a flour you'll find down the isle of your everyday grocery store. This is considered a specialty flour meaning you can spend a LOT of money to get a little bit. Jovial Foods was the first big company to introduce einkorn to the market and remains a popular place to purchase it I've used it many times in my Azure Standard order. In the past few years, other U.S. grown einkorn farms have marketed their grain and flour.
I love using Einkorn.com because of the fact that it's grown locally here in the Northwest, their pricing isn't bad especially for the large bags of grain I use to grind my own flour. Lastly, I've had WONDERFUL customer service from them. Once I tried to make a "cheap" purchase from a popular natural retailer and it was damaged in the mail twice. The second time they didn't even bother to tell me and I went on wondering for a month what happened to the order. I finally cancelled and went back to Einkorn.com. Within a few days my package arrived with a hand written note saying they'd switched me from one 10 lb. bag to two 5 lb. bags so they could mail if faster. I was ecstatic.
Why Sourdough Scones
Not only do I like to use sourdough starter as a levain to help the batter rise, I also like that it's a living food. I love making sourdough bread and this strawberry scone recipe is a great way to keep using the sourdough starter. Because this batter does not sit long as rising breads do, it doesn't allow the starter to break down the grain. Even so, I like to consistently use the starter (some will call it discard starter) I'm feeding and this is a great way to do that!
Why Bake this Strawberry Scone Recipe with an Iron Pan
Cast Iron Skillets are a great conductor of heat. I've found the dry heat they carry can help to make edges crispier when preheated. Though I don't usually preheat my iron pan for this recipe, feel free to preheat it for an extra crispy edge on your scones.
I've also love using an iron pan to make extra crispy sweet potato fries. You can check out that blog post tutorial HERE.
Iron pans are made of an element our bodies need and use: iron. Many skillets in the kitchen today are made of materials we'd never want in our bodies such as aluminum. Thankfully, iron actually serves us a needed mineral.
Lastly, Iron pans are classic and beautiful. NO one can resist the look of baked goods filling a dark heritage style iron pan.
How to Make Einkorn Strawberry Scones
This recipe is made up of three parts.
The Dry Ingredients with cold butter
The Wet ingredients with the sugar
The Strawberries
Make This Easy Strawberry Scone Recipe with Einkorn Flour
To Start making This easy Strawberry Scone recipe, Preheat your Oven to 375 degrees Fahrenheit. Grease your iron skillet. To do this I like to melt a Tablespoon of butter in the oven inside the pan for about 5-10 minutes. Then set the pan aside for use.
Chop your fresh strawberries into small chunks. Mine are about 1 inch by 1/2 inch thick and sliced pretty thinly. Pat dry.
In a Medium sized mixing bowl combine the einkorn flour, baking powder and salt. Incorporate the cold butter in peas size chucks until there are little lumps throughout the flour mix. To do this, you can grate frozen butter with a cheese grater, use a pastry cutter with chilled butter, or like me, cut it with a knife. Watch the video to see how this works. Set aside in the refrigerator to stay cool while you make the wet ingredients.
In a second medium mixing bowl beat the sugar, eggs, vanilla, sourdough starter and milk or cream until blended and frothy.
Combine your wet ingredients into the dry ingredients and mix until just combined. Don't add the strawberries yet!
Pour a little more than half of your strawberry scone batter into the iron skillet and spread it. It doesn't need to be forced to the edge of the pan yet. It will get there when we add the rest! Now take 3/4 of your chopped strawberries and sprinkle them over the batter. Finish pouring the rest of the batter on top and gently spread it so as not to make a big lump in the center. Finally, sprinkle the remaining strawberries over the top.
Bake in the oven for 20-25 minutes.
Yield: 8 scones
Einkorn Sourdough Strawberry Scones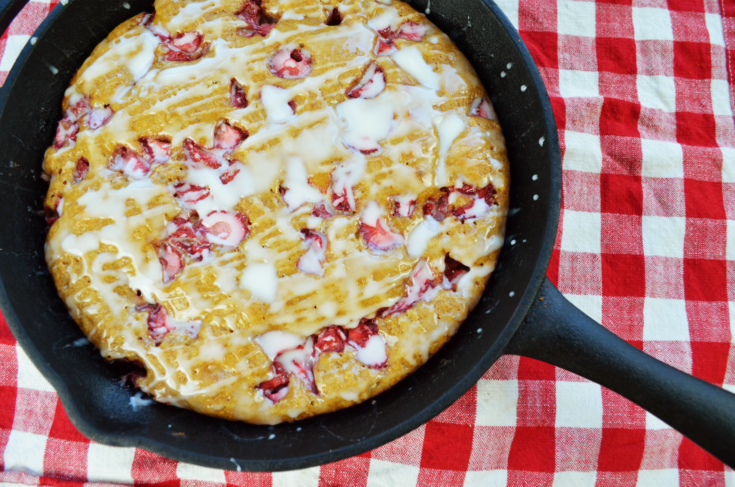 These Einkorn Sourdough Strawberry Scones are soft and slightly sweet. Perfect for a morning brunch.
Ingredients
1 Cup chopped Strawberries
1 3/4 Cups Whole Einkorn Flour
2 teaspoons Baking Powder
1/4 teaspoon Salt
1/4 Cup chilled butter chopped into pea size bits
1/2 Cup Sourdough Starter
1/2 Cup Sugar ( I used Sucanat)
1/2 Cup Whole Milk or Cream
1 Egg
1 teaspoon Vanilla Extract
(For Drizzled Glaze)
1/2 Cup Powdered Sugar
1/2 Cup Arrowroot Powder
1 Tablespoon Lemon Juice
1-2 Table Spoons Milk
(optional 3 drops lemon extract or essential oil)
Instructions
Preheat oven to 375 degrees Fahrenheit. Melt 1 Tablespoon of butter in a cast iron skillet by placing in the oven for 5 minutes.
Mix your flour, baking powder and salt together. Cut in the chilled butter and mix until flour covers pea sized bits of butter. Set aside in the refrigerator to stay chilled.
In a separate bowl, beat sugar, egg, sourdough starter, vanilla and milk or cream until light and frothy.
Chop up strawberries into small chunks. Pat dry with a paper towel.
Take out your dry ingredients from the refrigerator and combine the wet and dry ingredients until just combined. Don't overwork it.
Pour about 2/3 of batter into the cast iron skillet and spread a little (Don't worry if it doesn't reach the edge of pan). Sprinkle about 2/3 of strawberries on top of batter in the skillet. Pour the remaining batter on top and gently spread so that batter reaches edge of skillet. Finish sprinkling the rest of the strawberries over the top.
Bake for 20-25 minutes or until edges are lightly browned and scones are cooked through. Make glaze by beating powdered sugar, arrowroot, lemon juice and milk. Let finished scones cool for 15 minutes before drizzling glaze over the top. Enjoy!
Notes
~Can substitute 1/2 cup strawberries and 1/2 cup rhubarb for the 1 cup of strawberries to make this strawberry rhubarb scones!
~Feel free to preheat the cast iron skillet in the oven while you make batter and then take it out to pour batter on a hot iron pan. This will give the edges an extra crispiness. Just be sure to check it after 18-20 minutes to make sure it doesn't bake too fast.
Make your Easy Strawberry Scone Recipe with a Glaze Topping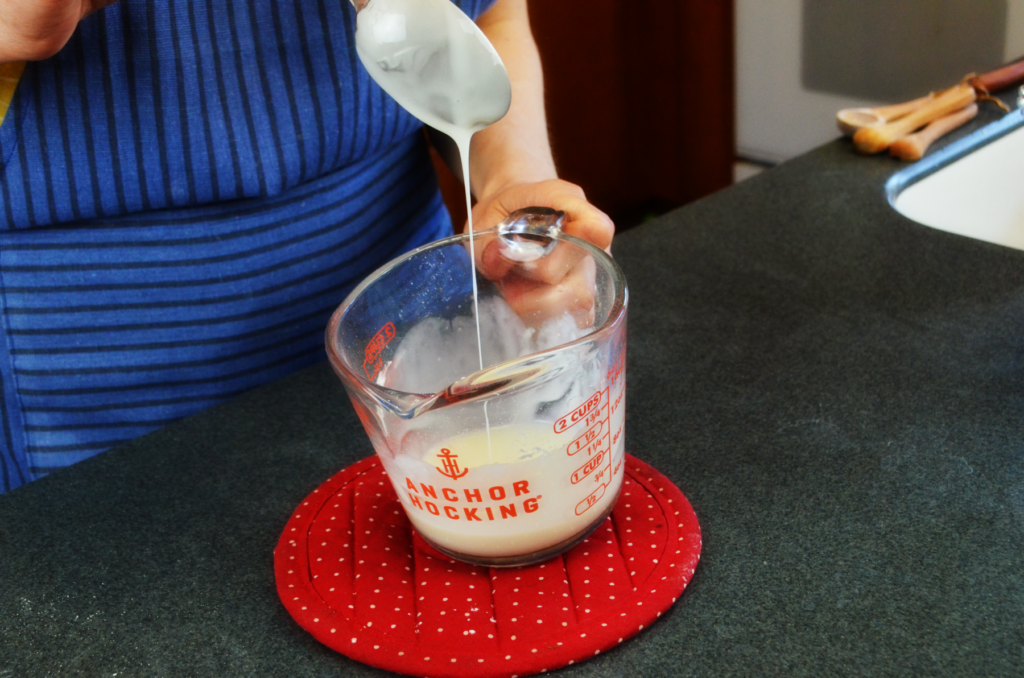 While your einkorn strawberry scones bake in the oven prepare the glaze. This is an optional step but in my opinion it adds so much flavor and beauty to the finished dish.
In a small bowl mix together the powdered sugar, arrowroot powder, lemon juice and milk.
Wait 15 minutes after taking the scones out of the oven before drizzling your glaze on top. If you don't wait, the glaze will spread ALL over. Allowing the scones to cool gives the glaze a better chance to set in whatever drizzle pattern you make.
Strawberry Scones with Frozen Strawberries
You can easily make this strawberry scone recipe into a recipe for strawberry scones with frozen strawberries. To do this take out your frozen berries 30 minutes before baking. Pat dry with a paper towel to dry up any extra hydration before adding the strawberries to the scone batter. If you add the frozen strawberries, it may take an extra few minutes to bake your scones. Even so, the scones will turn out just as tasty! Making strawberry scones with frozen strawberries is still pretty simple and easy!
Are Scones Dry
Dawn Perry, writer for Bonappetit website makes it clear that scones should not be flaky like a biscuit. She states, "A scone is slightly dryer than a biscuit and yet, when done well, not dry at all."
While these scones are definitely NOT dry, they don't have the common crumbly texture many scone recipes produce. I'm not worried at all as I've found many don't like that texture! If you're one who likes a soft scone better, this cast iron pan scone was made with you in mind. No shaping dough. Just pour it in the pan!
So are Scones dry? When made right, they aren't supposed to be.
Psst! If you love biscuits a much as I do grab my Buttery Farmhouse Einkorn Scone Recipe Here.
How to Store Scones
I like to leave my scones in the cast iron pan and cover with plastic wrap or a tea towel for storage. If you store scones this way, they will last about three days. You can also store scones in these ways:
Store cut scones in an airtight container for 3-5 days on the counter. Check them daily as different temperature and humidity will affect how long they stay good.
Cut into pieces and store scones in a freezer bag or airtight container in the freezer for up to 10 days.
Make this Recipe Strawberry Rhubarb Scones
Do you love Strawberry Rhubarb Scones? I do! Let me share a secret. This recipe was originally my own strawberry rhubarb scone recipe! Yup. I love the strawberry rhubarb scone combo too. If you want to make these into strawberry rhubarb scones it's so simple. Instead of adding 1 cup of chopped strawberries, add 1/2 cup of chopped strawberries and 1/2 cup thinly sliced fresh rhubarb.
The recipe for making a strawberry rhubarb scone is so similar I there's no need for a separate recipe. Just follow this recipe and add in the rhubarb.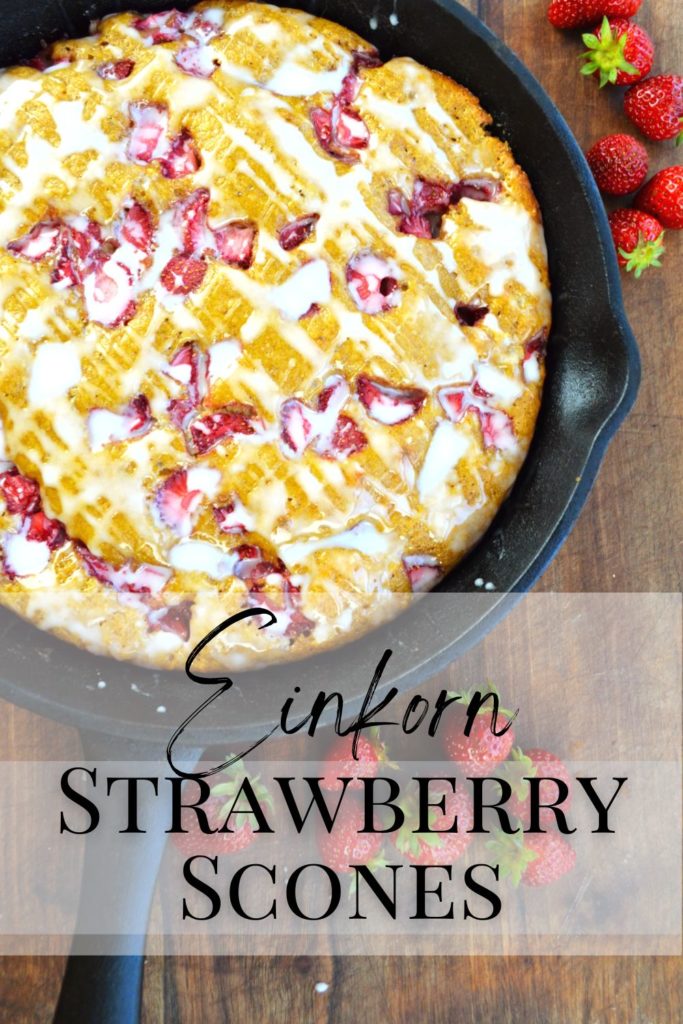 Other Recipes you may like
If you enjoyed this easy strawberry scone recipe with einkorn flour check out these other great einkorn recipes:
Pumpkin Streusel Scones with Einkorn Warm your Winter
Sourdough Einkorn Lemon Poppy Seed Muffin Recipe
Overnight Sourdough Bagels with Einkorn
About Einkorn Baking
All About Einkorn Flour: What You Need to Know
Does Einkorn Cause Inflammation? Gluten Free and Autoimmune Disorders
Best Tips for How to Bake with Einkorn Flour
Happy Baking!
From the Hilltop,
Krista