Sourdough Einkorn Lemon Poppy Seed Muffin Recipe
Spring has been peeking it's head in our corner of the world and I can't help but bring out the lemon to welcome it. Sure, I enjoy lemon anytime of the year, but especially in springtime. After the cold grey of winter, the zippy lemon flavor seems like the perfect invitation for sunshine to come out again. This Einkorn Lemon Poppy Seed Muffin Recipe can produce so many things: a bright breakfast, a filling snack, an addition to a meal; even dessert should you add a bit of glaze.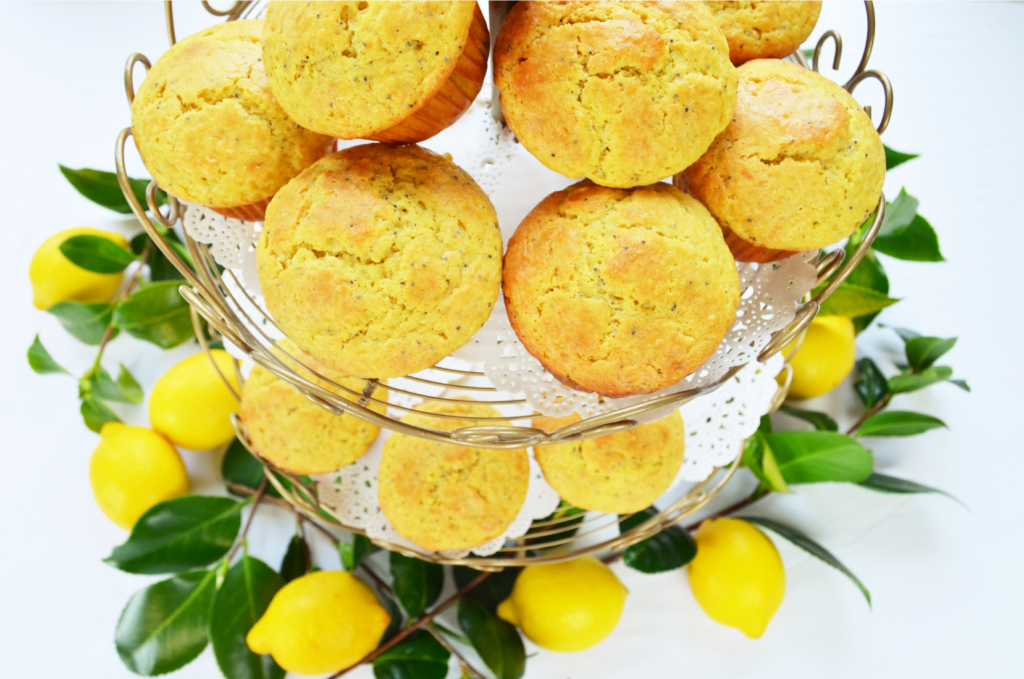 This post contains affiliate links. Should you click on the link and follow through with a purchase, I receive a small commission at no extra cost to you.
Why Sourdough in Einkorn Lemon Poppy Seed Muffin Recipe?
There are several ways in which I help these muffins to rise. The baking powder will help. The yogurt may add a bit of rise, but first is the sourdough starter.
If you received my freebie, "Whole Grain or All-Purpose" (Get it HERE) where I separate einkorn recipes according to whether they are best with whole grain einkorn or all-purpose einkorn flour, you may know this. All-purpose einkorn flour is great with lemon!
Sourdough is also wonderful with lemon. They both share the tart flavor, making them pair beautifully. If you are looking for a lemon recipe, be sure to use your sourdough starter in it! Don't miss out on this wonderful pairing. Not only do I like to use it to help ferment the grains, but the flavors compliment each other
I love learning about this ancient form of breadmaking and Karyn Lynn Newman PhD, has written a wonderful book called "Sourdough by Science." If you're as nerdy as I am, check out this fun read to help "up" your baking game or find a podcast interview with her (that's how I found her).
How to Make Sourdough Einkorn Lemon Poppy Seed Muffins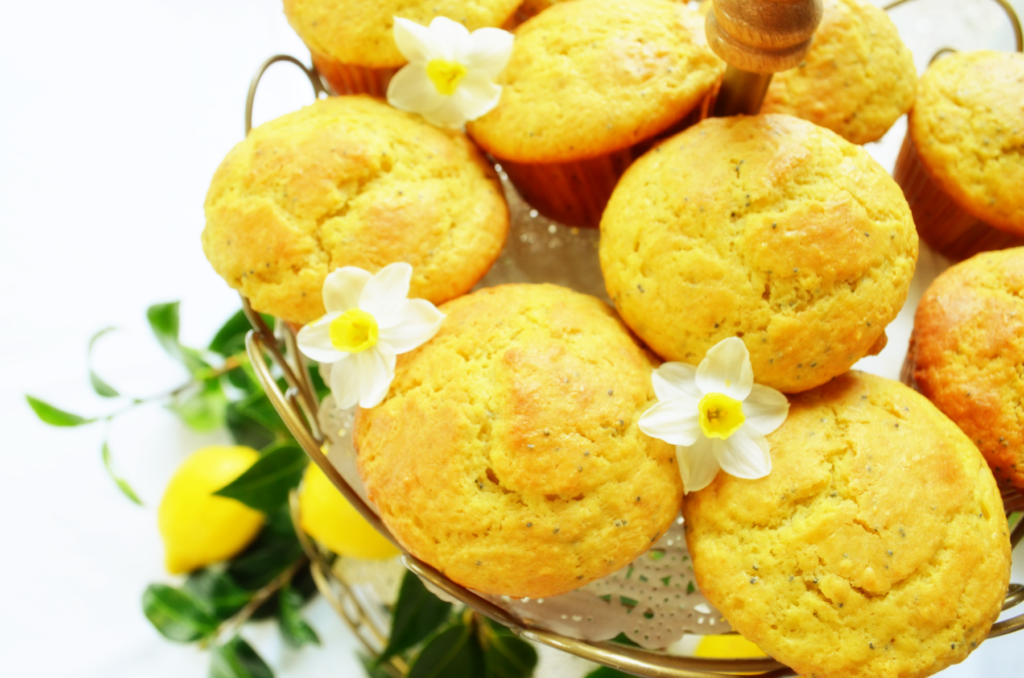 Here's the directions from beginning to end for your Einkorn Lemon Poppy Seed Muffin recipe!
Preheat the oven to 425 degrees Fahrenheit. Line a muffin tin with paper liners.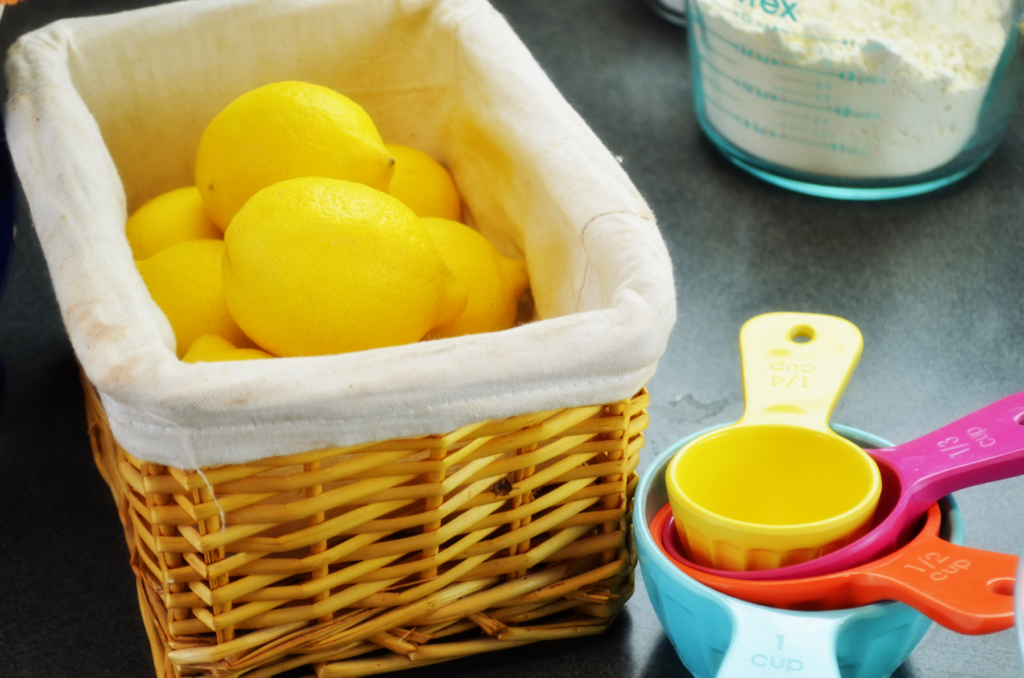 In a large bowl combine your sourdough starter with 2 cups of the flour, the yogurt and milk. Mix and set aside.
In a medium size bowl or an electric mixer, beat your eggs, honey, vanilla, lemon juice (and drops if using) and sugar. This is the hardest part of the recipe only because it will take a few minutes. You want to create a smooth gooey combination by beating these for about 3 minutes. This will help prevent a grainy taste in your muffins. I learned this trick from Carla Bartolucci, who wrote the cookbook, "Einkorn."
Pour the rest of the flour over the sourdough starter mixture. Sprinkle the salt, baking powder and poppy seeds over the flour and mix in. Now pour the egg mixture over the sourdough mixture and gently mix everything together.
Fill your muffin cups about 3/4 full of the batter. I like to fill these high to assure tall muffins. Now pop them in the oven and lower the temperature to 375 degrees Fahrenheit. Bake for 27-30 minutes.
Let cool for 10 minutes before taking out of the pan. Careful! They're hot!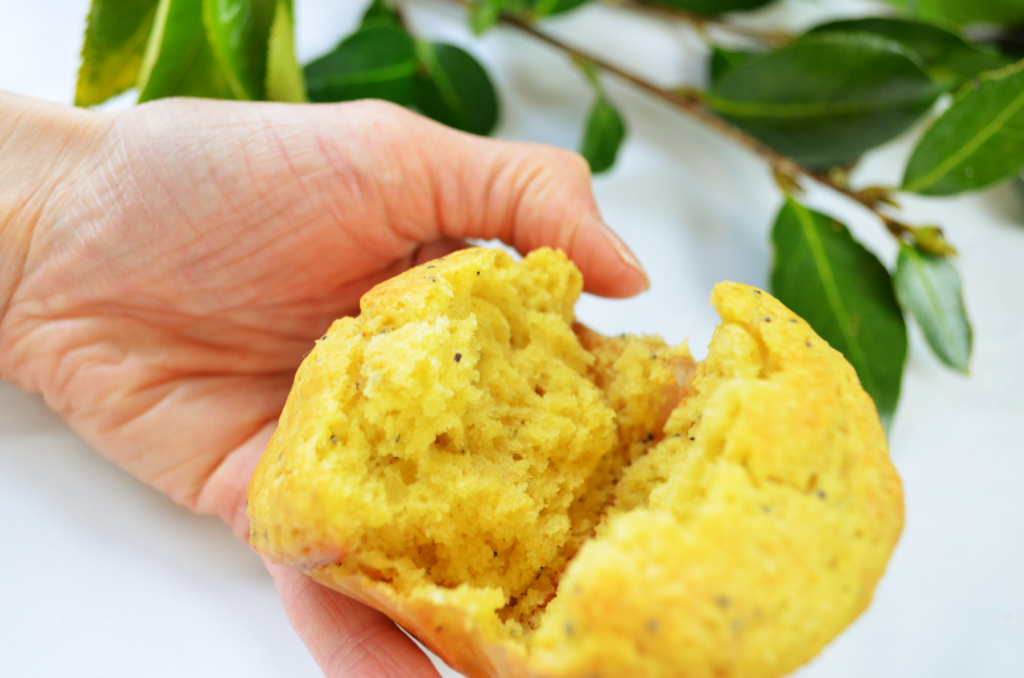 Overnight Einkorn Muffins
Because this einkorn lemon poppy seed muffin recipe uses sourdough, it's adaptable to starting the night before or several hours before. Instead of simply mixing all the ingredients, set the starter in a bowl with the flour, yogurt, lemon juice and milk. Cover it and allow it to ferment over time. After several hours go back to the bowl and finish mixing in the blended eggs and sugar mixture along with the rest of the dry ingredients.
This is a great way to make overnight muffins. Start them before bed and finish them in the morning. I never complain about having a baked good started for me in the morning.
Yield: 15 muffins
Sourdough Einkorn Lemon Poppy Seed Muffins
Lemon Poppy Seed Muffins made with Einkorn flour are perfect for snacks, breakfast, dessert or anytime.
Ingredients
3 Cups of all-purpose einkorn flour
2 teaspoons baking powder
1/2 teaspoon baking soda
1/2 teaspoon sea salt
2 teaspoons poppy seeds
-------
1/2 Cup sourdough starter
1/2 Cup yogurt
1/2 Cup melted butter
1/3 Cup milk
2 Tablespoons lemon juice
(Optional 5 drops lemon oil)
-------
3 large eggs at room temperature
2/3 Cup unrefined cane sugar
2 Tablespoons honey
1 teaspoon vanilla
Instructions
Preheat the oven to 425 degrees Fahrenheit and line a muffin pan with paper liners.
In a large mixing bowl, combine the sourdough starter, yogurt, butter, and milk with 2 cups of the flour.
In a medium sixed bowl or electric mixer blend together the eggs, sugar, honey and vanilla with lemon juice and oil (if using). blend on medium speed for 3 minutes or until the mixture becomes smooth and creamy with sugar is completely incorporated.
Now pour the rest of the flour over the sourdough starter mixture along with the baking powder, baking soda, salt and poppy seeds. Mix in.
Gently mix the egg mixture into the sourdough flour mixture and we're ready to bake!
Scoop batter into each muffin cup approximately 3/4 of the way high. Turn oven down to 375 degrees Fahrenheit and bake for 27-30 minutes.
Let muffins cool for 10 minutes before eating. Enjoy!
Can I Substitute Whole Grain Einkorn?
Because this einkorn lemon poppy seed muffin recipe uses Lemon, I recommend all-purpose einkorn flour. That being said, I have subbed 1 cup of whole grain einkorn to my own recipe with success. I have NOT substituted the whole amount of flour 1:1.
This results from the bran/fiber in whole grain einkorn absorbing more liquid than all-purpose einkorn. To sub the whole grain would mean you'd also have to adapt the moisture by adding a little extra hydration or lessening the flour. I haven't yet experimented to find the best ratio's for whole grain. If you are wanting the nutrition from the whole wheat, feel free to do this but I don't have an exact recipe for you. You'll have to experiment a bit yourself but I'd love to hear if you do this!
For now I'm enjoying the lightness of the all-purpose einkorn flour in these muffins. If you're curious what flavors pair best with whole grain einkorn grab my free list HERE.
Options for Einkorn Blueberry Muffins
This recipe is easy to adapt into blueberry muffins! Here's a couple different ways to do it.
Einkorn Lemon Blueberry Sourdough Muffins
Want to change this recipe to Lemon Blueberry Sourdough Muffins? Just omit the poppy seeds and add in 3/4 cup of fresh or frozen blueberries. If using frozen blueberries put them in a bowl and mix with 1 tablespoon einkorn flour to coat them. This will help them not turn the batter purple as you mix them in.
Einkorn Sourdough Blueberry Muffins
If you want plain einkorn sourdough blueberry muffins take out the poppy seeds as well as the lemon juice and drops (if using). Add in 2 Tablespoons water to make up for the hydration from the lemon juice and add in that extra 3/4 cups blueberries as instructed above. There you have it: Einkorn Sourdough Blueberry Muffins!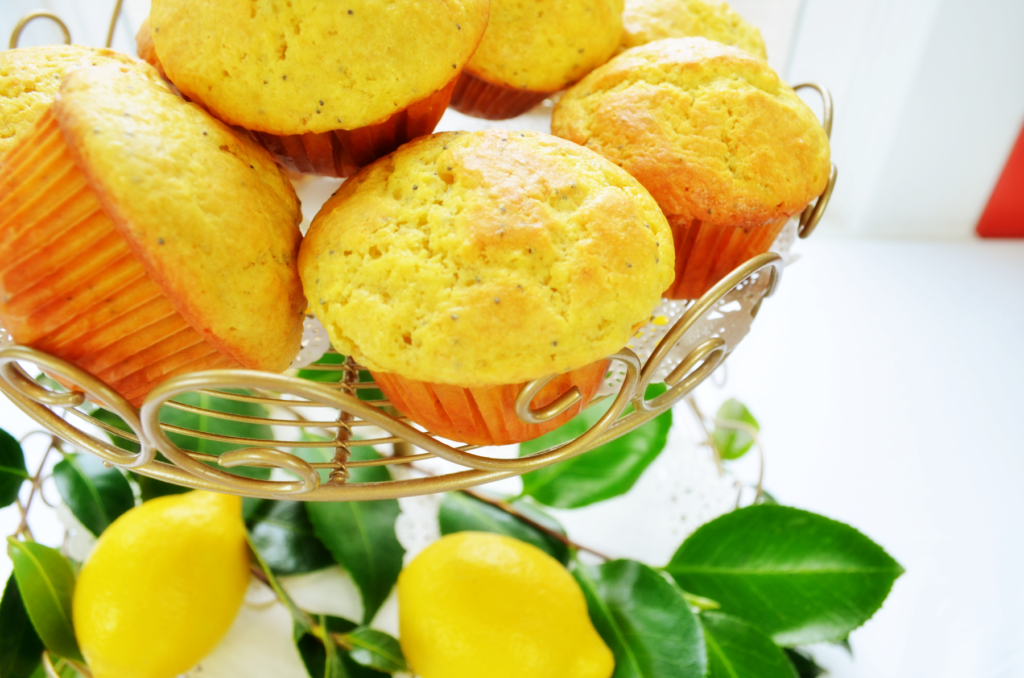 Where Can I Get Einkorn
One of my favorite places for getting einkorn berries in bulk is through Ancient Grains at Einkorn.com. I've been very pleased with the quality and the price in my bulk einkorn grains. They also offer shipping for orders over 48 lbs.
Their einkorn is grown in the U.S. which I love and their business resides in Idaho so we're neighbors!
Hint: their website also shares recipes and lots of information on einkorn so check it out!
Other Recipes you May Like
Einkorn Sourdough Lemon Blueberry Scones
Chewy Einkorn Chocolate Chip Cookies
Best Crispy Alexia Sweet Potato Fries In An Iron Pan
The BEST Einkorn Recipes for Every Season
More on Einkorn Flour
Best Tips for How to Bake with Einkorn Flour
All About Einkorn Flour: What You Need to Know
In My Opinion: The Mockmill 100 Flour Mill
A Simple Way to Increase Einkorn's Nutrition
Enjoy your Muffins!
From the Hilltop,
Krista
Psalm 121:1-2