How to Make Christmas Chocolate Chip Cookies with Einkorn
If you've been around for long, you'll know one of the first einkorn recipes I ever shared was my chocolate chip cookies. They are PERFECT. A little crispy on the edges and chewy inside. I could go on. It took me a bit to tweak them into how I wanted and when I did, it wasn't changing! Christmas time means cookies too and while I like other types, there's still something about a chocolate chip cookie. Today I wanted to share this beauty decked as a Christmas Chocolate Chip Cookie: in Red, Green and peppermint sticks!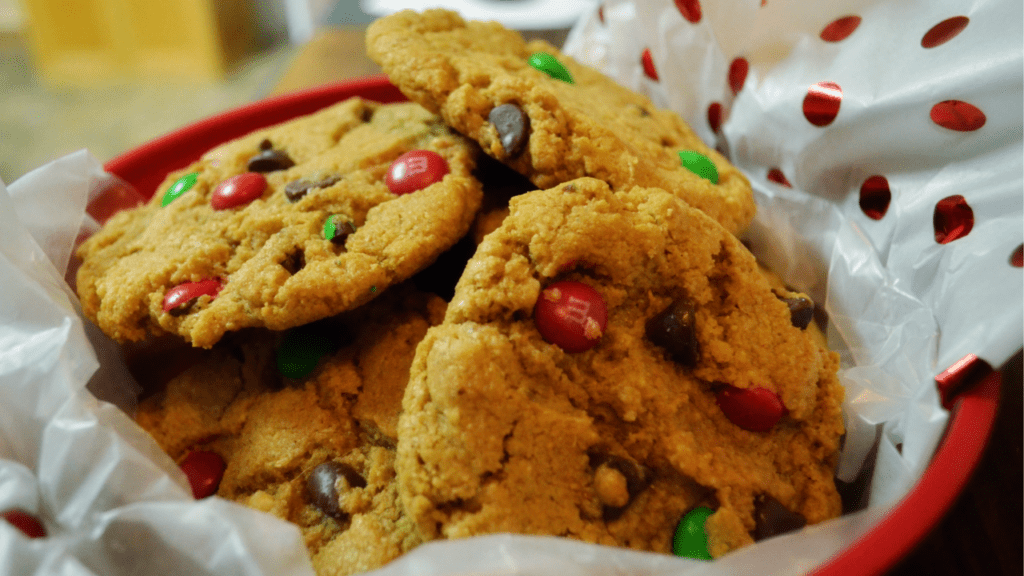 Prep for Christmas Chocolate Chip Cookies
Hopefully during the Christmas season you'll have plenty of candies around the house ( can't believe I'm saying this!) It's so much easier to get creative when you've got options. I used red and green M&M's with crushed candy canes and chocolate chips. You can do this option or pick an idea below.
Christmas M&M's with white chocolate and Macadamia nuts
mini peanut butter cups with Christmas M&M's
Peppermint candy canes and White chocolate chips
Get creative with other combinations: Caramel, Cinnamon, chocolate chunks and more!
Other Variations
Cinnamon is one to the ingredients in the main cookie. If you choose to include peppermint I'd recommend you leave the cinnamon out. Instead consider adding a drop of peppermint oil or extract to the batter.
Flour can also be tweaked in your use of whole grain or all purpose. The first batch I made had half all purpose and half whole einkorn. The whole wheat einkorn had a VERY course grind (I ground it myself). This was the grind I use when cleaning out the mill. I just happened to be at the end of my bag of all purpose flour so that's what worked. If you haven't heard much about einkorn check THIS POST out.
These are pictured at the top of the page and turned out just as tasty with a slightly different texture. All to say, while I wouldn't make these with ONLY the very coarse flour, feel free to use all purpose or whole wheat in different combinations. They turn out just fine!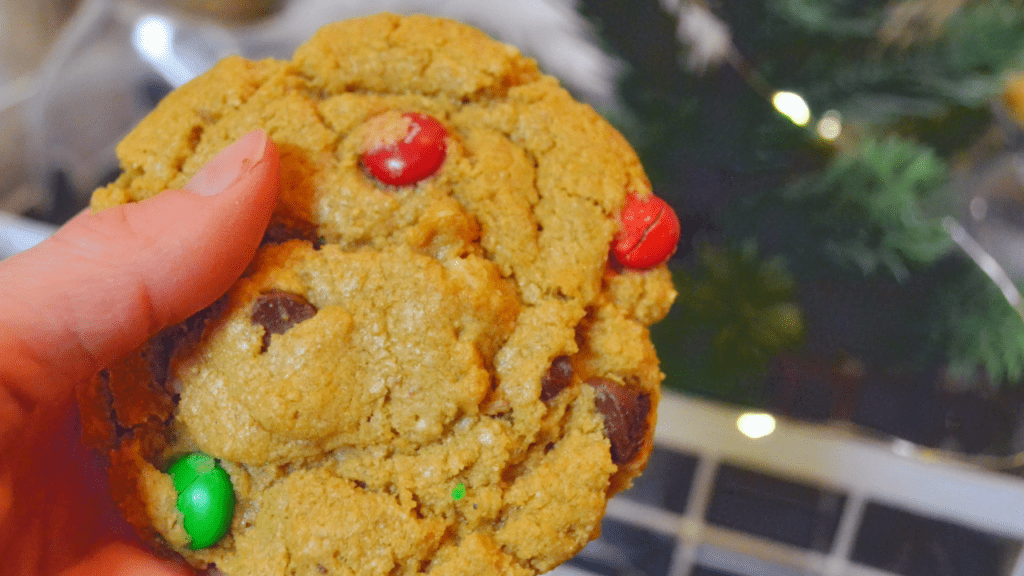 Tips for Christmas Chocolate Chippers
Here's a few of my Best Tips for making Christmas Chocolate Chip Cookies.
Make sure your egg is room temperature- this helps them combine with the batter more easily which helps with the next tip…
Beat that Butter, egg and sugar hard! This gets air into the batter which helps with the baking and final texture. If you're using an electric mixture, let it run for a few minutes before adding the dry ingredients.
Add the candies by hand. Instead of using an electric mixer for this step, fold in the M&M's (if using) or other candies with a spoon or spatula. This prevents them from getting cracked in the mixing process. I've learned by experience 🙁
The Original Recipe
Here's the Chocolate Chip Cookies you know and love. What are you waiting for? Go grab some Christmas candies and Spice this recipe up!
Yield: 3-4 dozen
Einkorn Chocolate Chip Cookies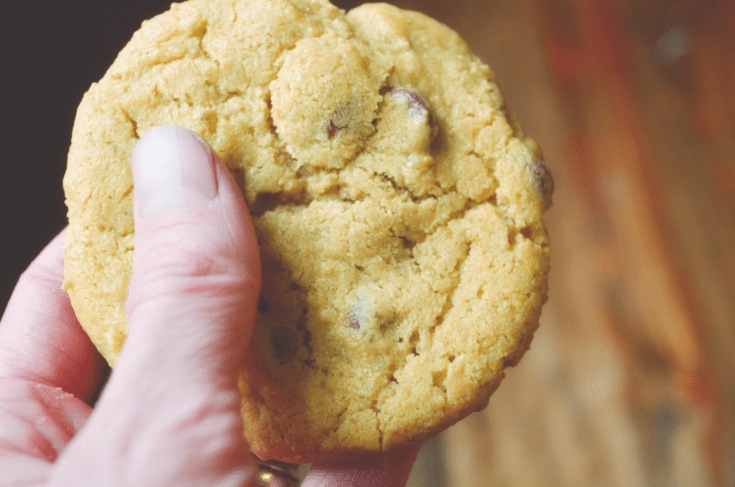 Soft and Chewy Chocolate Chip Cookies made with Einkorn Flour
Ingredients
3/4 cup coconut sugar
3/4 cup turbinado or cane sugar
1/2 cup grass fed butter, softened
1/2 cup refined coconut oil, softened
2 teaspoons vanilla
1 large egg at room temperature
2 1/4 cups of all purpose einkorn Flour
1 teaspoon baking soda
1/2 teaspoon baking powder
1 teaspoon cinnamon
1/2 teaspoon salt
1 cup chocolate chips (2-3 types in best)
Instructions
Heat oven to 375 degrees fahrenheit
beat together butter, coconut oil and sugars. add in vanilla and egg and beat for a few minutes until fluffy. The more the better!
In separate bowl, stir together flour, baking soda, baking powder, salt and cinnamon.
Add dry ingredients to wet ingredients and gently fold in chocolate chips until just combined.
Drop heaping tablespoon size balls of dough onto greased or parchment lined baking sheet. Slightly flatten each ball. Bake for 10-12 minutes.
Cool for 10 minutes before enjoying!
Notes
Coconut sugar may be replaced by 1 cup of brown sugar.
Whole grain Einkorn flour may be used in place of all purpose einkorn in the amount of 2 1/2-2 3/4 cups. Less will make them thinner.
If you'd like some more tips for using einkorn flour, check out this POST from the Farmer's Lamp. Hope you have fun baking and sharing these cookies! Let me know what you think.
If you haven't yet, check out the NEW Einkorn for a Cozy Winter eBook! There are so many other scrumptious einkorn recipes to help bring winter comfort to your cold season.
Marry Christmas from our family to yours!
From the Hilltop,
Krista
You may also like
Chewy Einkorn Chocolate Chip Cookies