Best Crispy Alexia Sweet Potato Fries In An Iron Pan
Some days, even those of us who are "from scratch" meal makers, need a quick and simple dinner idea. I've been making frozen Alexia Sweet Potato Fries for simple lunches or dinners for awhile. We liked them but the kids were honestly getting a little tired of them. Enter the cast iron pan! The first time I tried baking these in the cast iron pan I was shocked. Why hadn't I tried THIS before? They turn out so crispy without even deep frying them! The kids are happy again.
Ever since my second child had to go through a huge diet change, we've used sweet potato fries quite a bit in our home. I even had a homemade Sweet Potato fries recipe I shared on the blog years back. I must admit, it's been awhile since I've chopped up my own batch of fries. Perhaps I should start again but for now, I'm using these as a quick option on busy nights. Alexia Sweet Potato Fries are even better when you bake them in the iron pan! So crispy! Do it! You won't turn back.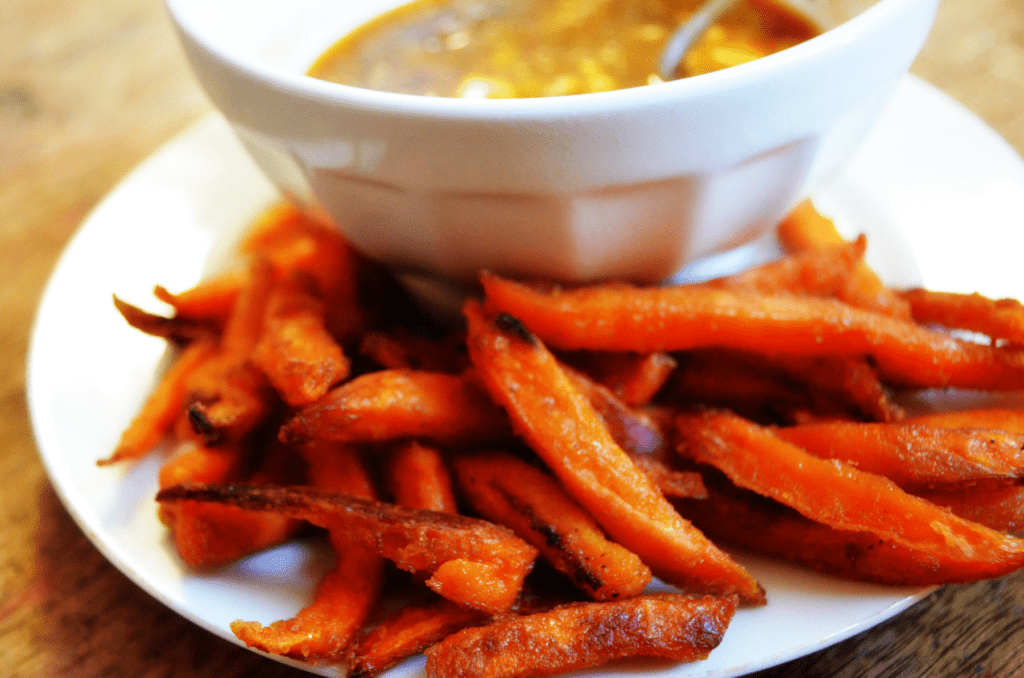 The Secret To Getting these Baked Sweet Potato Fries Extra Crispy
The Pre-heated Pan
When you Preheat the pan in the oven you are getting it HOT! Hot and Ready! Don't skip this process because there's something powerful about putting the frozen sweet potatoes on an already hot surface.
The Iron Pan
Iron Pans are pretty amazing all in themselves. If you've never heard of their benefits, here's a few for fun. In addition to giving you some extra iron in your diet, iron pans hold heat incredibly well. This is probably one of the reasons why they bake these fries extra crispy. Iron pans have also been known as great for deep frying and searing or roasting due to their heat. All in all, they make these Alexia sweet potato fries turn out extra crispy: the best!
The key is to have a well seasoned pan. If you use it often, it's most likely not something to worry about. If you're not sure, check this website out and get it done. Still nervous? You can add a little butter to the pan but you don't want the fries to sit in soggy oil so be sure to wipe the excess out!
Tips
Don't leave oil in the pan when adding in the frozen French fries. Alexia French Fries come with oil and adding more will cause them to become soggy. We want them crispy.
Depending on how crispy you want them, remember that iron pans stay hot even after they've been removed from an oven. If you want them to stop cooking, take them out of the pan immediately. Note: I usually do leave them in the pan to serve.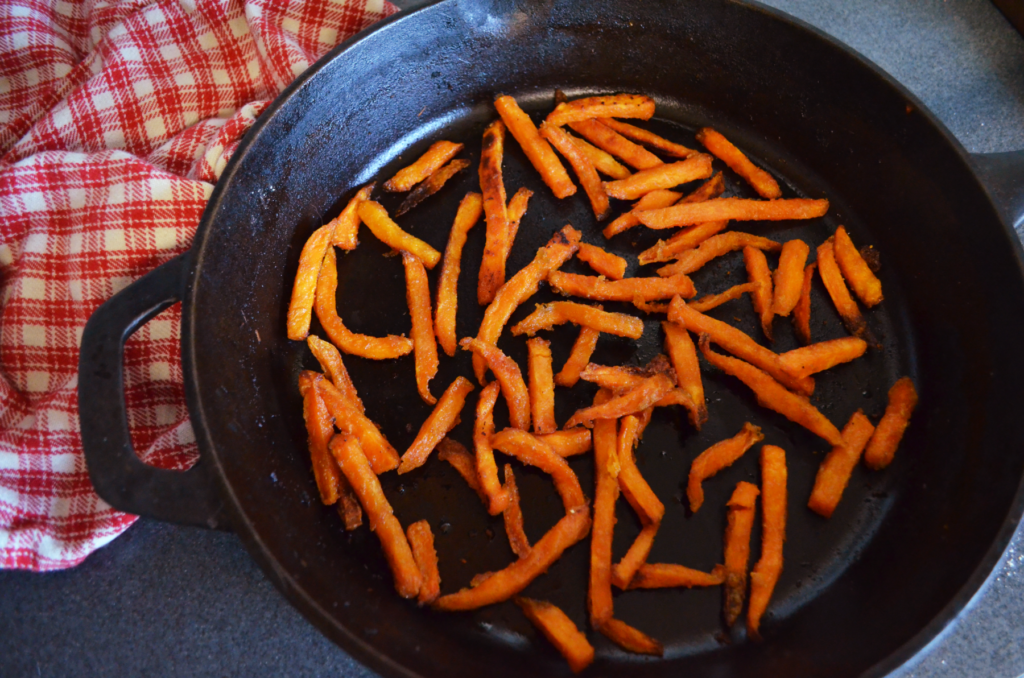 How to Make the Best Crispy Iron Pan Sweet Potato Fries
Get Ready
Heat the Oven between 425 and 440 Degrees Fahrenheit. For an even crisper fry, heat it on the higher end of that. If your Pan is well seasoned there is NO REASON FOR OIL. When it's not well seasoned follow these instructions: Cut 1 tablespoon of grass fed butter and place in your iron pan. If using two iron pans, do this for each one. If using a 15-18 inch iron pan place 1.5 to 2 Tablespoons of butter in it to melt.
Place your iron pan(s) into the oven to preheat with the oven.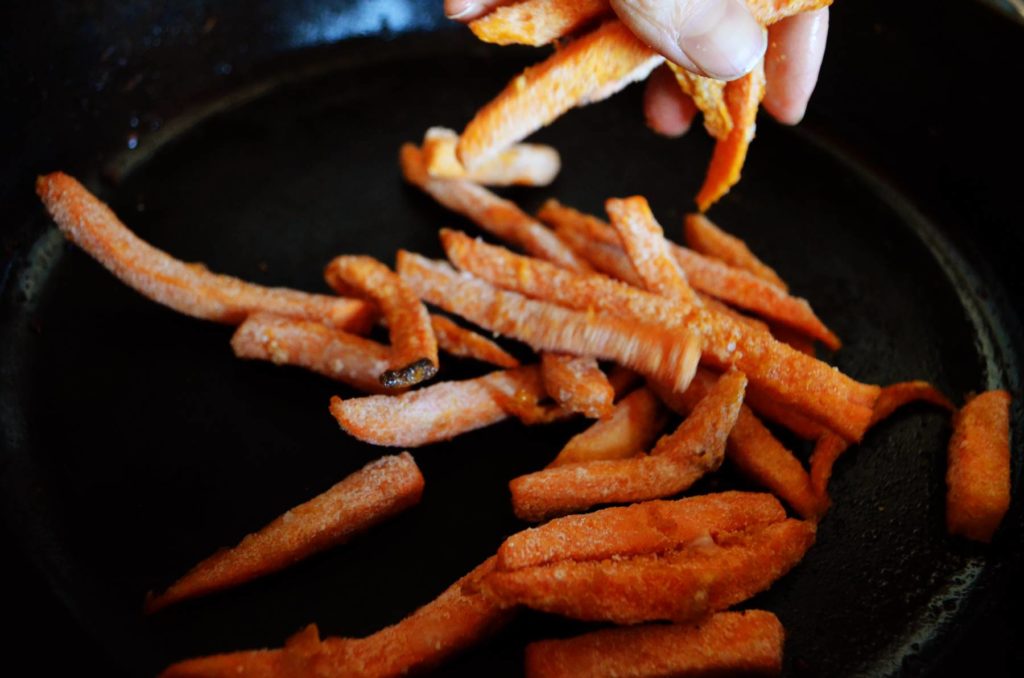 Get Set
When the Oven has Preheated and the butter is melted (if using), take the iron pan(s) out of the oven. Spread any butter around pan. Wipe extra oil up with a paper towel.
Spread the frozen Alexia Fries in the cast iron pan so they don't cover each other. While a few might be cuddling, you want about 80% of them to be in a single layer.
Next, Sprinkle with Sea Salt and return to oven for 18 minutes.
Eat!
Using a spatula or tongs, flip over fries and return to oven for 3-5 more minutes.
Take out and Serve with your favorite dipping sauce!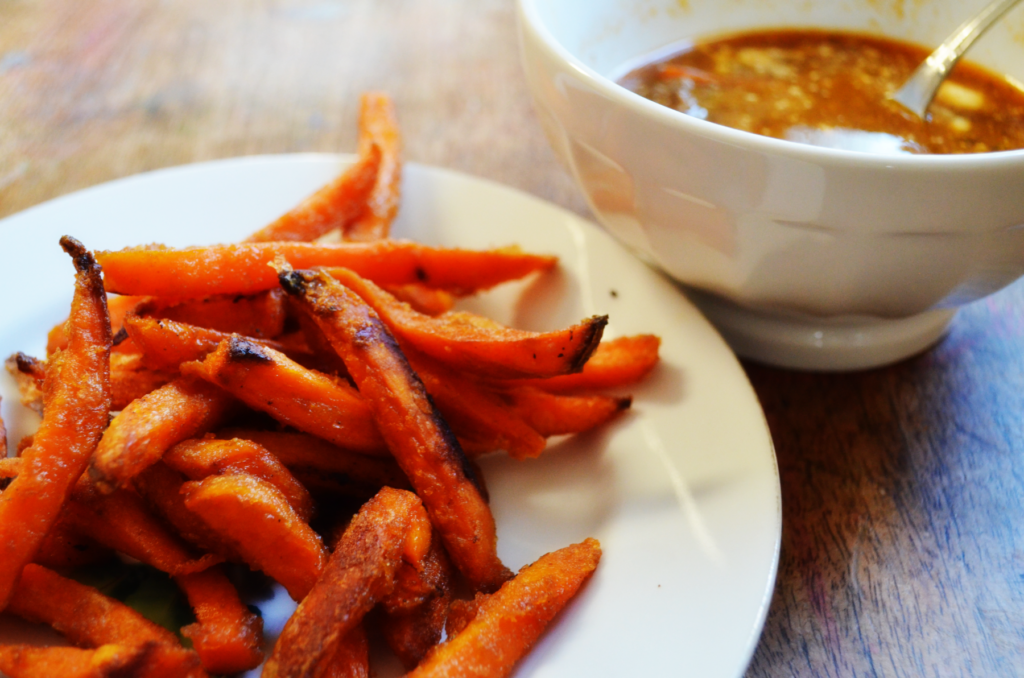 Serving Sizes for Iron Pan Alexia Sweet Potato Fries
How much will the iron pans will make? Here's my own experience. These are the sizes I regularly use and the amount they make.
A 10 inch iron pan will bake about 3 servings of sweet potato fries.
A 15 inch iron pan will bake about 4-5 servings of sweet potato fries.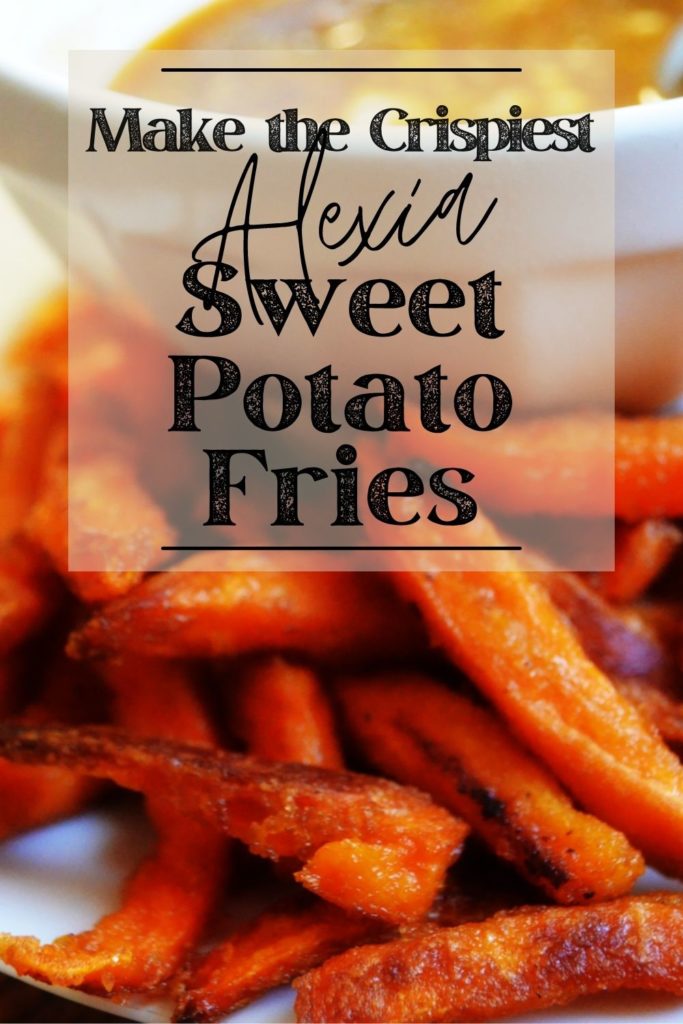 More Cast Iron Pan Recipes
Cast Iron Pan Chocolate Chip Skillet Cookie with Einkorn
Simple Einkorn Lemon Blueberry Sourdough Scones
Pumpkin Streusel Scones with Einkorn Warm your Winter
Other Posts you May Like
Chewy Einkorn Chocolate Chip Cookies
Soothing Chicken Soup for Comfort Food Cravings
How to Make Einkorn Corndogs (Gluten Free Option)
Simple Care and Keeping of a Wooden Cutting Board
Thanks for stopping by!
From the hilltop,
Krista