How to Build a Teepee Green Beans Adore
"Look mom! I'm inside my house!" was a common phrase last summer. Building a teepee green beans adore also happens to create a place kids love too! I'd pick beans from the outside and they'd pick from the inside of the bean teepee. I'll admit, I let their flare for picking beans go to far and wound up canning some pretty stringy beans. Either way I loved it. The kids loved it. And with the amount of beans we grow throughout the summer, I can tell we'd built a teepee green beans adore too!
Why Build a Green Bean Teepee Trellis
There are many reasons why this has become a favorite plant and feature in our garden. Here's a few!
Gardening with Kids
Sometimes I feel like I have two of the pickiest kids. They don't even like most fruit! Gardening has been a wonderful way to get them more involved in what they eat. See our post on homesteading for our family's special diets for more on this. They were reluctant to try the green beans at first but soon found they loved them AND they were so fun to pull off the trellis.
The green bean teepee trellis made quite an impression itself. They can pick inside or outside. They can sit inside it while I do my gardening. It's one of those magical things the way it grows from nothing and then suddenly the beans are all over the teepee! Kids love it.
Naturally Beautiful Garden Decorations
I probably mentioned this but I'll do so again. This trellis is lovely in a garden. It really draws attention to itself. Making a green bean teepee trellis is like making the focal point of your garden. It has height and beauty.
Also Check Out: Add Elements of the English Garden to Any Garden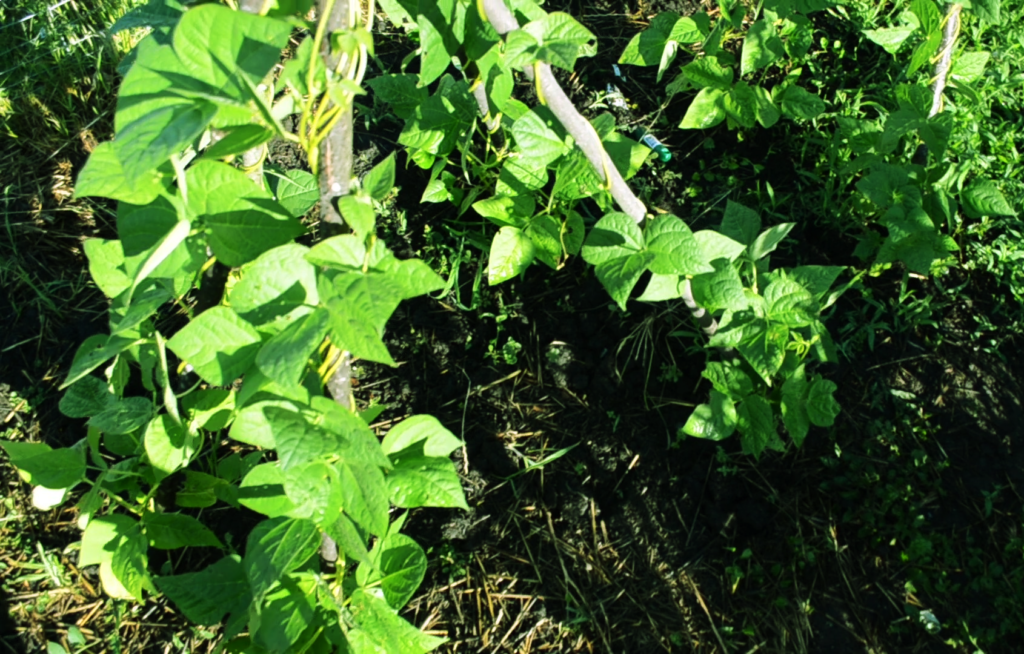 Grow Green Beans to save Money on Groceries
Let's talk budget and growing food to save money. Of all the food grown in the garden, green beans are one of the most prolific. In addition, if your looking at the most calories for food grown, green beans have a much better chance of feeding a family then say, tomatoes. Tomatoes are also prolific but they just don't reach they same protein level of beans. There's reason the pioneers brought green bean seeds with them when going west!
We have started canning our own green beans and I love being able to take out a can for soups or simply a side for dinner. It's satisfying that something so easy to grow has made it to our pantry all year long. If you haven't yet, check out my post on how I learned to preserve food while mothering four little ones.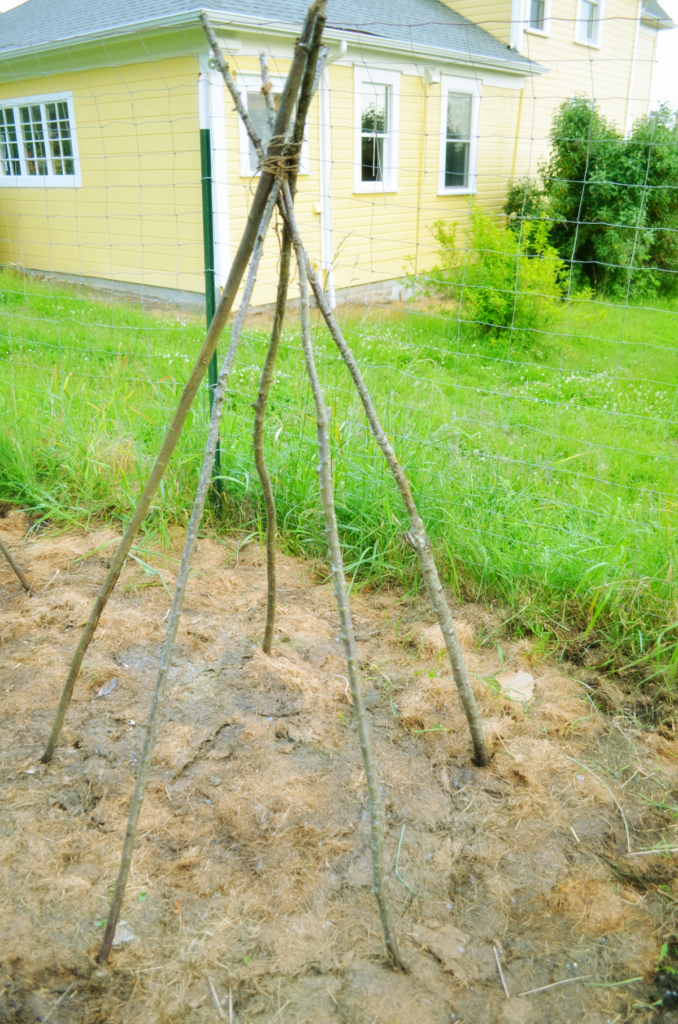 How to DIY a Teepee Trellis
The best part of making a DIY green bean teepee is this. It only takes sticks and twine! That's it.
Where to build your DIY Green Bean Teepee Trellis
Green beans need full sun and love heat so find a spot that won't be getting shade. You'll want some room for the green beans to grow. A good rule is if your green bean teepee is 4 feet wide give it at least 12 " more on either side to allow the beans to grow without competing for nutrients with other plants.
If you're building this in a raised bed just make sure you plant the beans at least 5″ inside the edge of your raised bed. Wherever you build, take into consideration that you'll need room to walk around the trellis and pick your green beans.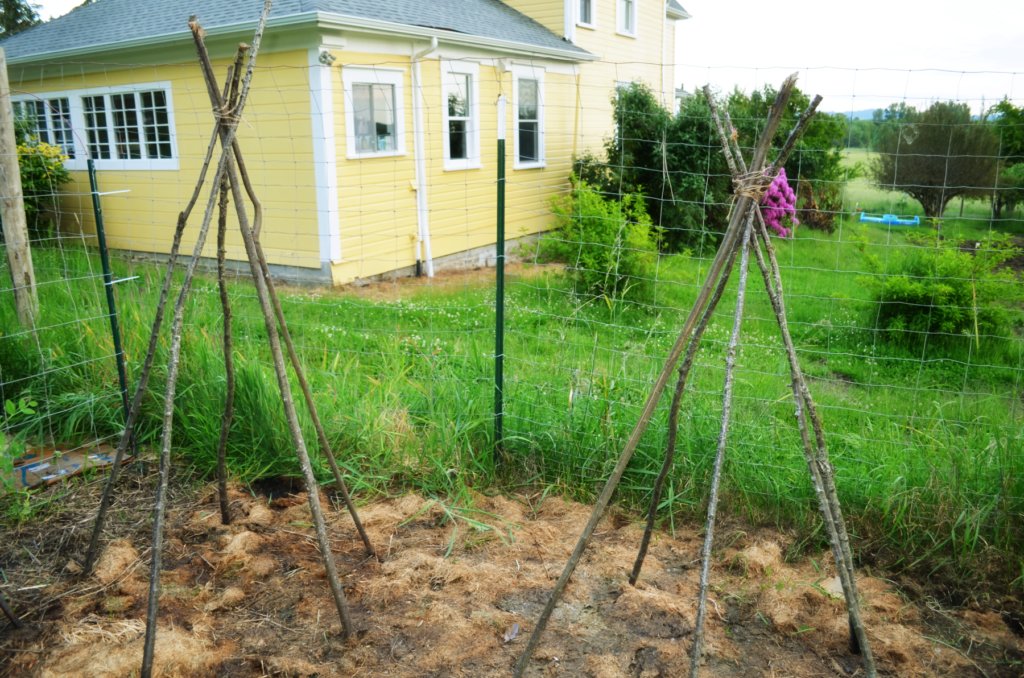 What you Need to Build A Teepee Green Bean Adore
The best part of building a DIY teepee trellis is you only need two things: sticks and twine! That's all. I know. It's hard to believe.
Sticks should be cut to 5.5 feet or longer but I wouldn't have them any shorter than that. Beans like to grow and they will find a way even if it's growing in a clump that pulls a "too short" trellis over.
While you might prefer a more durable string, I like twine for two reasons:
Twine holds up well throughout the summer but breaks down easily. This makes it easy to break the trellis down for winter and reuse again the next year!
When broken down, the twine is able to compost back into the soil.
Where to Find Sticks for Your Green Bean Teepee Trellis
Being on a property has allowed us the chance to collect sticks from trees that fall or loose branches during storms. Don't have easy access to branches? Here's a few other ideas.
Use Tree trimmings. This is another great benefit to trimming your trees!
Ask Friends who have property to share some branches.
Go for a drive in the country after a storm and collect a few fallen branches.
Ask a neighbor who loves to take care of their yard if they can share tree trimmings
Check with an arbor company or landscape company if they allow others to use their trimmings
How to Make a Green Bean Teepee Trellis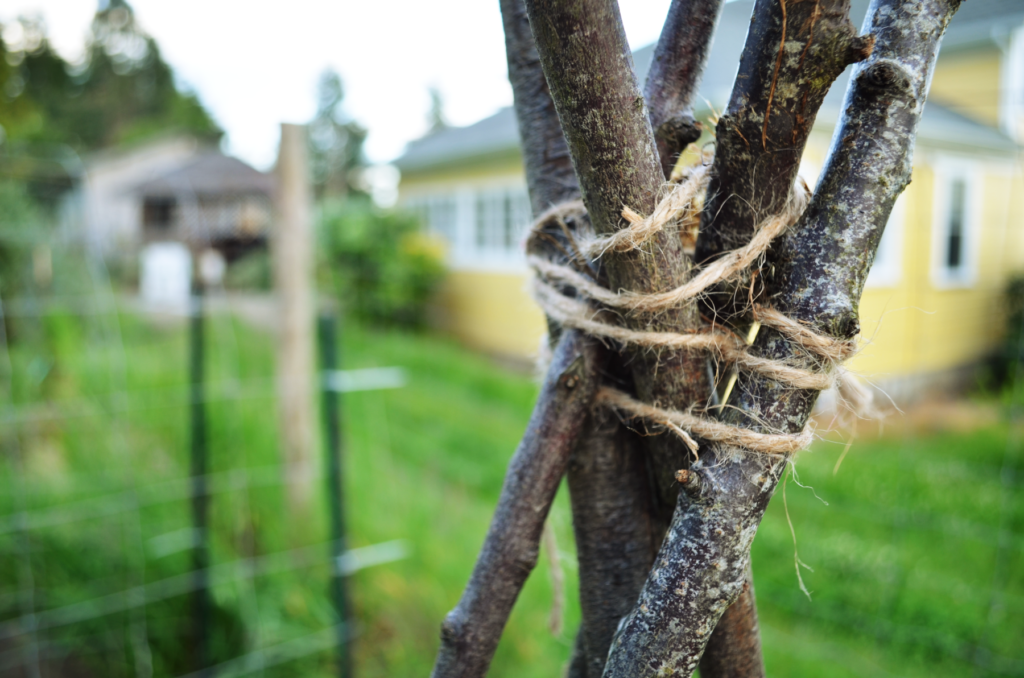 Find an open area with enough room for your trellis and gather the sticks and twine. Hint: have the twine cut and held close in a pocket.
Cut your twine to about 4 feet or 1.2 meters long.
Place three of your sticks in a teepee shape. The bottom of each stick should be in the spot you want. Leave room for the other sticks you'll add in. Gently push the bottoms of the sticks into the dirt while holding onto the crossing tops.
Add one more stick at a time, finding a spot for it to cross while not feeling lopsided. Continue to make sure each stick's bottom edge is pushed into the soil 1-2 inches to help hold the teepee in place.
Take your twine in the middle and begin weaving one half of the twine tightly around and through the crossing of the sticks. Take the other half and do the same until they reach each other again. Tie the two ends securely. If the teepee does not feel secure at the top, either undo the twine and try again or cut another piece of twine to secure it a second time.
Finish by making sure each stick is securely placed into the soil so it won't be blown over in a storm or moved by the weight of climbing bean plants.
Also See: Build a Cottage Style Trellis From Branches
How to Grow Green Beans
Green beans are a quick growing legume that love the sun. They are said to be among the easiest to grow in a garden and I've found this to be true. Here's some tips for how to grow green beans in a garden.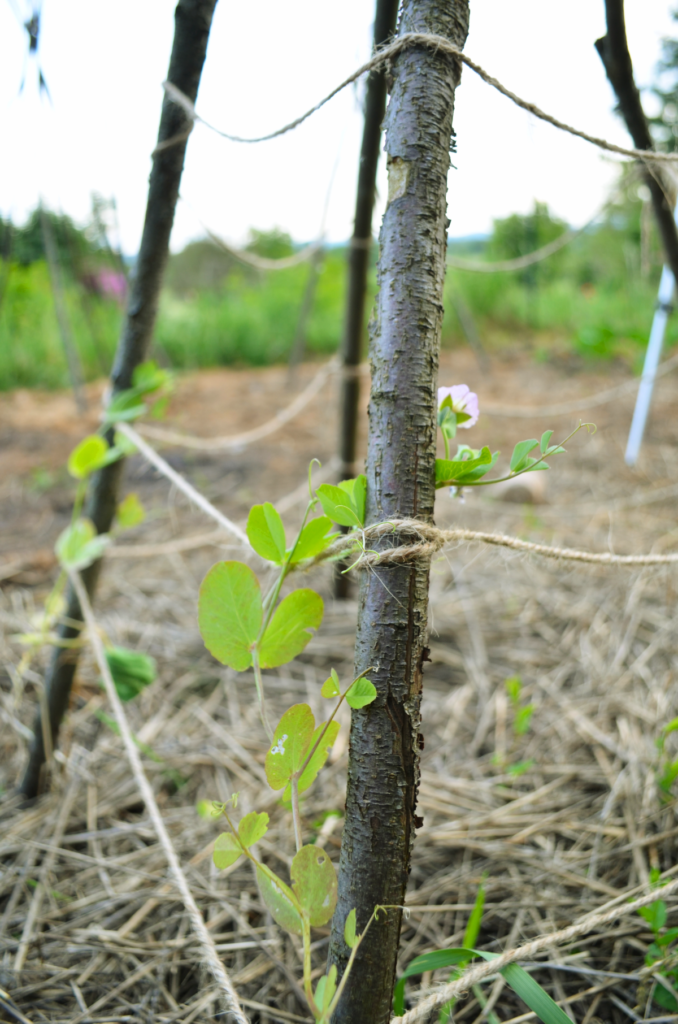 How to Grow Green Beans in a Garden
Make sure your green beans will have full sun and not be in a shady place after late morning comes. They need at least 6 hours of direct sunlight but the more the better.
Wait to plant the beans until the weather stays above 65 degrees Fahrenheit and the nights are no cooler than in the 50's. Your green beans will want warmth to sprout and grow so the warmer, the better.
Push them about 1/2 an inch below the soil surface. To grow your green beans three to four beans around one pole of your trellis. Make sure to plant them at least 4 inches apart.
Your green beans will need consistent watering to keep the soil moist, but don't water them too much. With moist soil and lots of sun exposure, your beans should do well. This article has good information on watering your beans for the best crop.
Oh, Make sure you build a teepee green beans love! You'll be sure to get a good crop!
If you're concerned about your soil (mine tends to be particularly clay like) do this when planting your seeds:
Dig a hole about 4-6 square inches (bigger if you want) and and fill it with a good compost/soil mix. You want to have good soil drainage. Clay like soil will hold the water in so green beans tend to like sandy soil better. That said, I've NEVER had problems growing green beans in a garden; even in our wet northwest environment.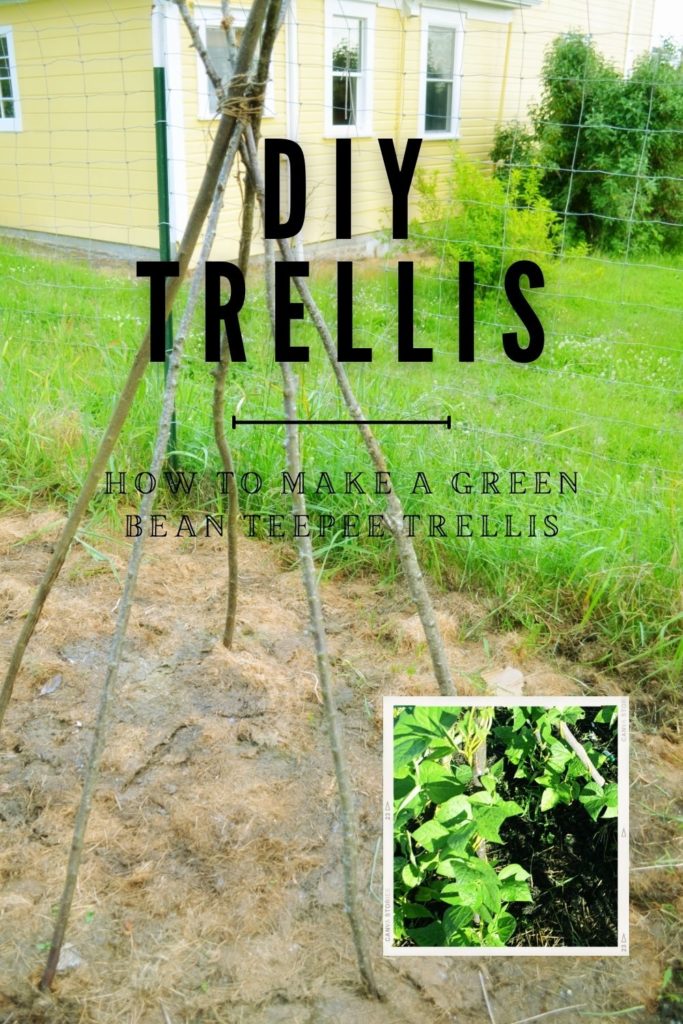 How long to Grow Green Beans
One of the benefits to growing green beans with kids is they tend to germinate quickly and pop out of the soil looking big and bright! Your beans should grow up from their pod in 7-14 days. If planted in the summertime, mine sometimes come up in less than seven days! So how long to grow green beans? not long at all! These are among the fastest growing in the garden.
For this reason, you can do succession planting meaning you can plant them over and over in your growing season. Plant some this week and then a few more when July hits. By the time August is here, your green bean teepee trellis will be full and overflowing with beans.
Other Posts you May Enjoy
How to Plant Tomatoes with Eggshells
How to Start a Homestead for Special Diets
Simple Einkorn Lemon Blueberry Sourdough Scones
Thanks for stopping by! Happy growing to you.
From the Hilltop,
Krista