Grain Free Almond Flour Brownie Pops
Please note this post contains affiliate links, meaning if you click on a link and make a purchase, I may get a commission.
I've tried a lot of brownies in my 30+ years. While my husband could care less for the dark chewie cake, it's got to be my biggest temptation. In the last several years I've found a favorite recipe and, by accident, I stumbled upon the fact that these desserts are even more decadent when frozen! Who knew?! So now, I am here to share how you can eat your favorite rainy day dessert on a hot day. These brownie pops are seriously the best popsicle I could ask for!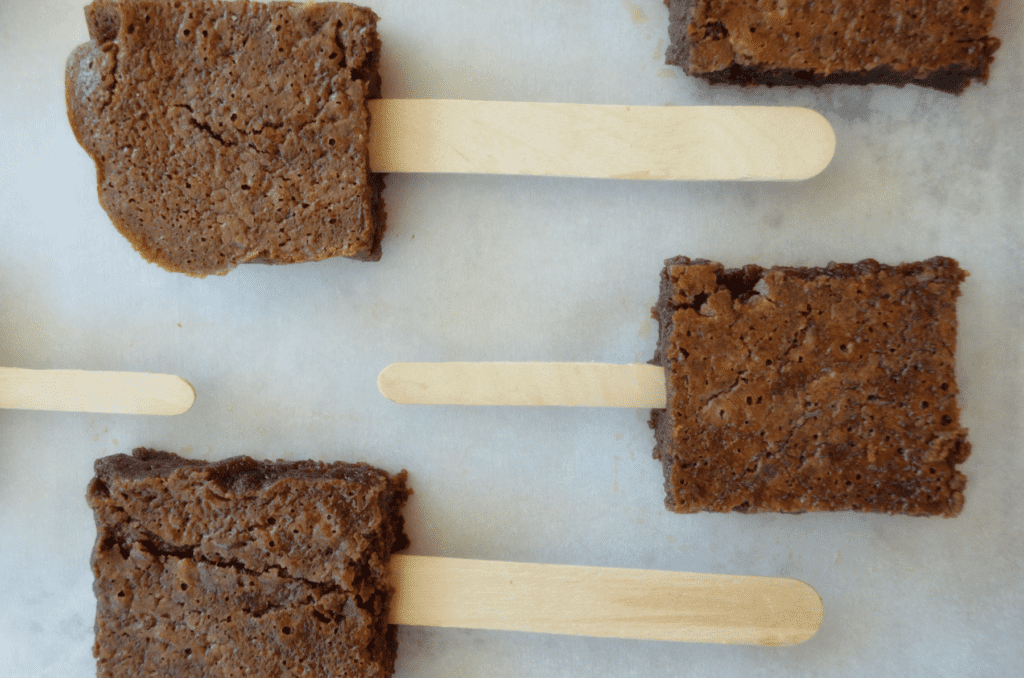 Fudgy and sweet, these are going to be a common snack at my house this summer.
Why Grain Free
As you know, I'm a big fan of einkorn flour and love coming up with einkorn recipes. At the same time, I've been working with almond flour for years. Several years back when I was eating mostly grain free, I found a favorite almond flour brownie recipe and accidentally (or by fate!) found that I loved the brownies just as much when frozen.
It can be easier on the gut to not digest grains, but the real reason for this recipe is because I truly think the texture and flavor is better. After going through so many recipes to find the best frozen brownie, I came back to almond flour. This recipe I created has been adapted and prepared for that perfect frozen texture.
The Popsicle Sticks
I've experimented with different styles and sizes of popsicle sticks and learned quickly that kids will generally go for the wider stick. The tongue depressor sticks were popular with my kids but I felt that, unless I was cutting a really large brownie, they were a little big for our pops. Regular straight popsicle sticks work just fine but the brownie shouldn't be too big.
My favorite stick for these brownie pops is a short stick with a wide end and thin center. Pick what floats your boat. Here they are:
Wide short stick ( My favorite) …Note that I found them at Hobby Lobby in Store
Big-n-Tall Tongue Depressor Stick
Here's The Recipe
Yield: 12 brownies
Grain Free Almond Flour Brownie Pops
These Brownie Pops gluten free and make a fun addition to summer.
Total Time
4 hours
40 minutes
Ingredients
4 oz. unsweetened baking chocolate
1/4 cup expeller pressed coconut oil
1/4 cup grass fed butter
1 Tablespoon vanilla
1 cup coconut sugar
1 1/2 cups blanched almond flour
1/2 teaspoon salt
Instructions
1. Break the chocolate into small pieces and melt with butter and coconut oil over low-medium heat in a small sauce pan.
2. Take off heat and mix in vanilla and sugar. Let it cool a couple more minutes.
3. Beat eggs in separate bowl and pour into pan. Then add almond flour and salt. Stir well.
4. Pour into a parchment lined 8 or 9 inch square pan and cook in a 350 degree Fahrenheit oven for 30 minutes or unto completely baked in center.
5. Let cool. Cut into 2 x 3 inch slices and lay on cookie sheet. Insert a popsicle stick 2/3 of the way into each brownie. Put cookie sheet in freezer for 2-3 hours.
6. Take them out of freezer and enjoy!
Notes
If you don't want to make popsicles but do want frozen brownies, it's fun to slice into small 1.5 inch squares before freezing. Place on a pan and freeze for 2 hours before serving.
Shop For Your Brownies
I LOVE Azure Standard (check out our shopping trip video HERE) and many of their high quality groceries are much cheaper bought in bulk. Kind of like the Costco of quality foods.
Other Options
Don't want sticks in your brownies?
You can make delicious frozen brownie treats by cutting the baked and cooled brownies into 1.5 inch squares and freezing on a cookie sheet. These are great for get togethers and make a fun afternoon treat to cool off in the summer heat.
Add Ons
Drizzle melted dark and white chocolate on baked and cooled brownies before freezing
Add finely chopped almonds or other nuts to the top of the brownie batter before baking
Don't forget to stay up to date with my on Facebook, Pinterest, Instagram and YouTube!
Subscribe to my email for more inside updates and ideas.
Hope you enjoy!
From the hilltop,
Krista