Apple Pie Filling Canning Recipe Without Clear Gel
Fresh apple pie filling is so wonderful to have on hand. It's comforting to know you don't have all the additives in it and can control the ingredients. You don't even need the all too popular "Clear Gel." In this Canning Recipe I'll share how to make apple pie filling without Clear Gel and how to simply use your canned goods without worry!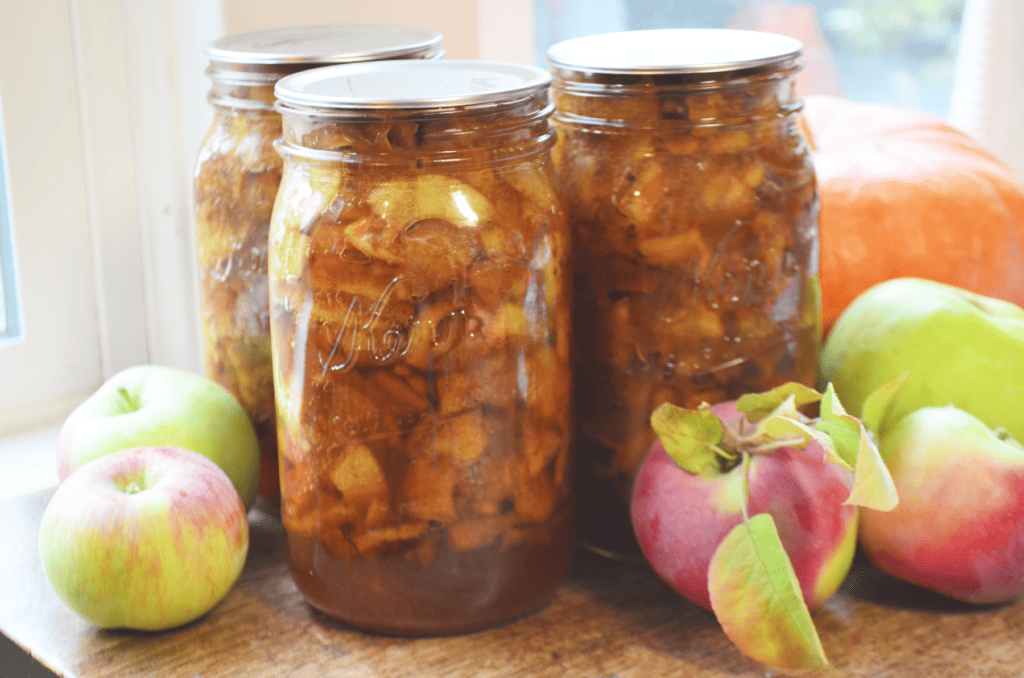 Note: This post contains affiliate links. This means if you click on a link and follow through to make a purchase I receive a small commission at no extra cost to you. Thank you for supporting a family business.
Upon moving into our 1910 farmhouse it was immediately clear: I needed to learn to make pies. The kitchen was big. There was a window that let in morning light. Anne of Green Gables would've thought it so romantic. I've taken on the challenge but slowly. I mean, I also wanted to learn to can, make bread and so on and so forth. Then I tried making pie filling and canning it. How simple it made the process! I grabbed a can, opened it and poured the contents into my pie crust. Making a truly homemade pie couldn't be easier than starting with home canned pie filling.
This Recipe is inspired by Melissa K Norris's Apple Pie Filling Recipe. You can check out her great canning recipes HERE.
Why Without Clear Gel
There are recipes all over the internet or canning books for pie filling made with clear gel. Questions come, though, from those who can't use the corn based substance or would rather leave it out. Does it change the entire recipe? How would I prepare the pie without it?
This Apple Pie Filling Recipe is here to help you gain confidence that you CAN make pie filling without clear gel and have it stay simple and tasty when made into a pie.
What is Clear Gel?
As taught by the Kansas State Extension website, "Clear Jel® is a chemically modified corn starch that produces excellent sauce consistency even after fillings are canned and baked."
The corn is chemically modified to make it withstand heat at high temperatures. It has become a miracle additive for many in canning as it can perfectly thicken canned goods while keeping the jars "safe" to can. As much as it may sound like a good idea, it isn't safe to can pie filling using cornstarch or tapioca or flour. But using them while putting your pie together is just fine.
Canning Pie Filling Without Clear Gel
The answer to avoiding the addition of clear gel is simply to omit it from the recipe and then add your thickening agent by sprinkling it over the filling as you make the pie. I'll show you how this works and believe me; it will turn out just fine. I don't have a problem with it being runny. It thickens up great in the end!
How to Make Apple Pie Filling Without Clear Gel
Make sure to use a good apple pie apple. Red delicious will turn to mush: don't use it! My favorites are granny smith, Fuji, Jonagold, and Honeycrisp. You can find some ideas for good pie apples HERE.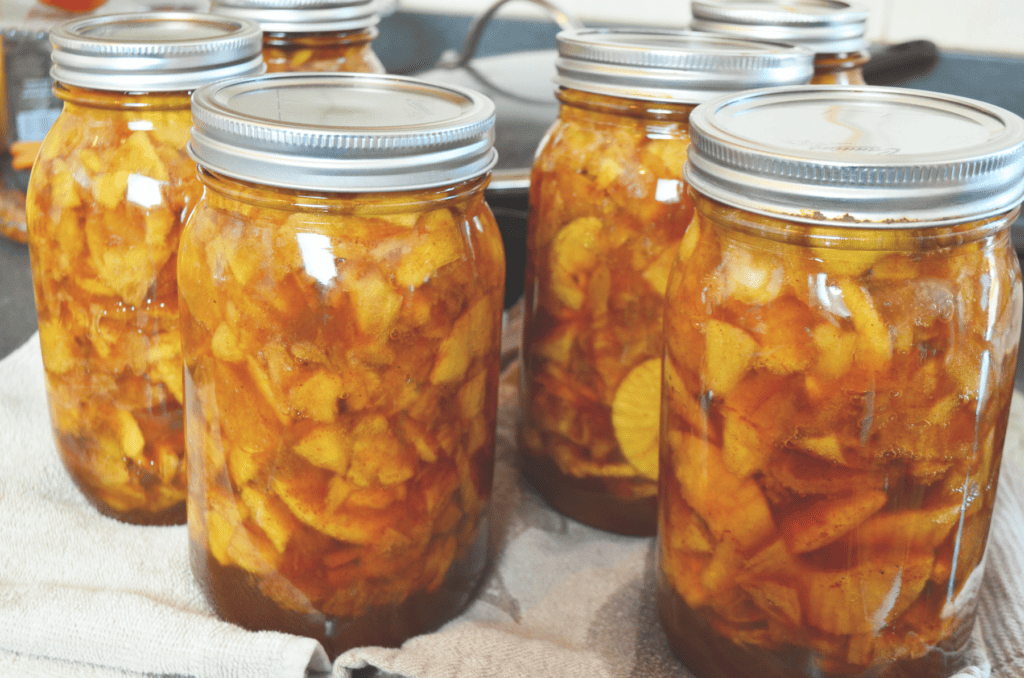 How to Can Your Apple Pie Filling
To make apple pie filling without clear gel we'll need to first cut apple slices and then let them boil for a couple minutes in water before stirring together the apples, spices and sugar.
This Recipe makes approximately 6-7 quarts.
Ingredients
24 Cups Apples
5 Cups Sugar ( I use Sucanat)
2 Tablespoons Cinnamon
1/2 teaspoon Nutmeg
1/2 teaspoon ginger
1/4 teaspoon Allspice
1/2 teaspoon Salt
7 1/2 Cups Water
1 Cup Lemon Juice
Equipment Needed
6-7 Quart size canning jars
Towels and a wash clothes
Brand new lids for each jar
Bands for each jar
A Canner or very large pot with a rack in the bottom
An extra large pot to heat apples
A ladle and slotted Spoon
A jar lifter
A spatula, headspace tool or knife
Don't have all the equipment you need? Here's some ideas for making your own!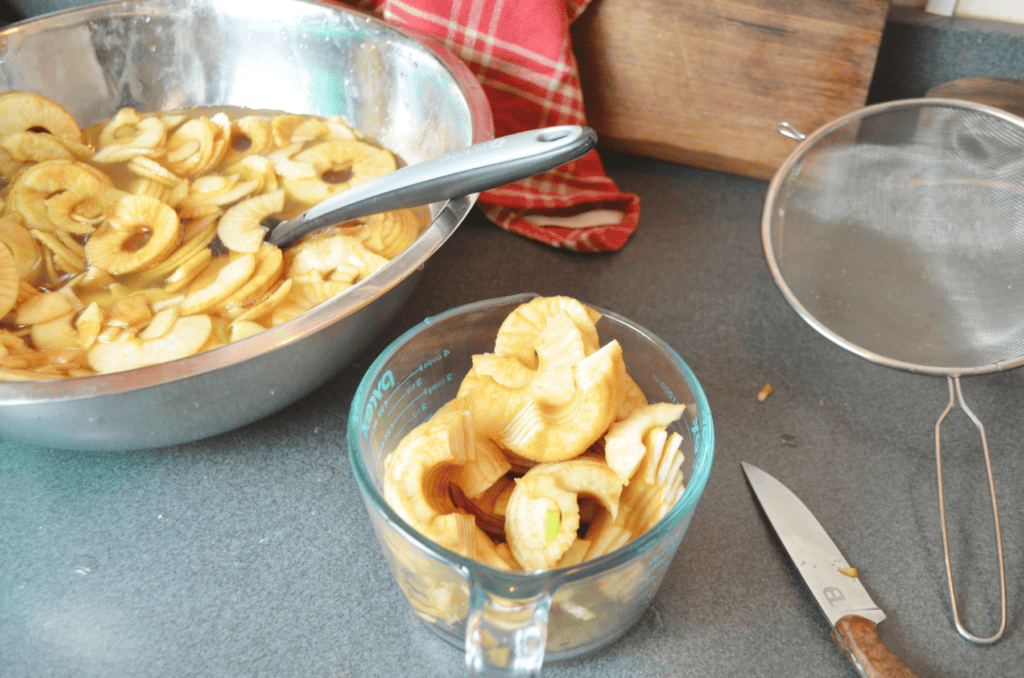 Make it!
Peel, core and slice your apples. Now gently pour into a pot of boiling water for one minute, six cups of apples at a time.
Using a slotted spoon, remove the apples and place in a bowl. Pour out water from the pot and return apples to the pot. Add lemon juice, spices, salt and water to apples and mix together over medium heat until it boils. Remove from heat.
Ladle the apple pie mixture into warm prepared canning jars with a 1 inch headspace doing your best to split the liquid as evenly as possible. Using your headspace tool, a knife or small spatula, remove air pockets by running it down the insides of the jars.
Wipe the jar rim with a clean towel or washcloth and screw the lid on with your band until finger tight.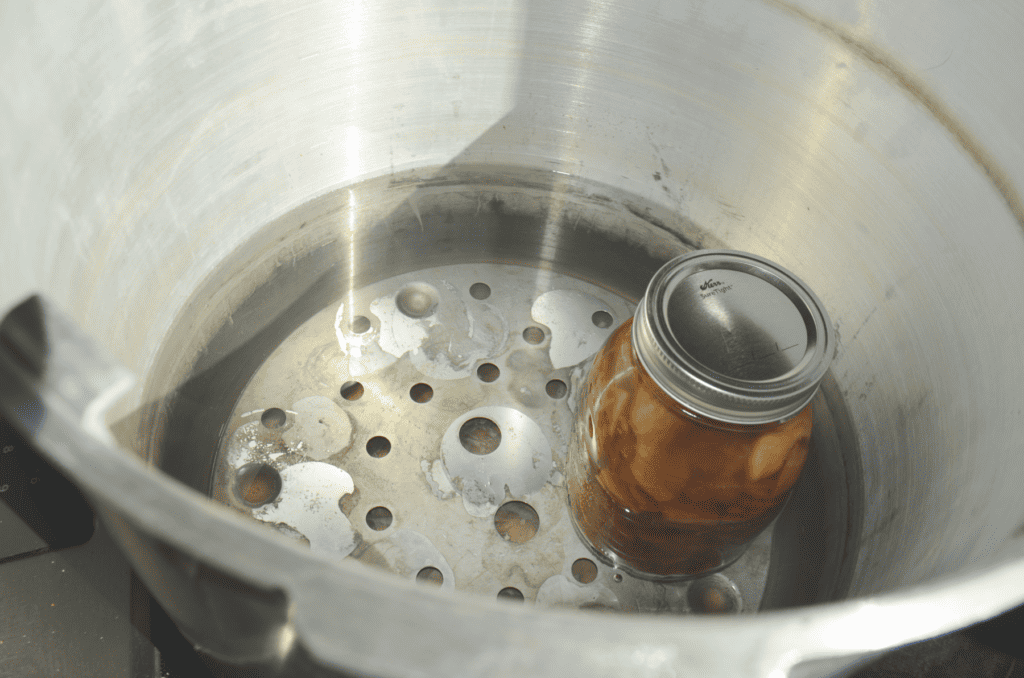 Place your warm jars into a hot water bath canner for 25 minutes. Turn off the heat and remove the lid. After about five minutes remove jars with a jar lifter and place on top of clean towels to cool. Let sit for 12 hours before unscrewing the bands.
At this point, remove bands, test the seals and wipe down any stickiness on jars. You may store in a pantry out of direct sunlight for up to one year. If any seal fails while being stored, do not consume.
Yield: 6-7 Quarts
Canned Apple Pie Filling Without Clear Gel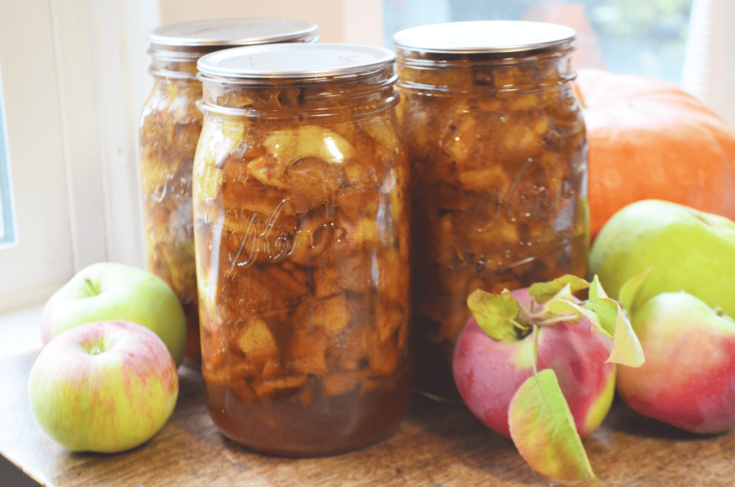 Apple Pie filling canned and ready to make a quick pie or dessert whenever you want.
Total Time
1 hour
25 minutes
Ingredients
24 Cups Apples, cored, peeled and sliced
5 Cups Sugar ( I use sucanat)
2 Tablespoons Cinnamon
1/2 teaspoon Nutmeg
1/2 teaspoon Ginger
1/4 teaspoon Allspice
1/2 teaspoon Salt
7 1/2 Cups Water
1 Cup Lemon Juice
Instructions
After peeling, coring and slicing your apples, heat a large pot of water until boiling. Place six cups of apples at a time into the boiling water for one minute. Using a slotted spoon, remove apples into another large pot. Continue until all the apples have boiled.
Combine the spices, salt, lemon juice and water with the apples and stir together. Heat just until boiling. Turn off and remove from heat.
Using prepared quart size jars, ladle in apple filling to a 1 inch headspace, trying to evenly disperse the liquid between jars. Use a headspace tool or knife to run along the inside of the jar, releasing any air pockets.
Wipe the rim of the jar and screw on lids with bands until finger tight. Place jars in a prepared hot water bath and allow to boil for 25 minutes (see below for elevations above 1000 ft.).
Turn off the heat, remove the lids and allow to sit for five minutes before removing jars.
Let jars rest for 12 hours before unscrewing bands. It this point check the seals to make sure they are tight. Place in a cool dry place and store away from direct sunlight for up to one year.
Notes
For 1000-3000 feet above sea level: Process for 30 minutes
For 3001-6000 feet above sea level: Process for 35 minutes
How to Make Your Apple Pie with no Clear Gel
To make a pie with your apple pie filling first prepare your crust! Sprinkle one to two Tablespoons arrowroot, cornstarch or all-purpose flour evenly on the bottom of a 9 in. pie crust. Spoon in half of your quart sized jar of apple pie filling. Sprinkle approximately 1/3 cup arrowroot powder, cornstarch or flour over the apple pie filling before spooning the rest of the apple pie filling on top.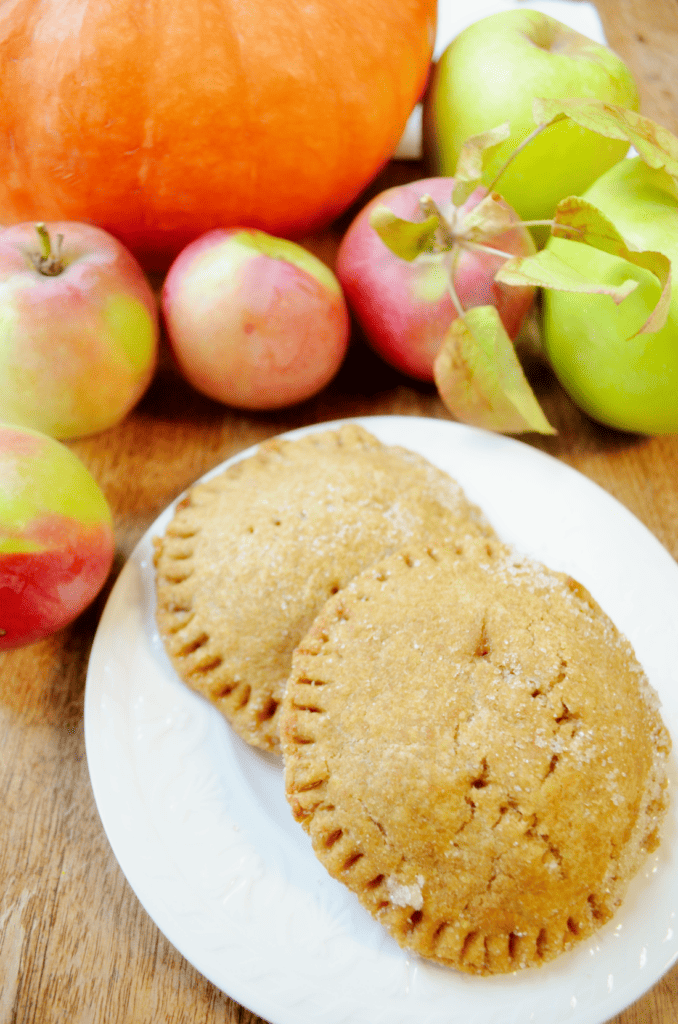 HINT: Try to leave most of the liquid for the very top so it soaks into the starch inside the apples as it runs down through the filling.
Finish your pie with either a basic crust, lattice weave crust or crumble topping. Bake according to instructions for your particular crust. Here's my favorite crust made with einkorn flour.
Enjoy!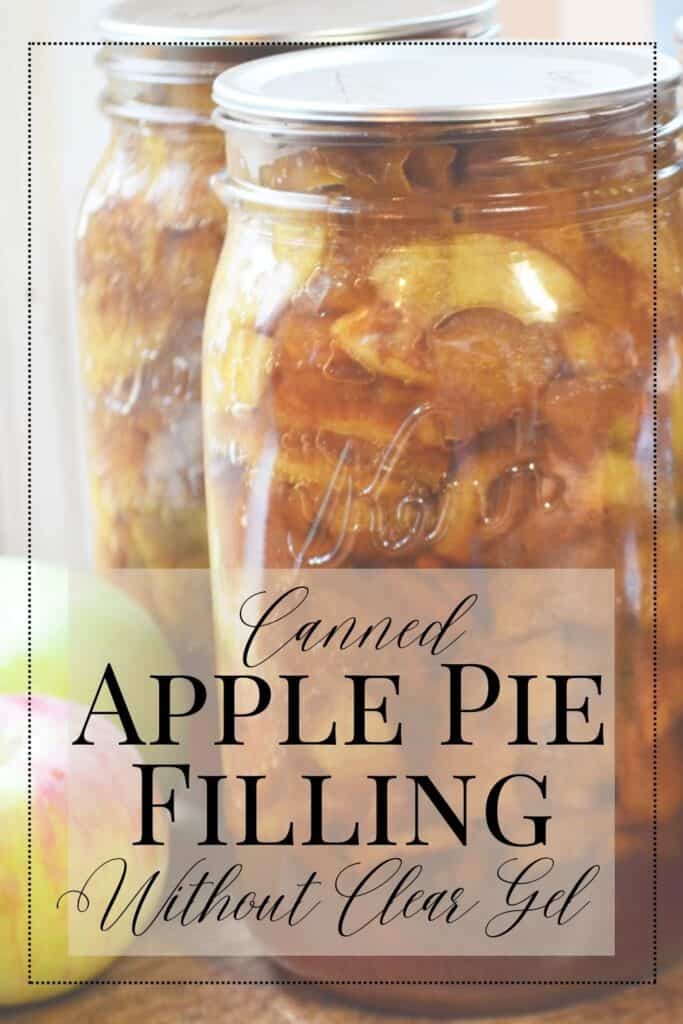 Other Posts You May Like
Easy Blueberry Pie Filling Homemade by You
Best Tips for How to Bake with Einkorn Flour
Whole Wheat Einkorn Sourdough Pizza Dough Recipe
How to Make Christmas Chocolate Chip Cookies with Einkorn
I hope you enjoy this recipe. Please let me know how it works for you!
From the Hilltop,
Krista