Simple Sheet Pan Sausage and Asparagus Dinner
Lately I've been trying to Simplify my Meals for the family. My goal has been to know what is for dinner without having to make big decisions about what to make. Hence started my Monday night meat and veggie dinner. Usually I would just pick a meat like chicken or steak and pair it with a veggie like broccoli or riced cauliflower. It's left open so if I'm feeling up to being creative, I have the freedom to do that too. Tonight I decided to have more fun with the "meat and veggie" dinner. I used seasonal produce to make a simple sheet pan dinner. Asparagus, potatoes, onions… Here's how it went.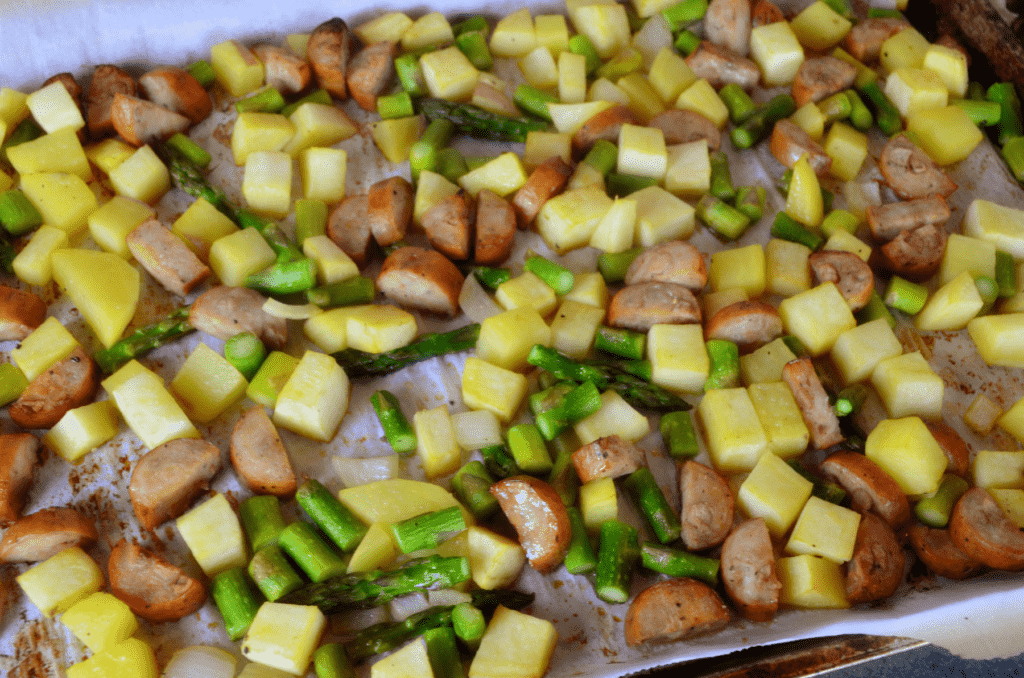 Cut up your Veggies
It starts with garlic, then onion and chopped them into 1/4 inch bits. Then are tossed into a glass bowl to await more veggies.
Next is the potatoes and asparagus. I used a large Hannah variety of Sweet potatoes along with two red potatoes but feel free to mix it up. Cut the potatoes into about 1/2 inch squares. The asparagus can be cut long at the head and then cut smaller and smaller as you get to the end. Aiming for a smaller size is generally better, just don't chop these into pea sized bits.
When all the veggies are chopped and fill the bowl take out your Coconut Aminos, Olive oil, Doterra Lemon oil (or Lemon Juice), salt and pepper. Start by pouring the liquids on and mixing them through. Now sprinkle the salt and peeper over the veggies. Mix a bit more.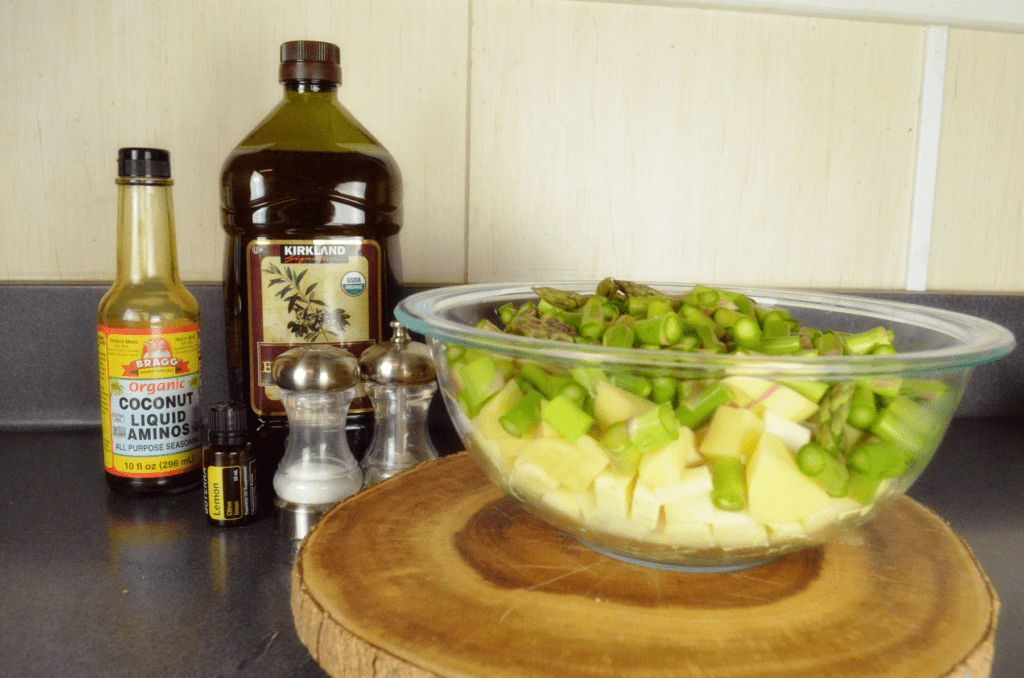 Now grab that sausage (we prefer sweet). This time I used an apple chicken sausage. Cut in half length wise and then chop into 1/2 inch wide slices. Add to veggie mixture.
Pour onto a parchment lines baking sheet. I like to sprinkle a bit more salt on for good measure. Open that oven and shove it in. Bake for 20 minutes at 450 degrees fahrenheit flipping once after 10 minutes.
Why Coconut Aminos on Sheet Pan Dinner?
Coconut Aminos have become our go-to gluten free alternative for teriyaki sauce because of it's sweet flavor. It's named for the 17 amino acids it contains. This is more sweet than typical soy sauce but a little less than normal teriyaki sauce. Either way, it's become a staple in our kitchen. I use on veggies and rice bowls whether I'm cooking simply or creatively.
Coconut Secret brand makes several different varieties, such as garlic sauce and even a teriyaki sauce, which I'm sure is closer in sweetness the teriyaki sauce you know and love. Our kids are happy with the sweetness of coconut aminos so that's what we stick to!
Want a gluten free natural alternative closer to soy sauce? Try Liquid Aminos. They are also great on meals!
Adaptations
Other fun ideas for this recipe could be to use orange sweet potatoes, cauliflower or sweet peppers!
Want to cook it in an iron skillet? Your simple sheet pan dinner can easily be a simple iron skillet supper! Preheat the skillet for 10 minutes and then spread the meat and veggies in a single layer. Cook for 20 minutes turning after 10 minutes.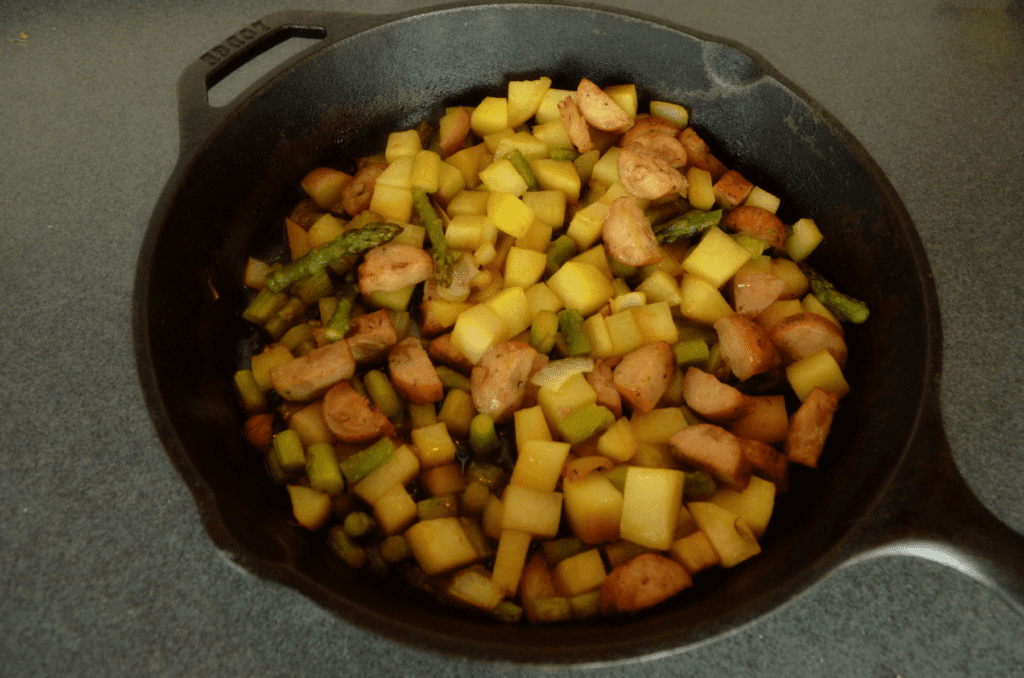 Shop this Post
These are the amazing Coconut Aminos I use: Braggs and Coconut Secret brands. I've been using Braggs more recently but I feel like the Coconut Secret Brand is actually a bit sweeter.
Doterra Essential Oil
The Iron Skillet I use
Yield: 6-8 servings
Simple Sheet Pan Sausage and Asparagus Dinner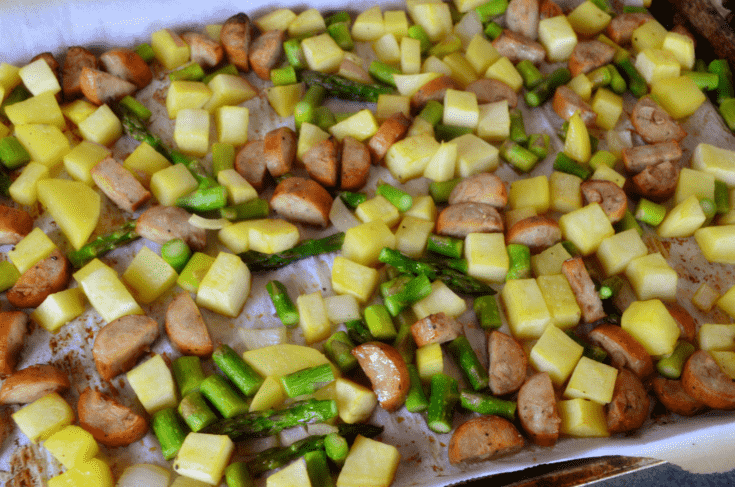 Simple sheet pan dinner for a meat and veggie kinda night.
Ingredients
1 clove garlic, minced
1 small onion, finely chopped
1 large or 2 small sweet potatoes, chopped
2-3 red potatoes, chopped
1 lb asparagus stalks, ends trimmed and chopped
12 oz sausage links (I used Applegate Chicken Apple), thawed and sliced in half length wise, then chopped in 1/2 inch slices
1/4 cup olive oil
1/8 cup Coconut Aminos
1 teaspoon sea salt
1/4 teaspoon pepper
3 drops Doterra Lemon Essential oil or 1 Tablespoon Lemon Juice
Instructions
Chop vegetables. Garlic and Onion should be chopped very small. The rest of the vegetables should be chopped into 1/2 inch cubes.
Put chopped veggies into a large mixing bowl. Add chopped sausage. combine the oil, coconut aminos, salt, pepper and lemon oil into chopped food.
Pour half of mixture onto parchment lined baking sheet. Make sure there is only one layer so everything spreads out on sheet.
Bake at 350 degrees Fahrenheit for 25 minutes turning once after 15 minutes.
Do the same with the rest of the mixture.
Enjoy!
Notes
Follow same directions to cook in an iron skillet. Remember to spread into just one layer so all the veggies get fried well.
Grab My Free Einkorn Recipe Cards
If you're into Einkorn Flour, check out these FREE Einkorn Recipe Cards! I've created these so you can keep some of my most popular recipes. No need to search forever online. Keep them close in the kitchen!
Click here to print them and start baking!
Pin Me!
Other Recipe Posts
Chewy Einkorn Chocolate Chip Cookies
Simple Einkorn Lemon Blueberry Sourdough Scones
Soothing Chicken Soup for Comfort Food Cravings
Thanks for stopping by!
From the hilltop,
Krista