Soothing Chicken Soup for Comfort Food Cravings
I must apologize because I've held something from you. My husband encouraged me to share it months ago and I'm afraid you've been derived of great joy. I'm finally sharing my precious soothing chicken soup recipe. This is gold friends. It's the richest warming soup I could ask for. If I were to pick one nourishing meal over winter time, give me this soup and I'm a happy duck. Now I'm sharing so you can be a happy duck too.
One day I asked Bodie what skills I had to offer my blog readers."What am I good at? What could I teach or share with them?" Immediately he responded, "you're good at making soup."
I almost laughed at the thought that THAT was my biggest skill. My husband often gives good advise. I've been asked for this recipe and people have raved about this soup numerous times. Yes, I agree, it's amazing!
I'll walk you though some tips that will help bring out that rich comfort flavor you want. Before we begin I have to tell you, this recipe started as a Martha Stewart Dumpling recipe! Yup, dumplings. I've changed up a couple things in addition to not adding dumplings.
I also make this recipe to have leftovers. It makes a lot so you can freeze for later or put in the fridge and eat it within the next couple days. This soothing chicken soup doesn't last long in our house!
Make Soothing Chicken Soup
Add your butter to the pan and allow to melt and sizzle while you chop the veggies. Don't let it burn though!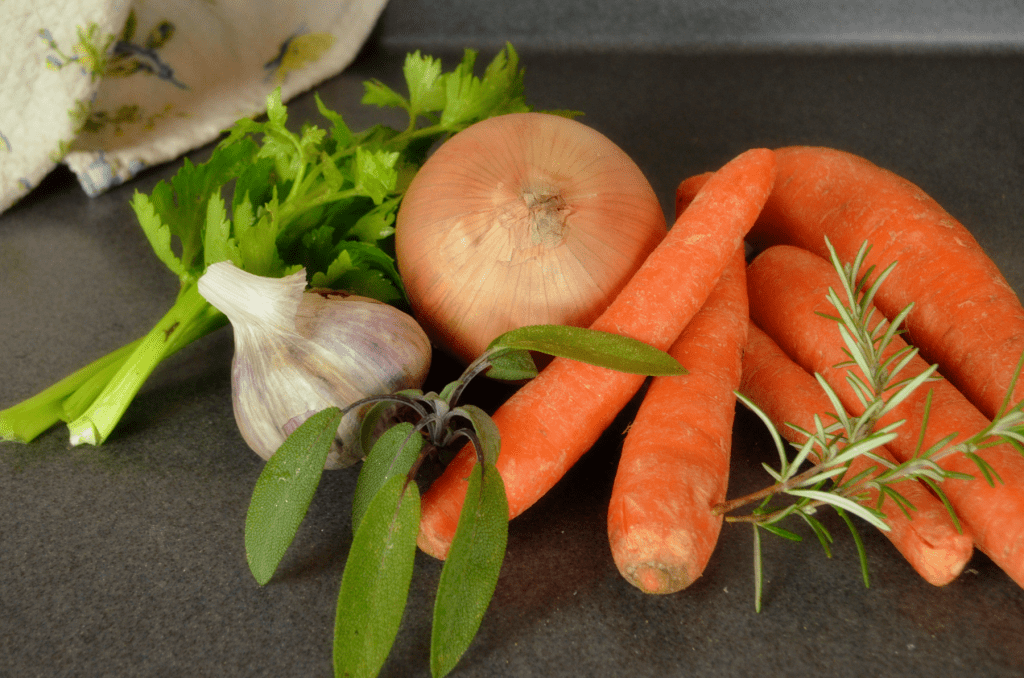 Chop your carrots, onions, garlic and celery.
Add them to a heated skillet (or in my case the good 'ol iron pan). Cook until softened and onions begin to look translucent.
Sprinkle the flour over your veggies and mix in (I like to use einkorn flour). Follow with the grass fed gelatin.
Pour about 1/2 cup broth into veggie mixture and stir. Add another cup slowly. Mix broth and flour/veggies together, then slowly finish adding the rest of the broth and water.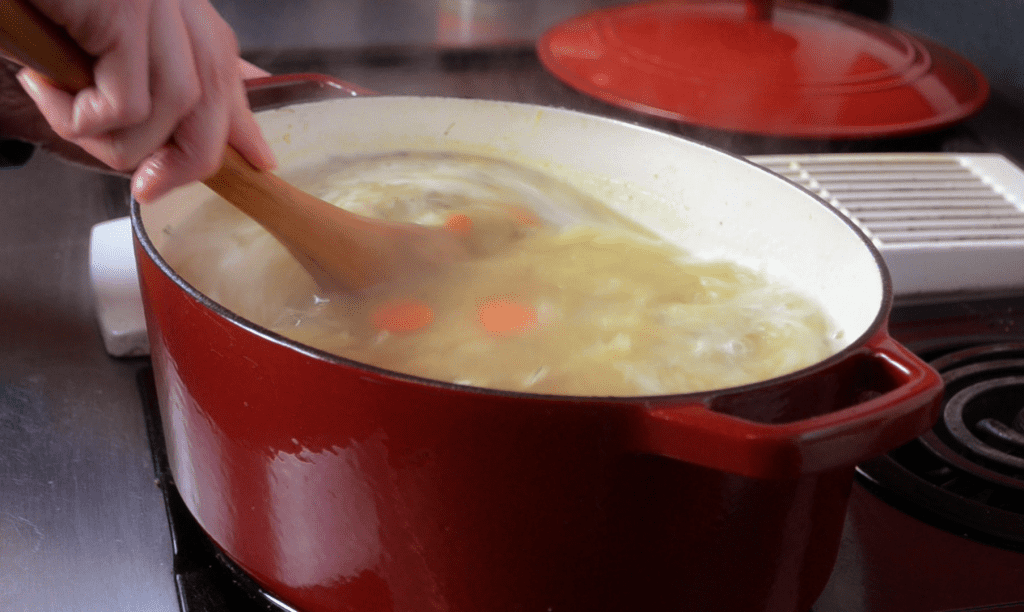 Add your salt, pepper, herbs, chicken and green beans.
Bring to a boil, then cover and turn heat to low. Simmer for 40 minutes. It's that easy!
This soup is great along side warm farmhouse buttermilk biscuits or fresh sourdough bread made with fresh ground einkorn flour.
Enjoy!
Shop this Post:
This post contains affiliate links. The owner may receive a compensation from purchasing items posted from links on this page. This blog abides by word of mouth marketing standards. That content, advertising space or post will be clearly identified as paid or sponsored content.
Cast Iron 7-Quart Round Covered Casserole
Great Lakes Grass Fed Beef Gelatin
Yield: 4 qts, serves 8-10
Soothing Chicken Soup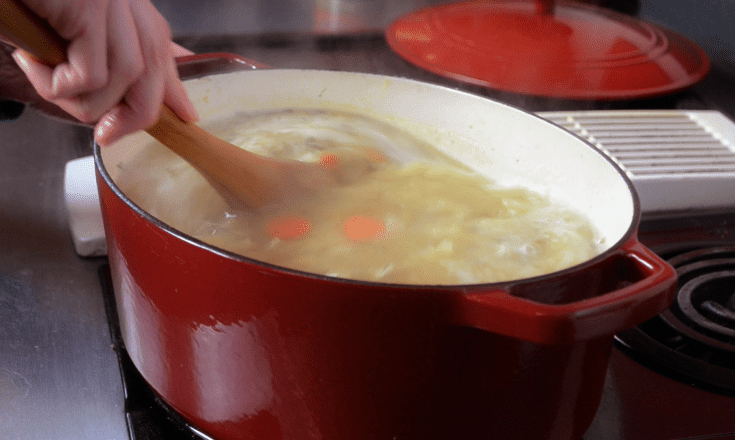 The only soup I'll ever truly need. This one brings comfort and nourishment year round. It's richness warms and satisfies. I've gotten so many compliments and requests for the recipe. I hope you enjoy it as much as we have!
Total Time
1 hour
5 minutes
Ingredients
One stick butter (can sub 1/3 cup olive oil but it won't be as rich)
Three large carrots, chopped
One and a half large onions,
One garlic clove, finely chopped
Two celery ribs, chopped
1 cup flour depending on how thick you like your soup.
2 teaspoons salt
1/4 teaspoon pepper
2 quarts chicken bone broth
2 quarts water
2 Tablespoons grass fed gelatin
2 teaspoons fresh thyme, two teaspoons fresh rosemary, two teaspoons fresh sage, 1/2 teaspoon parsley and 1/2 teaspoon summer savory
One can (12 oz) green beans
One Rotisserie Chicken or four to six cooked and chopped up chicken breasts and/or thighs
Instructions
Add oil skillet and heat to medium. Add onion, garlic, carrots and celery and fry for about 3-5 minutes. Turn heat down to low and cover so vegetables will continue to soften. Cook covered for about 5 more minutes or until softened.
Sprinkle flour over vegetables and mix in pan until. Flour should cover the veggies. Sprinkle gelatin over veggies and do the same. Pour 1/2 cup of the bone broth over veggies and begin to stir in the liquid, slowly add in another cup of broth and stir. Continue slowly adding the rest of the broth and water while stirring.
Add herbs and salt, chicken and green beans. Heat until boiling. Bring heat back down to low, cover and simmer for 40 minutes until flavors have blended well and veggies are competely softened.
Add salt and pepper to taste
Notes
This recipe makes a lot of soup so you will have leftovers. You may also half the recipe if you want a smaller amount.
Tips:
To save time, use a rotisserie chicken. This is sometimes a go-to meal after a Costco shopping trip and adds comfort to the evening.
Fresh herbs add bright flavor
The bone broth makes this soup. You will definitely tell a difference in flavor if using bone broth as opposed to bullion. I recommend bone broth for the nutrition and flavor.
Try more recipes:
Simple Einkorn Lemon Blueberry Sourdough Scones
My Favorite Farmhouse Buttermilk Biscuits
Chewy Einkorn Chocolate Chip Cookies
Thanks for stopping by!
From the hilltop,
Krista