How to Make Mamma's Favorite Mulligatawny Soup
I first fell in love with this soup when, many years ago I visited a tea shop in town for lunch and with my Mamma. I don't know if my Mom even recalls that day, but now that I'm a mother, I can say that lunch changed my world. Yes, I'm the "Mamma" this blog title talks of. I LOVED the soup and still do today. Here it is: this Mamma's Favorite Mulligatawny Soup.
Mulligatawny Soup History
Mulligatawny Soup is a good example of how cultures adopt a food, take what they like about it and change it into their own superstar. This soup goes way back. During the British Raj in India, word has it the cooks made soup for the colonists. Through the years, the style of this soup changed. Today we have a very different soup than how it began. It now includes apples and celery which I doubt were the original recipe! It has morphed into the Mulligatawny Soup we know and love.
Mulligatawny Taste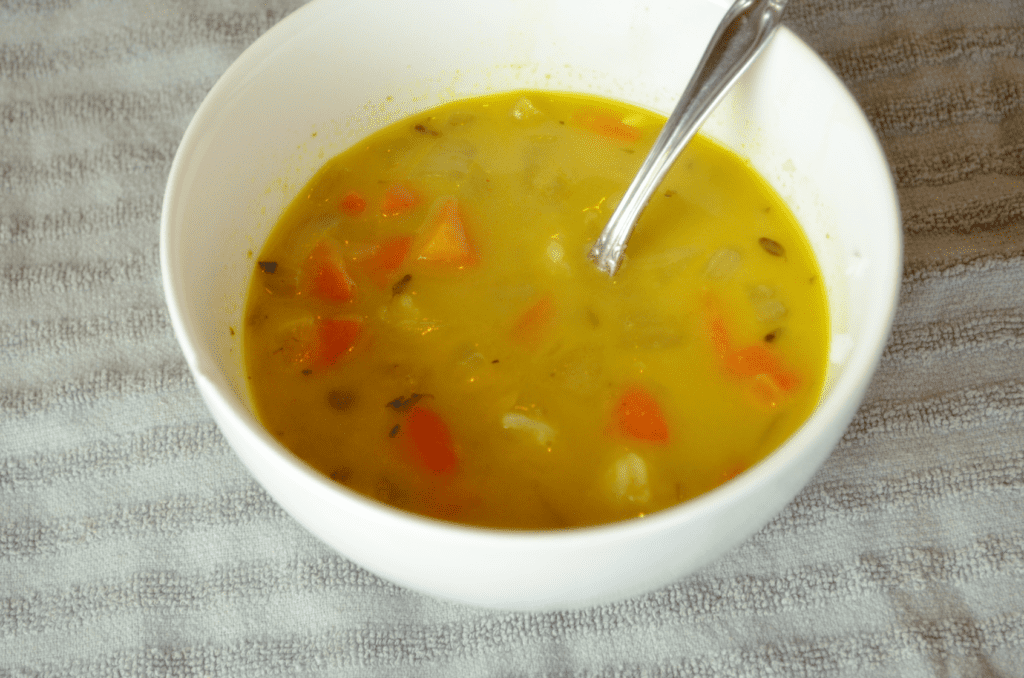 Though it originated in India this is far from Indian style eats. If you were to taste Mulligatawny Soup today, it'd be quite different than any Indian cuisine. It has a sweet creamy flavor with only a tad bit of curry spice. I love that this soup has granny smith apples in it. I'm not sure why that is so exciting for me but it is.
Make Mulligatawny Soup
Start by cooking one pound of chicken breast or thigh meat over medium heat. Sprinkle with salt and pepper. Take this off the heat and let cool before dicing. Melt 1/4 cup of butter in a large soup pan.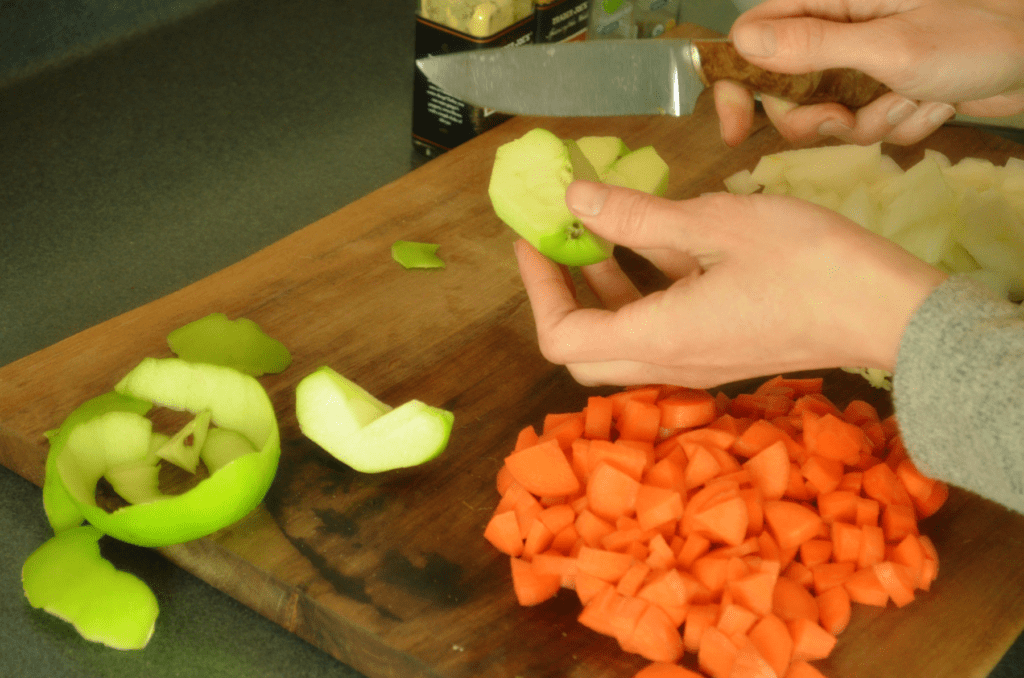 Add onion, garlic, carrots and celery and saute. Sprinkle einkorn flour with curry over the veggies and coat by stirring a couple minutes.
Pour one cup of the broth over the veggies. Once stirred in, add another cup stirring constantly. Then add the rest of the broth and water.
Turn the heat up to medium high heat. Add one bay leaf, salt, pepper, thyme and ginger. Let this simmer for 1/2 hour.
Add in your chopped apple, chicken and lemon rind. Simmer an additional 15 minutes.
Turn off the heat. Add in the cream and then the rice.
Give a few stirs and then take out your bay leaf before serving.
The Best Rice For Your Gut
Rice has been given a bad rap in our "low carb" culture. It's a good idea to make sure your foods are giving you nutrition and white rice falls into the category of empty carbs. BUT there is a way to use rice that will make your gut grateful. Its easy. Just let it sit overnight in your fridge.
This process actually increases the benefit to your gut and feeds the good bacteria. Learn more HERE. I avoid over heating the rice after bringing it through the starch retrogradation process. I generally bring it to room temperature from the fridge and then serve.
Do the same thing by putting your gut healthy rice over served soup instead of cooking with the soup.
Yield: 6-8 servings
Mamma's Favorite Mulligatawny Soup
A sweet and creamy chicken curry soup
Total Time
1 hour
20 minutes
Ingredients
1/4 Cup Butter
1 Medium Onion
2 Medium Carrots
2 Stalks Celery
1-2 Cloves Garlic
1/4 Cup Flour
6-7 Cups Chicken Broth (Bone Broth is Best)
1 Bay Leaf
1 Tablespoon Curry Powder
1/4 teaspoon Ginger
1 Pound Chicken Breast or Thigh Meat
1 Granny Smith Apple
2 Teaspoons Salt
1/4 teaspoon Pepper
1 teaspoon Thyme
3 cups white rice
1 Cup Cream
Instructions
Dice celery, onion, garlic, and carrots. Melt butter on medium heat in large soup pot. Pour the veggies over the melted butter and stir. Cook for about 5-10 minutes until onions are translucent and veggies soften just a bit.
Starting with one cup, begin to pour in the broth. Stir that cup in, then add another cup and stir. Add the rest of your broth stirring veggies and broth together.
Add in your spices: curry, ginger, thyme, salt, pepper and bay leaf. Add in cooked diced chicken. Give a stir and cook on medium high. When it starts to boil cover and lower heat to low. Simmer for 20-30 minutes.
Add in diced apple and let simmer for another 15 minutes. Remove from the heat, then add in rice and cream.
Enjoy!
Notes
Feel free to add in cooked rice after serving soup in bowls to adapt to how much each person wants.
Use a rotisserie chicken for quick and easy cooking.
Can Sub a couple cups of water for the broth. eg. 3 cups water, 4 cups broth.
Other Ideas
Add more milk to make a creamier soup
Sub full fat coconut milk for the milk
Freeze for a later meal
Other Recipes
Einkorn Sourdough Lemon Blueberry Scones
I hope this gives you some inspiration and excitement for dinner or trying new things!
From the hilltop,
Krista