Easy Gluten Free Apple Crisp Recipe Without Oats
Apple crisp is one of those recipes that takes me back to childhood. Autumn gave us apples. Often they were wormy, but we used them carefully just the same. Whenever I smell apple crisp baking in the oven these days, it's not just sweet. It's nostalgia. Baking with my own family is a little trickier than when I was a kid. This is a gluten free apple crisp recipe without the oats. Perhaps oats irritate your gut. Perhaps you don't have them. Maybe you just don't like them. I hope you enjoy this recipe and it gives you all the good feels of apple crisp in autumn and the holiday season.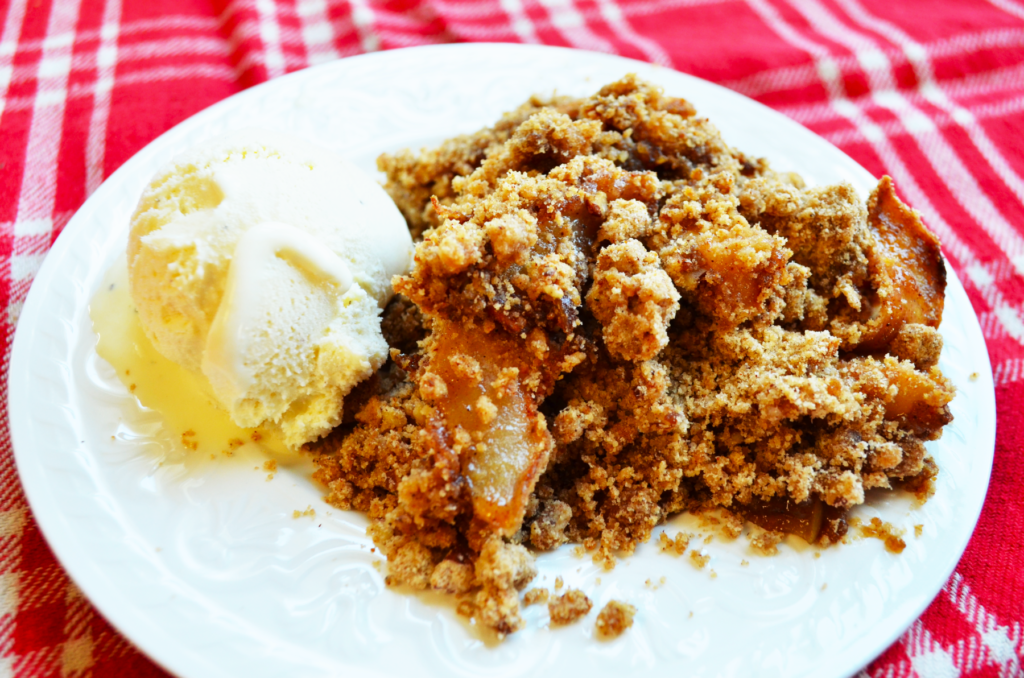 Note: This post may contain affiliate links. If you click on an affiliate link and follow through to make a purchase, I receive a small commission at no extra cost to you. I only share affiliate links for products I personally back up. Thanks!
Gluten-Free Apple Crumble or Crisp?
Generally, a pan of apple crisp, or any fruit crisp, is identified by it's crumbly cinnamon sugar oatmeal topping. Apple crisp brings visions of a dessert just as good as apple pie, but made without a crust. That is the reason my mom makes apple crisp as opposed to apple pie: same sweet flavor, less fuss. The term "crisp" though, usually refers to the fact that it has oats in it. When this is made without oats, it's usually referred to as "apple crumble" so this might actually be considered a gluten-free apple crumble recipe. Don't worry. I won't keep the rules on this one. You can call this a gluten free apple crisp without oats and I'll now exactly what you mean!
Why Use Cassava Flour?
You can learn a bit more about cassava flour in my post on gluten free zucchini muffins, but I'll just say here that cassava is a great gluten free alternative to wheat because it behaves similar to all-purpose white flour. You just can't get that result with almond flour or coconut. It also has a very soft taste, making it less distinguishable as an alternative flour. This is one of the few gluten free flours I can make into cookies without my husband noting the different flavor. In apple crisp, this flour gives the best results in carrying the flavors and giving it a great crisp topping.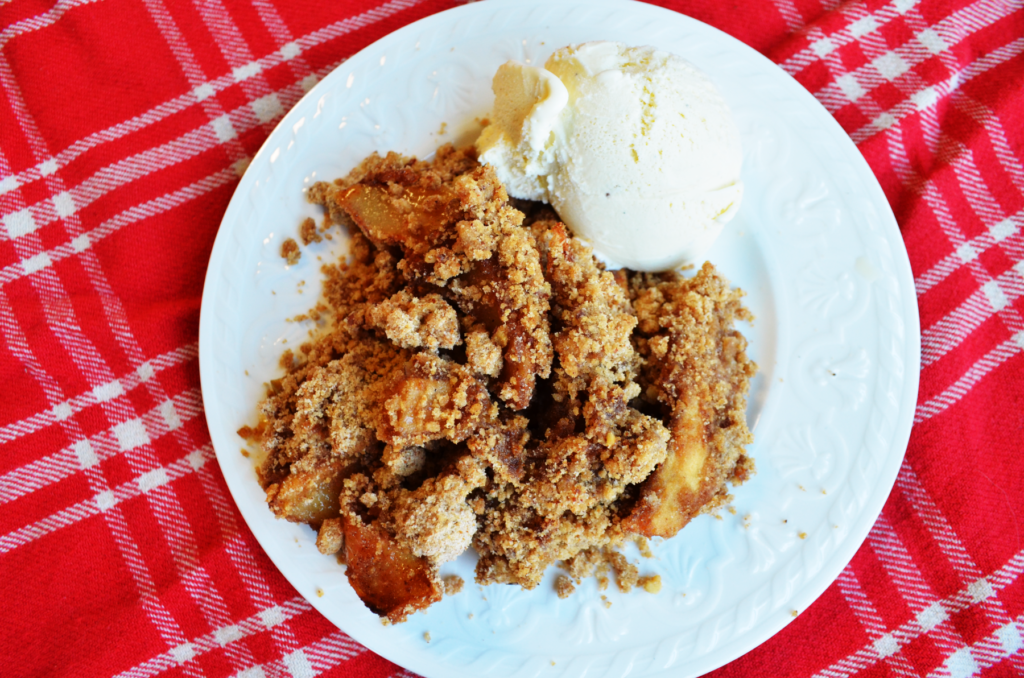 Where to get Cassava Flour
If you struggle to find cassava flour at your local supermarket, here's a couple places to check out. Otto's naturals has a great quality cassava flour. Azure Standard also offers cassava. They are a family run monthly grocery pick up for pantry staples and natural foods. Personally, I love the price and quality at Azure Standard. They offer a great price on their cassava flour!
Best Apples for Apple Crisp
It's apple season here! When making apple crisp, not all apples are equal. Growing up, my mom only used granny smith apples. The tart flavor is balanced perfectly by the sugar and cinnamon. Other apple varieties that tend to be good are Jonagold, Honeycrisp apples or Pink Lady apples. The goal is to get something with bit of tart flavor and you're desired sweetness. Avoid Fuji or Mcintosh due to their juicy nature. You'll end up with either a lot of juice in the pan or a pan of mush. Same goes for Red Delicious: it's great to bite into, but not the texture you want to bake.
The Gluten Free Apple Crisp Recipe Without Oats
This Gluten Free Apple Crisp Recipe without oats has a special caramel filling that I drizzle over the apples. I think this is a wonderful part of the recipe. Even so, know that if you are short on time or ingredients, you can make the recipe without the caramel sauce. Let's get started!
Substitutions
Feel free to use either butter or coconut oil in this recipe. I personally love the taste of butter (try to get grass fed) but refined coconut oil works just fine. I don't recommend vegan butter due to it being melted. Use a deep flavored sugar such as brown sugar or coconut sugar. You could also use sucanat or maple sugar. You'll notice I have pecans listed at the end of the topping ingredients. This is optional, but I do think pecans bring a wonderful flavor and crunch with the apples and cinnamon. You could also add in chopped sunflower seeds if you want extra crunch but can't eat nuts. Just toss them in the food processor until chopped into little bits.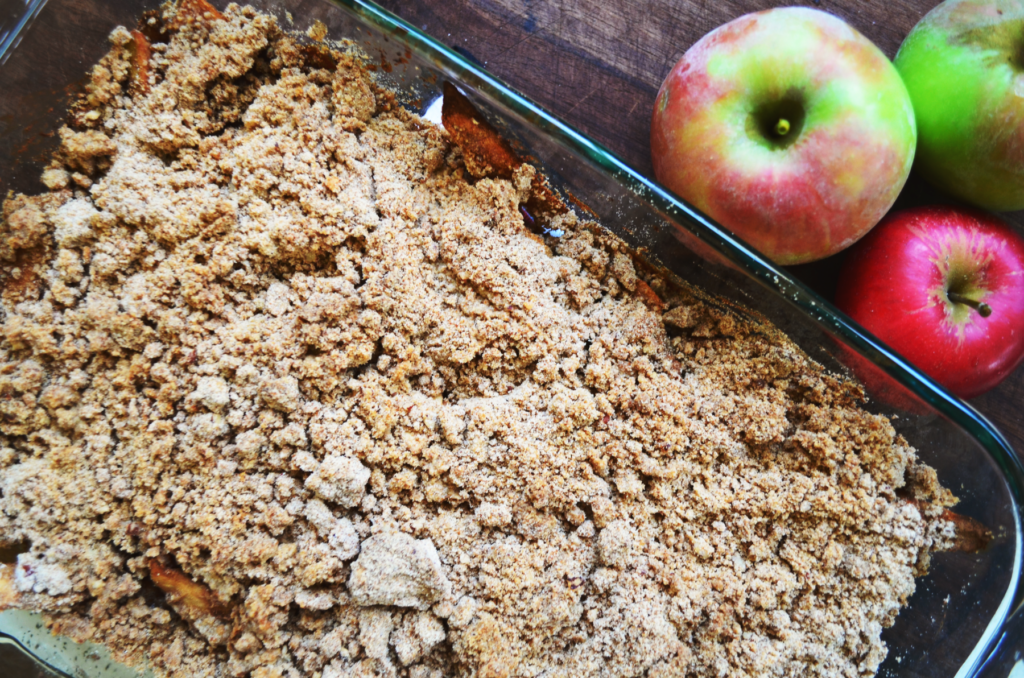 Ingredients
Filling
6 cups Apples, thinly sliced
1/4 Cup Brown or Coconut Sugar
2 T Lemon Juice
1 t vanilla
1/4 Cup Cassava Flour
Filling Caramel Sauce in Sauce Pan:
1/4 Cup Brown or Coconut Sugar
1/4 Cup Butter
1 t vanilla
Topping:
1 1/4 Cup Flour Cassava Flour
2/3 Cup Brown or Coconut Sugar
1/2 t Salt
1/2 Cup Melted Butter or Coconut Oil
1/4 Cup Finely Chopped Pecans (optional)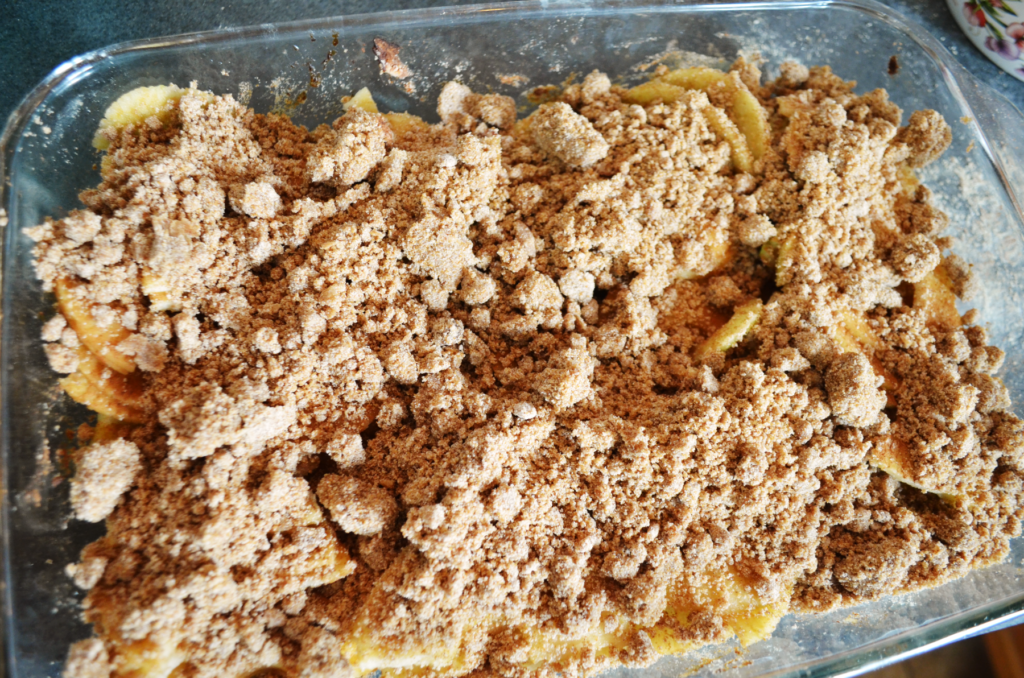 Directions
First, preheat the oven to 375 degrees Fahrenheit. Slice your apples. In a large bowl, mix together the apples, 1/4 cup sugar, lemon juice, 1 teaspoon vanilla, 1 teaspoon cinnamon and 1/4 cup cassava flour.
In a small saucepan, heat 1/4 cup coconut or brown sugar, 1/4 cup butter and 1 teaspoon vanilla over low-med heat. Once thickened and melted (do not boil!), take off the heat.
In another bowl, stir together 1 1/4 cup cassava flour, 2/3 cup coconut sugar, 1/2 teaspoon salt and 1/2 cup melted butter or coconut oil. Mix together until lumps form a crumbly texture.
Spread the apple mixture in a 9 x 13 inch pan (basically a casserole dish) and drizzle caramel topping over apples. Sprinkle the topping over the top of the apple mixture in an even layer and bake uncovered for 40-45 minutes. Serve warm with a scoop of vanilla ice cream.
Yield: 8 servings
Gluten Free Apple Crisp Without Oats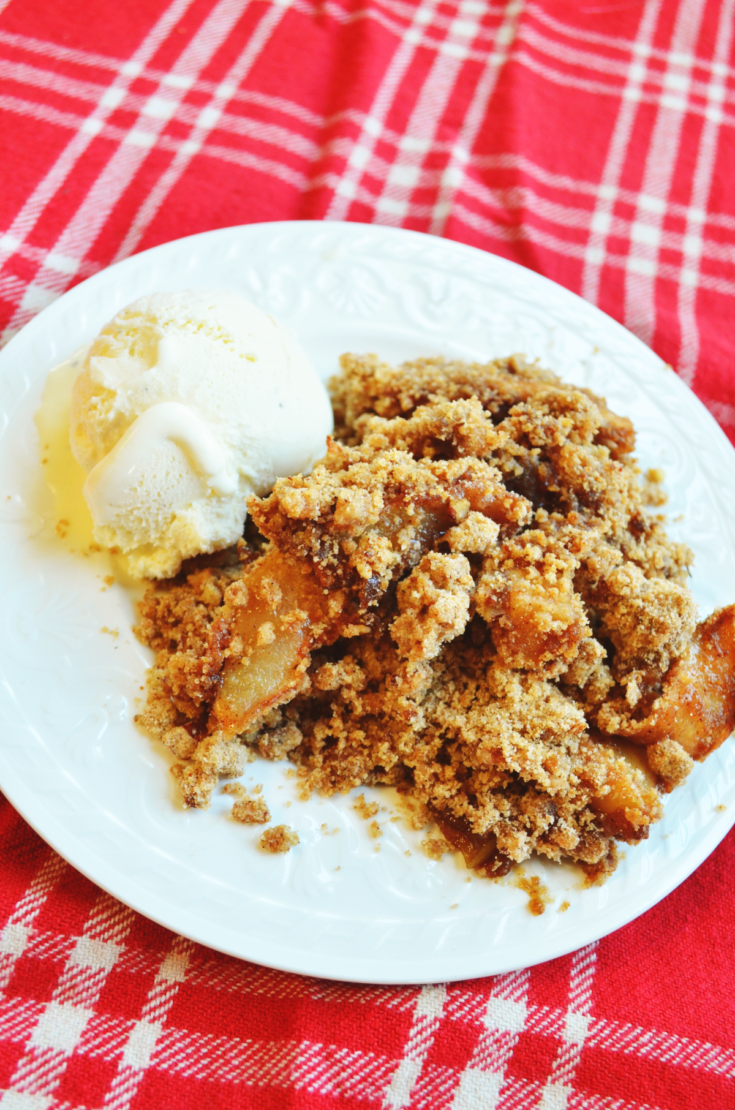 This Apple Crisp Recipe is made without gluten and without oats but not without that classic cinnamon sugar apple crisp flavor!
Total Time
1 hour
5 minutes
Ingredients
For Filling
Mix together in a Large bowl:
6 C thinly sliced Apples
1/4 C Sugar (I use coconut but brown sugar or sucanat are great as well)
2 T Lemon Juice
1 t Vanilla
1 t Cinnamon
1/4 C Cassava Flour
(optional but a yummy addition)
Stir in a quart sized sauce pan over low-med heat:
1/4 C Coconut Sugar
1/4 C Butter
1 t Vanilla
Topping
1 1/4 C Cassava Flour
2/3 C Coconut or Brown Sugar
1/2 t sea salt
1/2 C Melted Butter or Coconut Oil
Instructions
Preheat oven to 375 degrees Fahrenheit. large bowl, mix together apples, lemon juice, vanilla, cinnamon and 1/4 cup of cassava flour.
Using a sauce pan over low-med heat, stir together coconut sugar, 1/4 cup butter and 1 teaspoon vanilla until thick and melted. Do not boil. Remove from heat.
Mix together Topping ingredients in a separate bowl. Cassava, sugar, salt and melted butter or coconut oil. Combine until it forms large crumbles and lumps.
Spread apple mixture in a 9 x 13 inch dish. Drizzle caramel filling over top of apples. Sprinkle crumbly topping over top of apple mixture and Bake for 40-45 minutes at 375 degrees Fahrenheit.
How to Store Your Gluten Free Apple Crisp Recipe Without Oats
I hope you enjoy this recipe straight out of the oven, but sometimes there are leftovers. This apple crisp will stay good for a couple days but the topping will become less crunchy and more mushy after about 24 hours. If you want to save this for a few days, place in an airtight container or cover with plastic wrap and place in the refrigerator. Remove the plastic wrap and reheat in the oven for about 10 minutes at 350 degrees Fahrenheit or until heated through.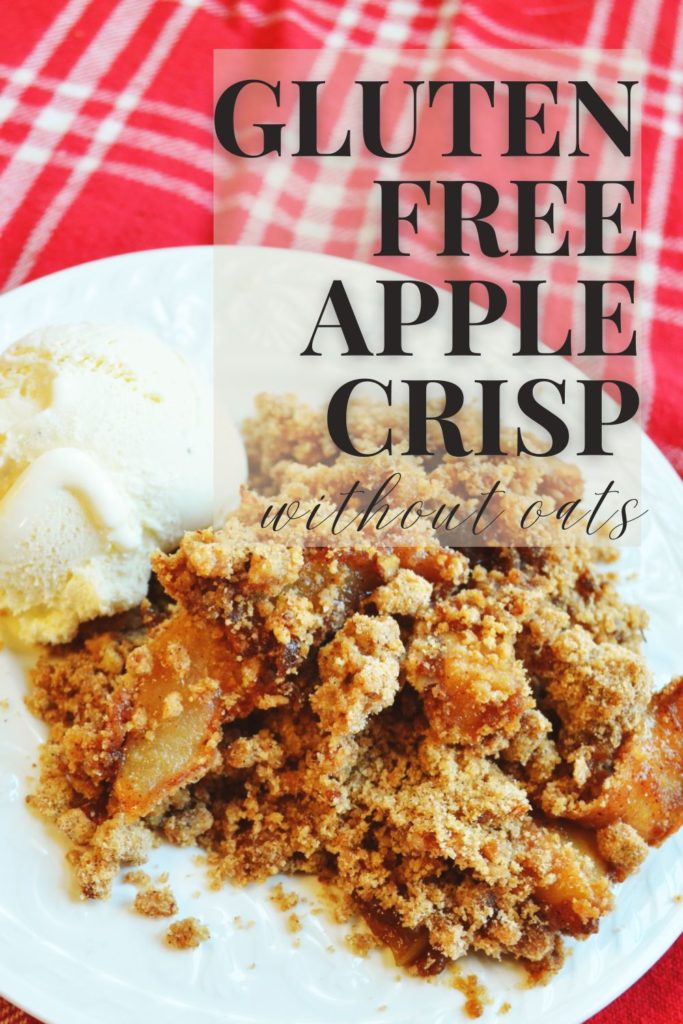 Other Recipes You Might Like
Moist Gluten Free Chocolate Zucchini Muffins with Salted Chocolate
How to Make Einkorn Corndogs (Gluten Free Option)
Simple Sheet Pan Sausage and Asparagus Dinner
Grain Free Almond Flour Brownie Pops
How to Get Free Recipes
Don't forget to grab my FREE Einkorn Recipe Cards Here featuring Blueberry Lemon Scones, Chocolate Chip Cookies and more.
Thanks for baking with me!
From the Hilltop,
Krista