Soft & Easy Gluten Free Bread Rolls Recipe For Dinner Time
One bite into these easy bread rolls and you'll be overcome with the flavor a soft buttery roll. It's hard to believe this gluten free bread rolls recipe doesn't use any instant dry yeast. Yes. These are yeast free! They're made with Cassava flour and a quick dip in boiling water helps to ignite the rise before baking in the oven. This is the best gluten free roll recipe I've discovered and can be made paleo or vegan,
Note: This Blog post contains affiliate links. Should you click on an affiliate link and follow through to make a qualifying purchase, I receive a small commission at no extra cost to you. Thank you for your support.
I have one son who can't eat certain foods, such as rice, that are common in gluten free bread recipes. These soft and airy dinner rolls have the best texture and have offered something for everyone. It's no wonder the whole family enjoys this gluten free rolls recipe. They are delicious!
Ingredients for Gluten Free Rolls
There are a few ingredients I'd like to go over in these gluten-free dinner rolls. This way you know why certain ingredients are not present, which ones are, and how best to use them.
Cassava Flour
This flour takes the place of your normal gluten-free flour blend in baking gluten-free rolls. Cassava, from the Yuca root, has been known to act quite similar to normal wheat flour in that it is light and tends to stick together as gluten would do in baking. Here's a bit more on how it works and where it comes from.
The downsides for some may be that cassava is very starchy. This is in part why it works so well, but you definitely want to avoid this one if you're going low carb. I use this flour to make things I otherwise wouldn't be able to make well for my son. He struggles with an autoimmune disorder that requires dietary changes. For us, it has been so beneficial but I like to only use it for certain baked goods. These gluten-free rolls are a special bread and I'm happy to make them and freeze them so he can have a roll with soup or dinner once in awhile.
I use Azure Standard Cassava Flour but Otto's is also a wonderful brand, I've noticed you may have to add more Azure Standard Brand cassava flour compared to Otto's Cassava. If you use Otto's cassava in this recipe, only add in the last 3 Tablespoons of flour if the bread is too sticky.
Arrowroot Starch
Yes, I know I said cassava was very starchy but' you'll see there is quite a difference between the starchiness of cassava and flours like tapioca starch, potato starch or arrowroot starch. It's important to include another complete starch in this recipe to help with the airiness of the roll. I like to use arrowroot starch as opposed to tapioca. I haven't tried potato starch in this recipe.
Xanthan Gum
Xanthan gum is a powder derived from corn meant to mimic the qualities of gluten. In short, it helps give the dough some elasticity and binding.
Other gluten free breads often contain whole psyllium husk or "psyllium husk powder" to help make the binding resemble that of fluffy gluten wheat bread. The good news is it's not needed in this recipe. Your bread will turn out just as fluffy using these simple ingredients.
Baking Soda
Instead of using instant yeast in this recipe, I use baking soda. I assure you, this doesn't take from the flavor and texture at all. You'll be amazed at the soft puff of bread this recipe makes.
A second measure of baking soda is used in boiling water. After the dough balls are shaped and dropped in boiling water, baking soda helps them to "pre-bake." This ignites the puff you want to see in the oven.
Dry Ingredients
1/2 Cup Arrowroot Powder or Tapioca Starch
3/4 Cup Cassava Flour (I get mine from Azure standard)
1 1/2 teaspoons Baking Soda
1/2 teaspoon Xanthan Gum
1/4 teaspoon Sea Salt
Wet Ingredients
2 Large Eggs
3 Tablespoons Butter, diced into pea sized chunks
1 Tablespoon Honey or Maple Syrup
1-3 Tablespoons Warm Water
Other Things You'll Need on Hand
Extra Flour
Medium sized pot filled with 3-4 inches of water
1/2 teaspoon Baking Soda for pot of boiling water
Optional: Large mixing bowl or a Stand Mixer with a paddle attachment
Baking Pan lined with Parchment Paper
Optional: Large Cookie Dough Scoop or Ice Cream Scoop
Directions for Making Gluten Free Rolls
Let's begin!
Fill a saucepan with 3-4 inches of water and heat until boiling while you mix the gluten free dough.
Mix Together the dry Ingredients
In a large bowl or the bowl of a stand mixer mix together the flour mixture: cassava flour, arrowroot or tapioca flour, baking soda, xanthan gum and sea salt. Cut in the pea sized bits of butter.
Mix together Wet Ingredients
Make a pit inside the dry ingredients. Beat together the eggs, then add them into the pit along with the honey and one Tablespoon water.
Form into a Sticky Ball
Combine all ingredients together until it comes into a ball. The dough ball should be firm and stick together without crumbling. If it crumbles, add a bit of water, 1 Tablespoon at a time. Sticky dough that doesn't hold it's shape is too sticky! Add a little extra flour until it holds it's shape well.
Roll Balls of Dough
Take a chunk of dough and roll it in your hands or using a cookie dough scoop into 2.5 inch balls. Now you're ready to drop them in the boiling water.
Prepare your Baking Sheet and Boiling Water
Cover your baking pan with Parchment and place next to your stovetop. This will make transferring the pre baked rolls from water pot to baking tray easy.
At this point water should be at or near boiling. Once it comes to a rapid boil sprinkle in 1/2 teaspoon of baking soda.
(There is no dough rise time for this recipe but boiling the yeast free dinner rolls for a minute in water will help initiate the rise before baking. The result will be extra fluffy dinner rolls!)
Drop your 2.5 in balls of dough into the boiling water and boil for 30- 45 seconds. Try to turn the rolls while in the water to cook more evenly. Using a slotted spoon, take the roll out one at a time and set on your baking pan. Continue to boil each roll in this way until all the rolls are on your baking tray. This method is similar to the water boiling method used in making my sourdough bagels.
Bake your gluten free dinner rolls
If you want an egg wash on your dough follow these instructions. Otherwise, skip to the next paragraph. Brush the tops of your rolls with an egg wash. The best way to prepare this is simply to beat an egg in a small bowl and add a bit of water or milk. A couple teaspoons is perfect. Now brush a little bit of wash onto the tops of each roll. Note: This step is optional but it adds an additional shine to the tops of the rolls, making them perfect for a gathering or holiday meal.
Place the baking sheet onto the middle oven rack and bake at 425 Degrees Fahrenheit for 20 minutes.
Remove the tray from the oven. The rolls should be golden brown on top. Let cool for 10 minutes and then serve warm.
If you like holding recipes card instructions as opposed to looking at a screen you're like me. Fee free to print the recipe below.
Yield: 10-12 Rolls
Cassava Flour Gluten Free Bread Rolls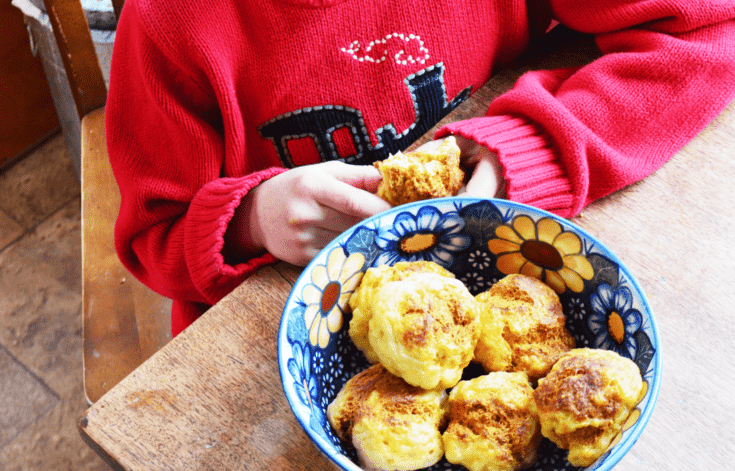 Fluffy Yeast Free gluten free rolls with a buttery taste and soft texture.
Additional Time
5 minutes
Ingredients
3/4 Cup Cassava Flour
1/2 Cup Arrowroot Powder
1 1/2 teaspoons Baking Soda
1/2 teaspoon Xanthan Gum
1/4 teaspoon Sea Salt
2 Large Eggs
3 T Butter
1 Tablespoon Honey
1-3 T water
Saucepan filled with 3-4 inches of water
Extra 1/2 teaspoon Baking Soda for boiling water
Egg for egg wash (optional)
Instructions
Fill a saucepan with 3-4 inches of water and heat to a boil. Meanwhile, in a large bowl mix together dry ingredients: cassava flour, arrowroot flour, baking soda, xanthan gum and salt. Add in bits of butter and combine well.
Make a pit in the dry ingredients and add in the beaten eggs, honey and one Tablespoon water. If Combine the dough together. If it continues to crumble and more water in little bits until it comes together in a firm ball. If the dough is sticky, add a little extra flour.
Add 1/2 teaspoon baking soda to the boiling water. Prepare a parchment lined baking sheet next to the stovetop. Roll the dough into balls about 2.5 inches in diameter.
Drop the balls one at a time into the boiling water and cook for about one minute turning halfway through cooking. I can usually get about two or three balls in the pot at once.
Scoop each ball out and place on the baking sheet. If using egg wash, brush the tops of the rolls a combined beaten egg plus one Tablespoon water.
Bake at 425 degrees Fahrenheit for 20 minutes. Let cool 10 minutes before serving. Best when served warm.
How to Store Your Bread Rolls
This delicious gluten free recipe is a great recipe for eating right way. If you're making these for a special meal such as Thanksgiving dinner, I'd make them the day of your event.
If, however, you are wanting to save these to eat at a later date you can do that. I've found it possible to store these in a plastic freezer storage bag. They should be eaten within two weeks if stored this way.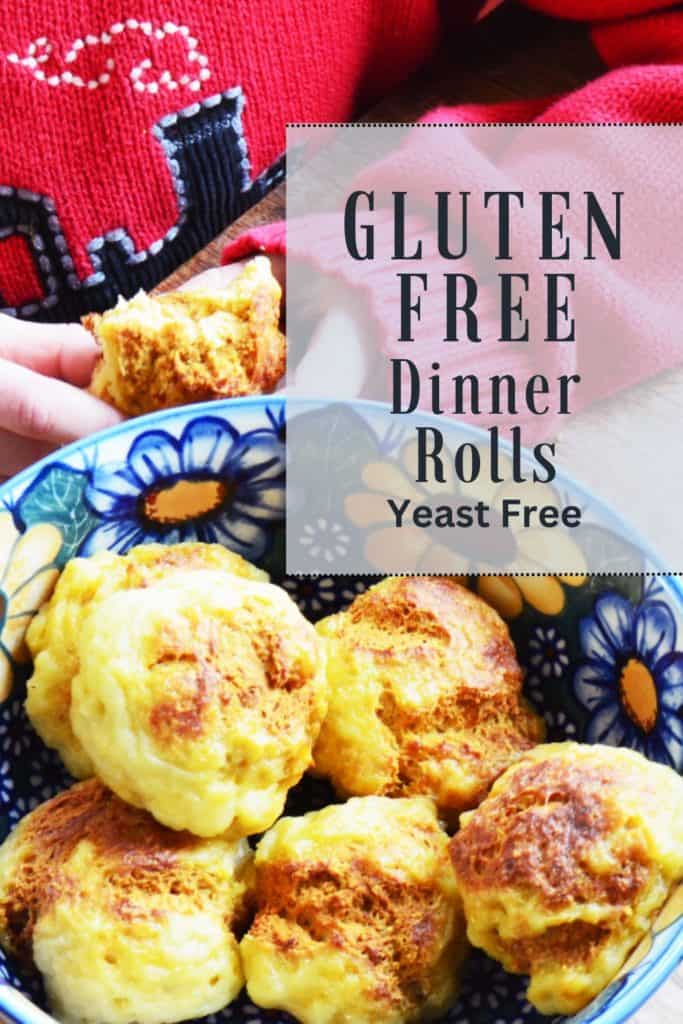 Other Blog Posts You May Like
Moist Gluten Free Chocolate Zucchini Muffins with Salted Chocolate
How to Start a Homestead for Special Diets
Grain Free Almond Flour Brownie Pops
Does Einkorn Cause Inflammation? Gluten Free and Autoimmune Disorders
From the Hilltop,
Krista