Fresh and Simple Caprese Salad For Summer
Have you been as foggy brained as I have this summer when it comes to meal planning? Between being sick, cooking for several diets and hot weather, I just haven't had the creativity to think up great meals. Now that the fresh produce is in full swing, I'm realizing how easy it is to have simple sides made to pair with a protein. We hosted my Dad's birthday last weekend and I decided to make a couple sides for the party. Nothing complicated. I was so happy after the party when leftovers added extra flavor and nutrition to my meals the next week. This Summer Caprese Salad is one of those tasty sides. It's so easy to make and simply elevates the fresh garden flavors of summer.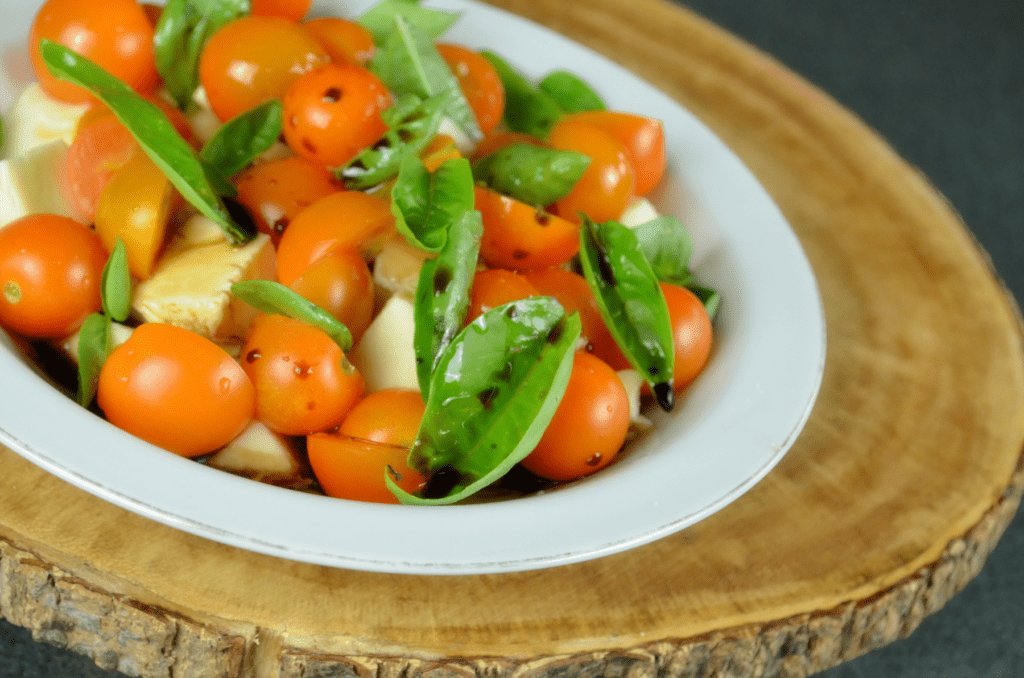 Make this salad for your family or double the recipe to share at a gathering. For extra flair, add some toasted croutons made from a sourdough loaf (such as the rustic boule). This recipe goes great on pasta or salad greens as well! You could even scoop it over pasta and add some crumbled bacon or grilled chicken. Mmmm. Now I'm getting hungry.
Another great thing about making this salad is that the "caprese" salad can be made into other meals as well: grilled sandwiches, crepe fillings and added onto eggs or in omelets. Once made, just grab it from the fridge and your meals are halfway done!
Make Your Simple Caprese Salad
Chop one cup of cherry tomatoes into halves and place in a small serving bowl. I like the cherry tomatoes because they add a summer sweetness that can't be found with other tomatoes. Leave the smallest cherry tomatoes whole.
Chop 8 oz. of grass fed mozzarella cheese into one inch cubes. Place on top of cherry tomatoes. No, I won't force you to use grass fed but I am finding more and more benefits from it for myself and my family. Why use grass fed? Here's just a few reasons.
Take a small handful of fresh basil sprigs and pull leaves off. Chop any leaves that are bigger than bite size. Place these on top of tomatoes and cheese.
Pour two tablespoons of balsamic vinegar and two tablespoons of extra virgin olive oil over the salad. Sprinkle a dash of salt and a couple more basil leaves on top. Enjoy!
Cover and store this salad in the refrigerator for up to a week. Feel free to double this recipe for a large family or potluck.
Other Ways to Use your Salad
Make a Caprese style grilled cheese sandwich
Top onto chicken salad
Use for homemade pizza topping and cook your pizza on the grill
Let it be your next omelet filling
Make a savory crepe with Caprese filling
Top Pasta with your Caprese salad
Yield: 4 servings
Fresh and Simple Caprese Salad For Summer
A simple fresh summer salad that can be used as a side for so many different meal ideas.
Ingredients
One cup of Cherry Tomatoes
8 oz. of grass fed Mozzarella cheese
Handful of Fresh Basil leaves
Two Tablespoons Balsamic Vinegar
Two Tablespoons Extra Virgin Olive Oil
A dash of Salt
Instructions
Cut the bigger cherry tomatoes in half, leaving the small ones whole. Place all the tomatoes in a small serving dish.
Cut the cheese into one inch cubes. Add this to the tomatoes.
Pull off a handful of fresh basil leaves, cutting the extra large ones to a bite size. Sprinkle these on top of cheese and tomatoes.
Drizzle the oil and vinegar over your salad, then sprinkle with a dash of salt. Add a couple fresh basil leaves to the top and you're ready to enjoy!
Notes
Cover and store in the refrigerator for up to a week.
Other Recipes You May Like
Chewy Einkorn Chocolate Chip Cookies
Simple Einkorn Lemon Blueberry Sourdough Scones
My Favorite Farmhouse Buttermilk Biscuits
How to Make Simple Pesto Asparagus
Hope you enjoy this recipe. Let me know how it turns out and if you have any questions!
From the Hilltop,
Krista