How to Make Simple Pesto Asparagus
Spring is here and I like to use seasonal vegetables as much as possible which means asparagus winds up on our table pretty often. My favorite way to cook this is a super simple recipe. It's so simple I hesitate to share it because I thought I may run out of words! This simple pesto asparagus has made asparagus lovers (at least when they eat THIS asparagus). Here's how its done.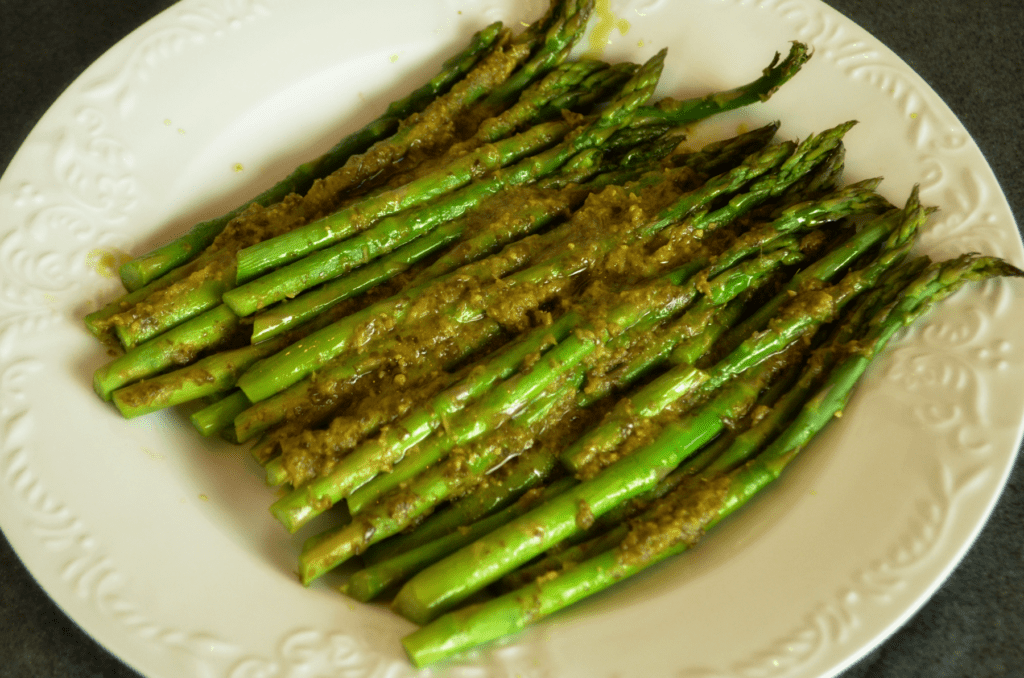 How to Make Pesto Asparagus
This recipe uses Pesto and Asparagus. That's it! (Find Pesto HERE)
If it were summer time I'd be making my own, but for now I'll just use store bought.
Wash your asparagus well and chop the ends off. Usually this takes at least a couple inches and sometimes more. You'll want to make sure not to leave too much length or the large end will be tough to eat.
Layer in an 8×8 or 8×10 in dish. It doesn't need to be exact but make sure to not make too many layers or it will slow the baking time.
Spread the pesto across the top layer of asparagus and cover with aluminum foil.
Bake at 400 degrees Fahrenheit for 20-30 minutes. The edges of asparagus should loosen and the color will slightly change. If the skin begins to shrivel, its been baking too long so take that baby out.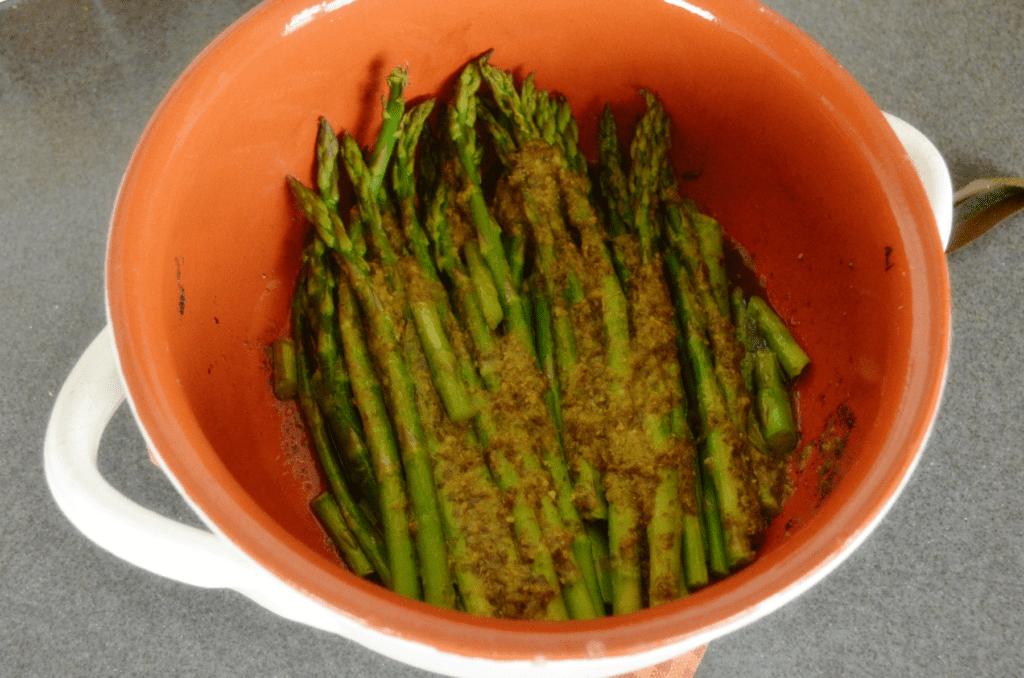 You can serve it just like this or transfer to a serving platter. I love to transfer it and then pour the leftover pesto juices over the asparagus.
There's nothing quite like watching the warm oils dripping over freshly cooked asparagus.
Enjoy!
Yield: 6 servings
Simple Pesto Asparagus
Simple Basil Pesto Asparagus that makes a wonderfully rich and tasty side dish.
Ingredients
One pound fresh Asparagus
1/4 Cup Basil Pesto
Instructions
1. Wash the asparagus and lay on cutting board.
2. Cut off the lower 2-3 inches to discard tough pieces.
3. Layer in 8x8 or 8x10 inch baking dish and spread pesto on top.
4. Cover and bake at 400 degrees Fahrenheit for 20-30 minutes depending on thickness of asparagus.
5. Let cool before serving.
Notes
Other options are to transfer cooked asparagus to a serving platter and pour extra juices from pesto over the top.
Other Posts you May Like
Chewy Einkorn Chocolate Chip Cookies
My Favorite Farmhouse Buttermilk Biscuits
Simple Einkorn Lemon Blueberry Sourdough Scones
Creating A Thrifty Summer Porch
Thanks for stopping by!
From the Hilltop,
Krista