Growing Sprouts Any Time of the Year
I'm no longer in my garden (though I'll be out there soon!) and even though some bounty continues over winter, I'm not one to keep things growing outside. In November I wanted to plant sprouts to keep things growing this winter but it got put off. Three months later I've pulled out these sprouts to see some green growing in my house! Growing sprouts is simple, quick and can be done any time of year!
Reasons For Sprouts
Sprouts are Edible
Sprouts don't just make a great indoor plant. You can use them in your meals!
Lay a few sprouts atop cream cheese and crackers
Top off a bagel with sprouts
Mix into your salad
Use in your tacos or sandwiches
Growing Sprouts is Fast
Sprouts sprout quickly! Even within a few days. They will be ready to harvest in just 5-14 days. This means it's also a good idea to use succession planting with these greens.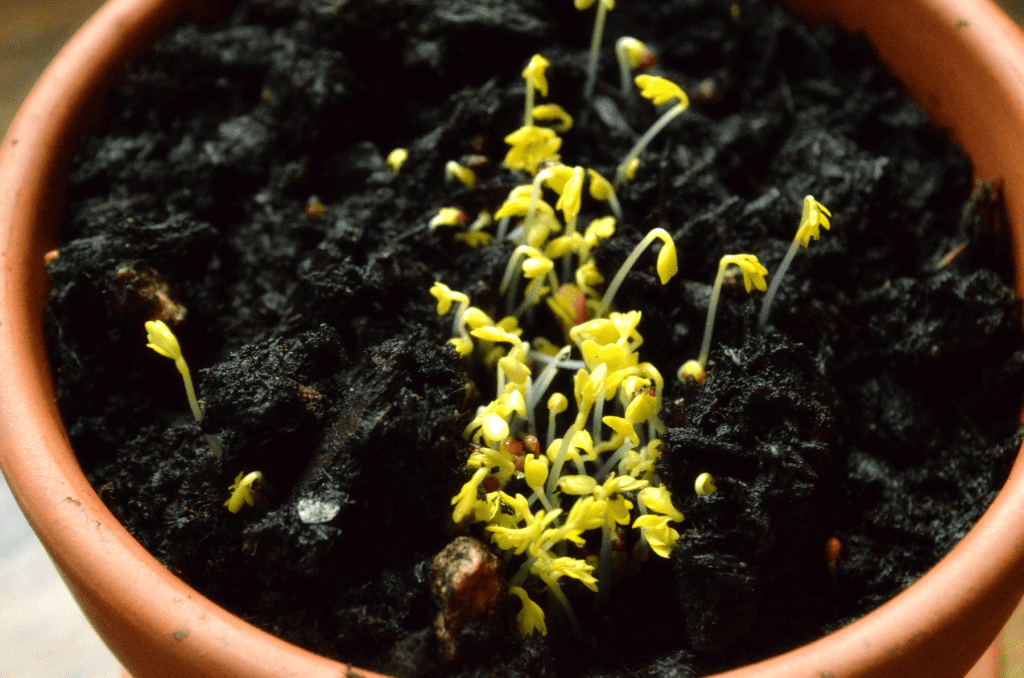 Plant a bunch, pull them for harvest, then sprinkle some more seeds into your soil.
Sprouts Stay Indoors
Because sprouts can be grown indoors, you can plant them any time of year. They don't need a grow light to help them mature because they are ready within a couple weeks.
This also makes a great activity to do with kids as you receive the fruit of your labor much quicker than in your seasonal garden.
How to Start Growing Sprouts
Grab a pot for planting, soil and sprout seeds. I like these particular oval style planters but you can also use a simple clay pot like I did. It's great for gifting too!
Fill your planter with a good potting soil.
Spread your seeds through the planter and cover with a very scant amount of soil over seeds.
Water immediately and keep soil damp. Watering everyday is best. I like using a spray bottle to water so as to not injure the premature sprout roots.
Share Your Sprouts
One of the great things about growing food is the ability to share your bounty! Just last weekend I attended a small ladies party. The first in a long time for me and many others! I dressed up a pot with lacy ribbon and brought it as a hostess gift.
Giving this small present felt fabulous for me because I LOVE being able to do things for others. Often have too much going on in my mom brain to even think of preparing a gift. It was ideal to have something already prepared and ready to take with me.
More Information
What are you waiting for? Not spring I hope. You can have food growing now so start growing sprouts. Don't wait until those gardens are in the ground. Bring in the green. Here's some more information to help you plant your spout babies.
https://sproutpeople.org has great advice on everything related to sprouts.
Wellness Mamma has great thoughts on all things natural and home. Here's her article on starting your own sprouts.
True Leaf Market has an extensive amount of seeds and kits for growing sprouts.
And if you want to see where my gardening takes me check out these posts:
Preservation from our garden on the hilltop
How to Make a Simple Planter Box
And some of my most popular posts from the blog:
Chewy Einkorn Chocolate Chip Cookies
Welcome Home Anastasia: Our Adoption is Complete
Designing Our Homeschool for a Sensory Seeking Child
As always, thanks for stopping by!
From the hilltop,
Krista